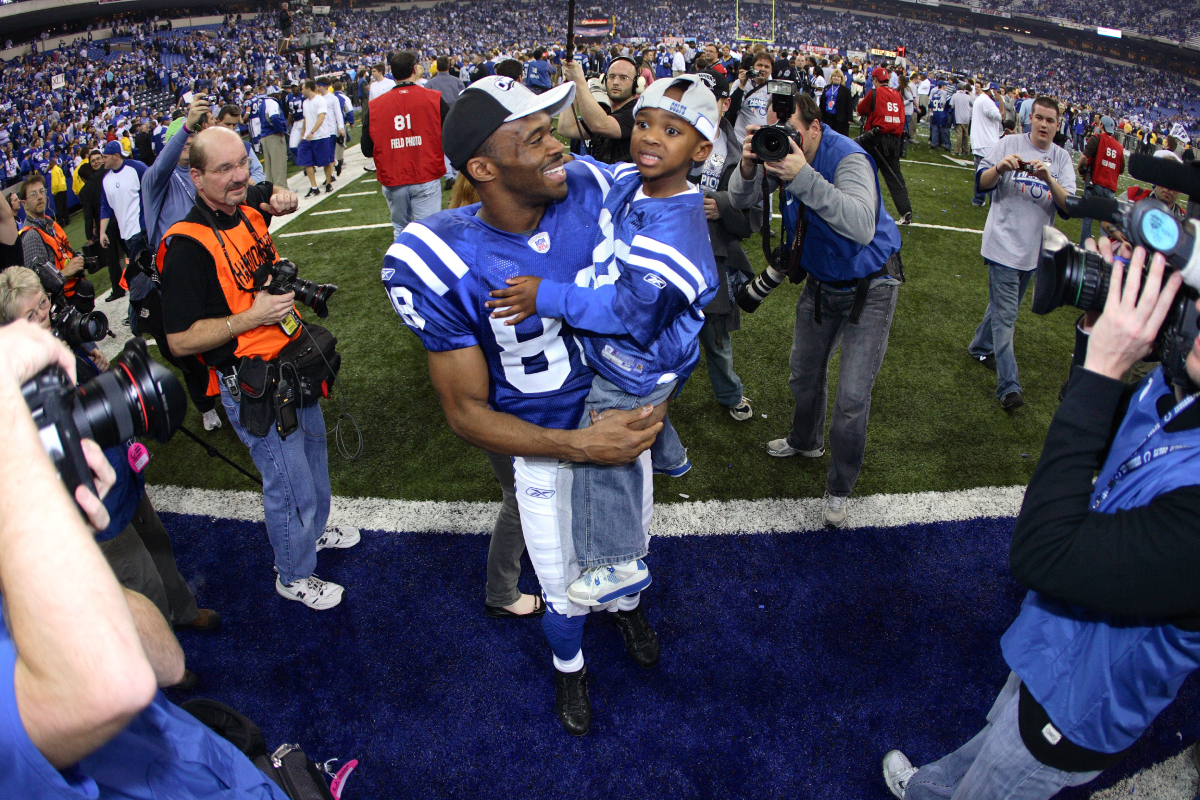 Marvin Harrison's Son Is a Massive Football Star Who Could Become the Next Marvin Harrison
Marvin Harrison was one of the best wide receivers of all-time. His son, Marvin Harrison Jr., now also has a chance to become a great NFL WR.
One of the greatest wide receivers in NFL history was Marvin Harrison. He ultimately had an excellent career with the Indianapolis Colts. Harrison didn't just help the Colts become one of the best teams of all-time during his years there, but he also ended up becoming a Hall of Fame receiver. His time as a football star has been over for a while, but it could now be his son's turn. In fact, Marvin Harrison Jr. has a chance to become a superstar not only in the college football world but also in the NFL world.
Marvin Harrison was one of the greatest wide receivers of all-time
Marvin Harrison Sr. had a nice college career at Syracuse, which led to the Indianapolis Colts selecting him with the No. 19 overall pick in the 1996 NFL draft. This was just two years before the Colts selected Peyton Manning with the No. 1 overall pick.
Harrison played well in his first few seasons, recording 59 receptions or more and gaining over 775 receiving yards in each season. However, he became a star in 1999. Harrison ultimately earned a Pro Bowl selection and First-Team All-Pro honors that year, as he caught 115 passes for a league-leading 1,663 receiving yards.
He then continued to dominate throughout the next decade. Harrison led the NFL in catches with 102 in 2000. But, after gaining 1,524 receiving yards and catching 15 touchdown passes in 2001, Harrison had an incredible year in 2002. He led the NFL in receptions that season with 143 and in receiving yards with 1,722. The Colts also started a dominant run that season, as they didn't miss the playoffs again for the rest of Harrison's career.
Harrison ultimately gained over 1,000 receiving yards each season from 1999 through 2006, earning a Pro Bowl selection in each of those seasons. Additionally, while Harrison was a First-Team All-Pro for the third time in his career in 2006, he also helped lead the Colts to a Super Bowl win that year. Harrison's last season was in 2008.
For his career, Harrison is No. 5 in NFL history in receptions with 1,102, and he is No. 9 in receiving yards with 14,580. He is also No. 5 in NFL history in touchdown catches with 128. Harrison also earned eight Pro Bowl selections in his career and ultimately became a Hall of Famer.
His son is also a football star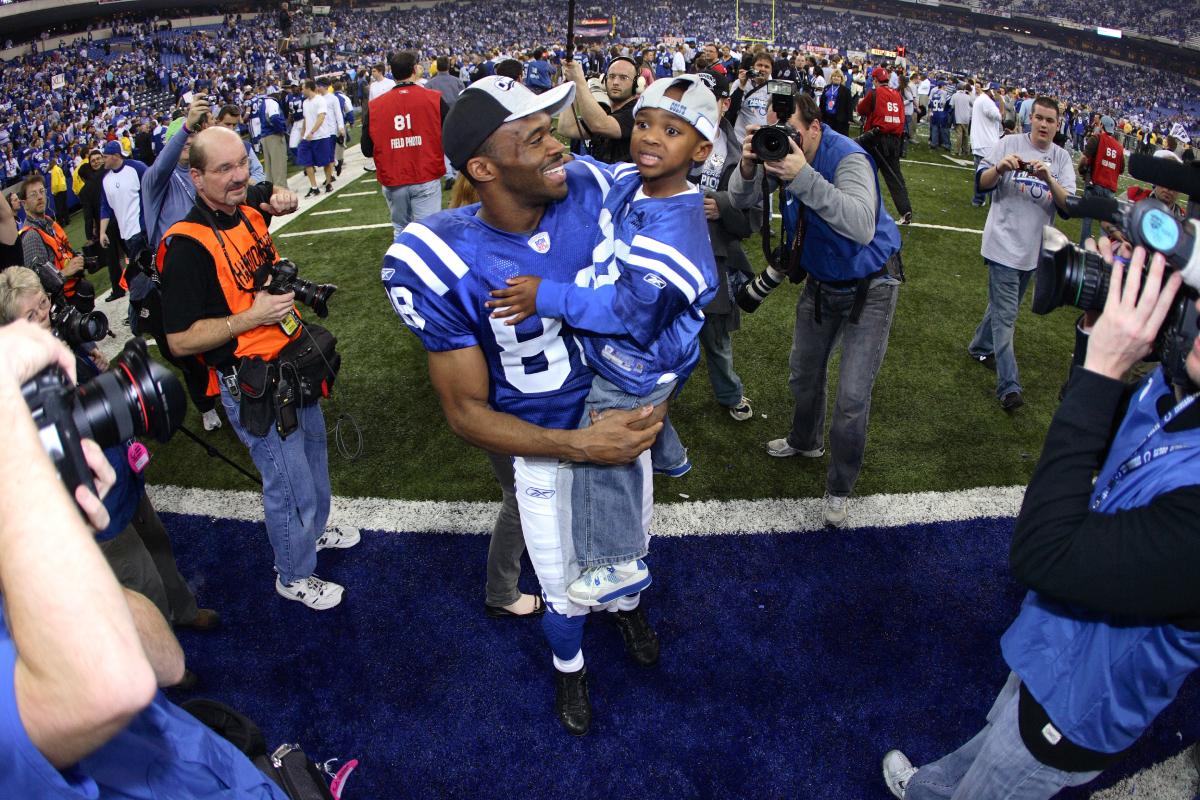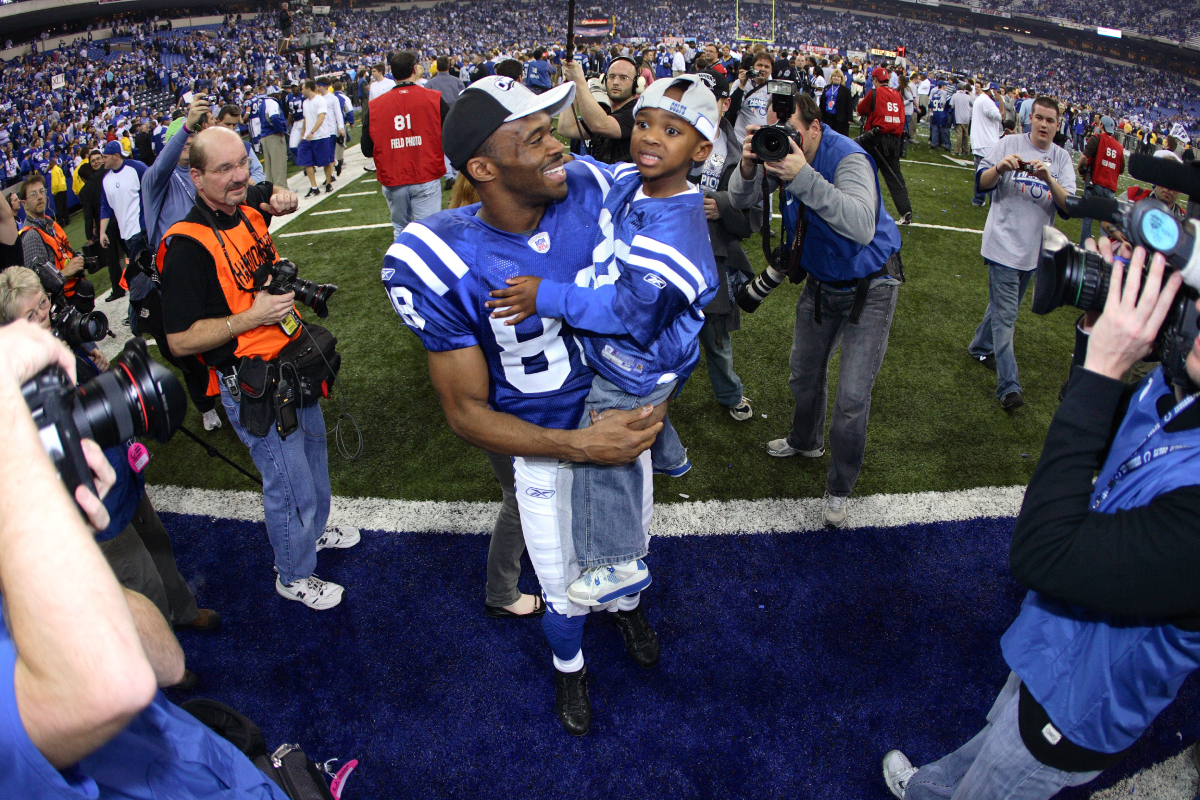 Marvin Harrison Sr. hasn't played in the NFL since 2008. His son, Marvin Harrison Jr., though, is now potentially trying to make it into the league himself.
Harrison Jr. is a four-star recruit and is one of the top 20 receivers in the entire country for the 2021 class, according to 247Sports. He received offers from some big-time schools, like Florida, LSU, Michigan, Notre Dame, and Penn State, but Harrison Jr. has officially signed with the Ohio State Buckeyes.
According to his Ohio State bio, Harrison Jr. finished his high school career with 2,625 receiving yards and 37 touchdowns, which were both league records. He also helped lead his high school to three consecutive Pennsylvania 6A state championships.
Marvin Harrison Jr. could also become a dominant NFL receiver
Yes, Harrison Jr. has some great genes. But he has now put himself into a great situation to be able to follow in his father's footsteps by becoming a great NFL receiver himself.
Ohio State has become a factory for producing solid NFL wide receivers. Michael Thomas is one of the best receivers in the NFL. He earned First-Team All-Pro honors in two consecutive seasons in 2018 and 2019 and won the 2019 AP Offensive Player of the Year award. Terry McLaurin is also one of the most exciting up-and-coming star receivers in the league. He had 919 receiving yards in 14 games during his rookie season. He also gained over 1,000 receiving yards and caught over 70 passes in his second season in 2020.
The Buckeyes also have two star receivers on their 2020 team in Garrett Wilson and Chris Olave, and had three of the top 10 receivers for the 2020 class in Julian Fleming, Jaxon Smith-Njigba, and Gee Scott Jr. OSU also has three of the top 15 receivers for the 2021 class in Harrison Jr., Emeka Egbuka, and Jayden Ballard.
This all means that Marvin Harrison Jr. can become the next Marvin Harrison Sr. in the NFL due to the fact that he will have an opportunity to grow at OSU.
However, while everyone is comparing him to his father, Harrison Jr. now looks to make his own name for himself.
"Every time I step on the field, I have a target on my back because other people want to shut Marvin Harrison's son down, or whatever the case may be," Harrison Jr. said, according to 247Sports. "Having that name pushes me and I just try to be the best Marvin Harrison Jr. I can be."
It will be fun to see what the next Marvin Harrison will be able to do.
Stats courtesy of Pro Football Reference