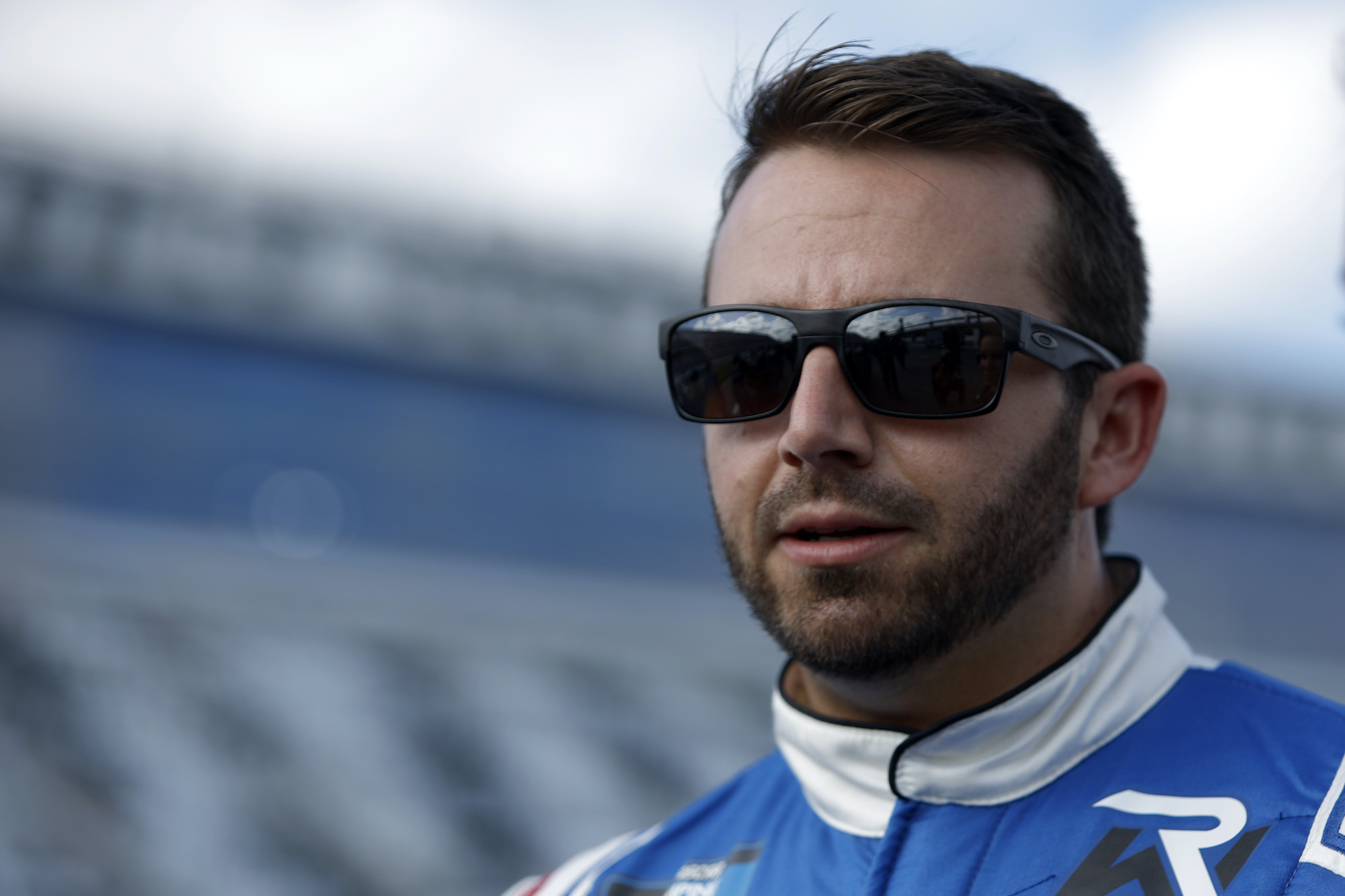 Matt DiBenedetto Changed to a New Series in 2022 but Hasn't Changed His Controversial Ways
Matt DiBenedetto changed to the Truck Series in 2022 but revealed this week he hasn't changed from embracing controversial topics.
Most would perceive Matt DiBenedetto's move from the NASCAR Cup Series to the Truck Series as a demotion. Some might attribute it to his on-track performance. Others might suggest it was due to his off-track behavior. 
Whatever the reason, he's racing with the trucks in 2022 and is off to a solid start through the season's first two races. This week, the driver gave his fans flashbacks to last year when he made news not for his work on the track but for something he shared on social media that showed he may have changed to a new series but he hasn't changed his penchant for embracing controversial topics.  
Matt DiBenedetto supports conspiracy theory
Matt DiBenedetto made his 2022 Truck Series season debut at Daytona with a solid performance and his first top-10 of the year, finishing 10th. Two weeks later, in Las Vegas, he further impressed with a sixth-place run.  
This week, an off-week for the trucks, the 30-year-old made news for a post on social media about several different things, including a conspiracy theory that suggests the rise in gas prices is a pre-planned artificial problem.
"The gas prices are being made purposely high artificially to not only steal the wealth of the public but to usher in an era of draconian public movement control through electric cars, while flying a fabricated climate change excuse agenda," the Instagram story read. DiBenedetto shared it.  
The driver commented on another other story, which was based on the World Economic Forum's initiative called "The Great Reset" that is intended to manage the COVID-19 crisis through a worldwide collaborative effort. He suggested what was happening was all biblical. 
Makes odd remarks last year
DiBenedetto regularly appeared on SiriusXM NASCAR Radio last season and toward the end of the year talked about not having a ride for 2022. He also shared what he was looking for in a future team during one appearance and said he didn't want to be censored from being "authentic," and talking about the things he cares about — specifically, his faith and patriotism.  
"And there's a lot of things that I care about in the world, and I share my faith, and people know that about me, but I also have to tread pretty carefully in today's day and age," DiBenedetto said. "You know, we represent a lot of people and such. So I'm actually trying to work on where that could sit where I can be me, be fully authentic, be myself, talk about the things I care about, like my brothers in the military and freedom, my patriotism, all those things." 
It was an odd comment because NASCAR is undoubtedly one of the biggest supporters of the military when it comes to the major sports with the national anthem and a prayer preceding each race.
Matt DiBenedetto says 'Let's go Brandon' at Phoenix
Unfortunately, that wasn't the most attention-grabbing thing DiBenedetto said in 2021. That came in November at Phoenix when the driver hung out with a representative from an organization that advocates for conservative values on high school and college campuses, and participated in a video. 
DiBenedetto said, "Let's go Brandon" while getting into his car before qualifying and later explained he used the euphemism for swearing at President Joe Biden because he has to "fight for God, country, and freedom. That's why."
A day later, he posted what he described as "the most guilt-filled video that he ever had to do," in what many assumed was an apology video, except at no point in it did he apologize for anything. 
His latest move supporting a conspiracy theory on rising gas prices is just another in a line of strange decisions the driver has made in the not-so-distant past. It's apparent, just because he's changed to a new series doesn't mean he's changed his beliefs. 
Some might suggest he's racing in the lower series because of said beliefs. Others might suggest it's because he never won a Cup Series race in seven seasons, including the last two with a quality Wood Brothers racing team. It's more than likely a combination of the two. 
Like Sportscasting on Facebook. Follow us on Twitter @sportscasting19.