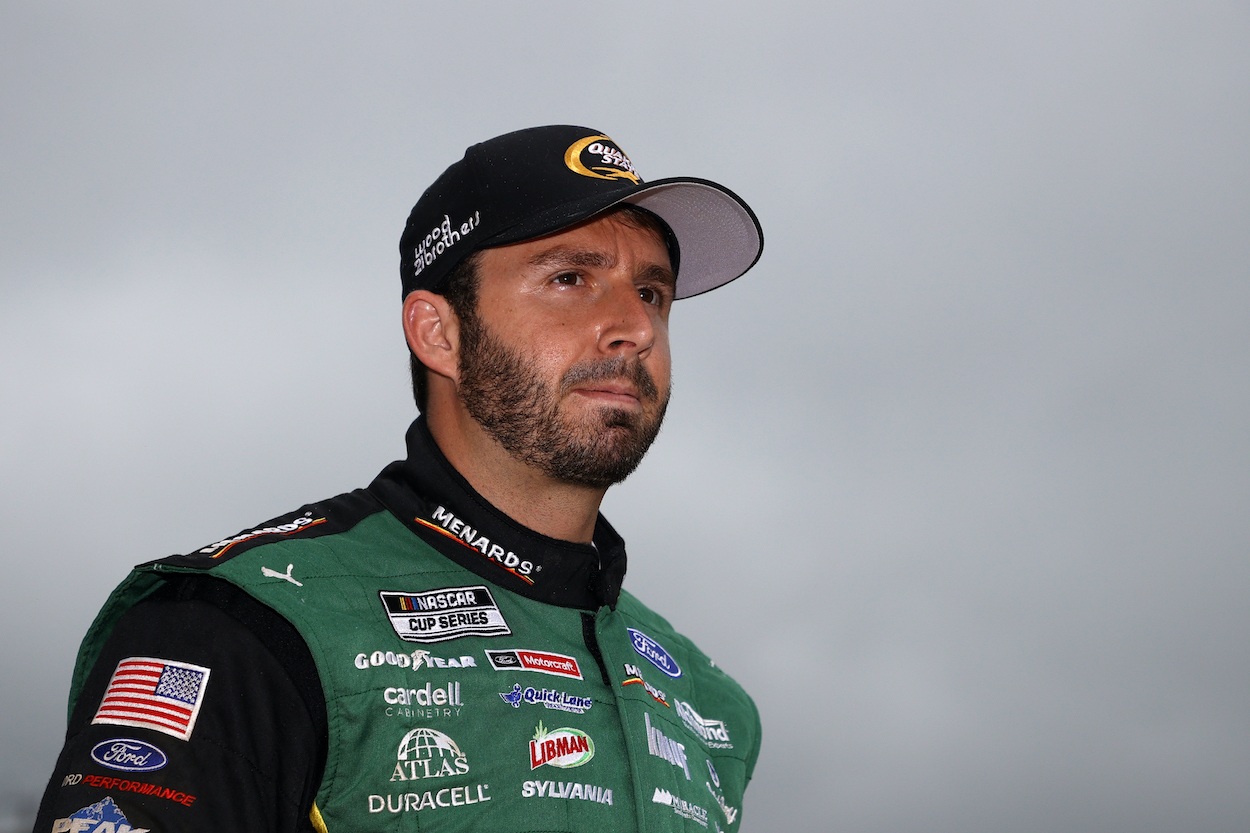 Matt DiBenedetto Deletes Twitter Account and Blames Social Media After Controversially Downplaying NASCAR's Decision to Require Kyle Busch Attend Sensitivity Training for Using an Offensive Slur: 'Our World Has Gone Mad'
Matt DiBenedetto didn't like the response he received to a controversial remark he made on Twitter, deleted his account, and then said "our world has gone made" on Instagram.
Matt DiBenedetto is racing in this weekend's NASCAR Cup Series race at Phoenix for the last time in the No. 21 Wood Brothers car. He has not announced any plans for a ride next year. However, this week DiBenedetto is again in the news for the second time in as many months after making controversial comments and then suggesting those reading or hearing his remarks have misinterpreted what he said.
Kyle Busch makes offensive comment and will be required to attend sensitivity training 
After Sunday's race at Martinsville, an upset Kyle Busch directed his frustration at Brad Keselowski during a postrace interview for a last-lap move when the No. 2 car shoved the No. 18 car into the outside wall. 
"Well, he drills my ass coming out of 4 for no reason. I mean, where was he going? What was he going to do? Spin me out? He was trying to do a Harvick is what he was trying to do," Busch said, referencing Harvick's move in last year's Martinsville race. "For what? For second place? To do what? He wasn't going to transfer through with that. 
"It's freaking retarded, man. So stupid. I don't understand these guys. I should beat the s*** out of him right now is what I should do. But that doesn't do many any good either. … I've already had to pay enough fines in my lifetime. I'm sure I'll get another one." 
On Monday, NASCAR didn't fine the Joe Gibbs Racing driver for using the slur but announced that he would be required to complete sensitivity training before the start of the 2022 season for his offensive language that violated its conduct guidelines. 
Matt DiBenedetto makes controversial comment about sensitivity training, deletes Twitter account, and then talks about it on Instagram
Later on Monday night, Matt DiBenedetto jumped into the fray when he quote-tweeted Bob Pockrass and his report that Kyle Busch would be required to attend sensitivity training.
"I feel like living on planet Earth in 2021 is permanent sensitivity training," DiBenedetto wrote. There was an unsurprisingly large number of comments suggesting that the driver's remarks clearly revealed that he didn't get it. Shortly after, he deactivated his account. 
However, he later provided more thoughts on the situation in a video posted to his Instagram account.
"I'm getting a whole bunch of texts," DiBenedetto said. "I deleted my Twitter or deactivated it, whatever. Yes, that space is unfortunately just too far gone. And it stinks. It's filled with so much hate and negativity and everyone attacking everyone for everything. It's like the whole feed. You know, I'm pretty sure my wife Tay had a great point. I'm pretty sure at this point somebody could post that, 'Oh, the sky is blue today.' And the feed would be filled with, 'Wow, did you not consider the sky's feelings? What if the sky wants to identify as green today? Did you not consider that? Wow, Matt. You are the worst human being on the planet.' Our world has gone mad, people. It's gone mad. We gotta fight for what's right. It's sad. It's just sad to see."
Matt DiBenedetto makes odd comment last month that he's been censored for his patriotism and faith 
DiBenedetto's latest objection to being misunderstood isn't anything new. Just last month, he made his weekly appearance on SiriusXM NASCAR Radio, talked about his future prospects, and suggested wherever he landed in 2022, he insisted on not being censored from being "authentic" and talking about the things he cares about — specifically, his faith and the military.  
"I've had some folks, some different teams, reaching out kind of on all different fronts across the three series. So that's good and encouraging," he said. "But again, there is that balance, too, of working on the partnership side of it because that's huge. And then, you know, also, I've been, I don't know how to word it, you know, I'm an all-in very passionate personality. And there's a lot of things that I care about in the world, and I share my faith, and people know that about me, but I also have to tread pretty carefully in today's day and age. You know, we represent a lot of people and such. So I'm actually trying to work on where that could sit where I can be me, be fully authentic, be myself, talk about the things I care about, like my brothers in the military and freedom, my patriotism, all those things."
DiBenedetto taking a break from Twitter is a good thing. First, it will allow him to not feel attacked. More importantly, it should give him some time to revisit some of his previous remarks, and maybe, if he's being completely honest with himself, he'll realize that maybe it's not everyone else who is misinterpreting his remarks but him making controversial comments without even realizing it.
Ironically, taking a sensitivity class of his own could go a long way.
Like Sportscasting on Facebook. Follow us on Twitter @sportscasting19.