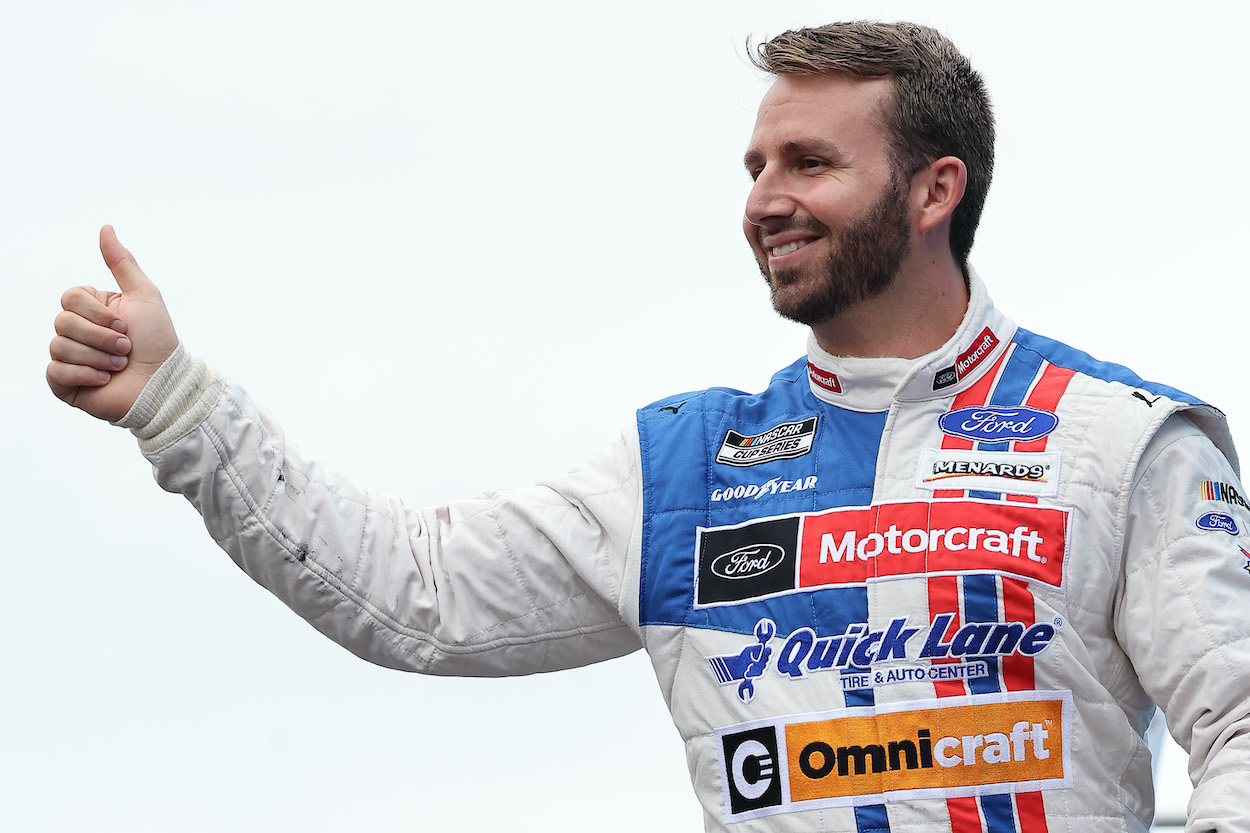 Matt DiBenedetto Reveals True Colors With 'Let's Go Brandon' Comment Just 24 Hours After NASCAR President Denounces Phrase
Matt DiBenedetto provided some clarity to some of his recent head-scratching remarks on Saturday when he said "Let's Go Brandon" at Phoenix in a video and then retweeted it on his reactivated Twitter account.
Matt DiBenedetto has made some head-scratching remarks in the last month that have left many of his fans confused, including comments about being censored for his faith and patriotism. On Saturday, the day before driving in the NASCAR Cup Series for the last time in the Wood Brothers No. 21 car, the 30-year-old driver provided some clarity as to where he stands with a remark that NASCAR President Steve Phelps had denounced just 24 hours earlier.     
Matt DiBenedetto makes 'Let's go Brandon' comment at Phoenix
A photo of Matt DiBenedetto smiling and talking with a man wearing a "Let's Go Brandon" t-shirt began circulating on social media Saturday afternoon. Later in the day, the man was confirmed to be Benny Johnson, who works for Turning Point USA, an organization that advocates for conservative values on high school and college campuses. On its website, some of the current trending topics are "BLM," "Leftist Crazy," "Socialism Sucks," and "Chinese Coronavirus." 
Johnson posted a video later in the day with DiBenedetto about to get in his car at Phoenix when the driver looked at the camera and said, "Let's Go Brandon." A block of text overlaid the video that said "NASCAR SUPERSTAR MATT DIBENDETTO" with the phrase included. DiBenedetto's name was misspelled.
The almost-minute-long video shows the driver putting on his helmet and taking off around the track, and then in the final few seconds, it includes Johnson and DiBenedetto standing together. 
"Matt DiBenedetto," an excited Johnson said, looking into the camera. 
"What's up?" the driver, who doesn't have a ride for 2022, quickly replied.
"Said, 'Let's Go Brandon.' Why?" Johnson asked, referring to the phrase that has become a stand-in for swearing at President Joe Biden.  
"Got to fight for God, country, and freedom. That's why," the driver responded. 
NASCAR President Steve Phelps denounces 'Let's Go Brandon"
Before the Championship 4 weekend started in Phoenix, NASCAR President Steve Phelps met with the media and provided his annual State of the Sport address. Phelps was asked about the chant that gained traction at Talladega just over a month ago and his thoughts on shirts featuring the phrase that also include a NASCAR-like logo. 
"So it's an unfortunate situation," Phelps said. "I feel for Brandon (Brown). I feel for (NBC reporter) Kelli (Stavast). I think, unfortunately, it speaks to the state of where we are as a country. We do not want to associate ourselves with politics, the left or the right. We obviously have, and we've always had, as a sport, tremendous respect for the office of the president no matter who is sitting.
"I think it's an unfortunate situation. Do we like the fact that it kind of started with NASCAR and then is gaining ground elsewhere? No, we're not happy about that. But we will continue to make sure that we have respect for the office of the president. With respect to the trademarks used on that statement, to the degree they're using a NASCAR logo, we will pursue whoever that is and get that stopped. That's not OK. It's not OK that you're using our trademarks illegally, regardless of whether we agree with what the position is or not."
Matt DiBenedetto reveals true colors
While Phelps is firmly against NASCAR being associated with the phrase, DiBenedetto feels just the opposite, as evidenced by his actions. Interestingly, his utterance of the three-word phrase revealed as much about the driver as it did the person to whom he said it, as well as his final comments suggesting he's got to "fight for God, country, and freedom."
That's actually become a familiar theme from DiBenedetto recently. Less than a month ago, he appeared on SiriusXM NASCAR Radio and suggested he wanted to race for a team next season that would allow him to be "authentic" and talk about things he cares about, specifically his faith and the military. Odd, considering those two things are both freely spoken about in the U.S. and in NASCAR on a regular basis.
Just this past week, he deactivated his Twitter account when he didn't like the feedback after he tweeted "I feel like living on planet Earth in 2021 is permanent sensitivity training" in response to the news that NASCAR is requiring Kyle Busch to attend sensitivity training next year for using an offensive slur following the race at Martinsville. 
DiBenedetto later posted a video on Instagram to explain why he was finished with Twitter.
"Yes, that space is unfortunately just too far gone. And it stinks. It's filled with so much hate and negativity and everyone attacking everyone for everything. It's like the whole feed," he said. "I'm pretty sure at this point somebody could post that, 'Oh, the sky is blue today.' And the feed would be filled with, 'Wow, did you not consider the sky's feelings? What if the sky wants to identify as green today? Did you not consider that?'"
While playing it off as a light-hearted joke, which is something he frequently does when he faces backlash for his controversial remarks, DiBenedetto took shots at two things that are often talking points for conservative organizations like Turning Point USA — the feelings of others and how people identify. 
Brandon Brown, who has the one Xfinity Series win at Talladega to his credit, has reportedly struggled to get sponsors because of the chant that is associated with him through no fault of his own. That could spell trouble for DiBenedetto, who has no wins in any of the top three NASCAR series, no sponsors, and reportedly no deal lined up for next year. 
If DiBenedetto doesn't land a ride for 2022, he has no one to blame but himself and can go look at his reactivated Twitter account, which now includes a retweet of his video with Johnson, to see why.
Like Sportscasting on Facebook. Follow us on Twitter @sportscasting19.