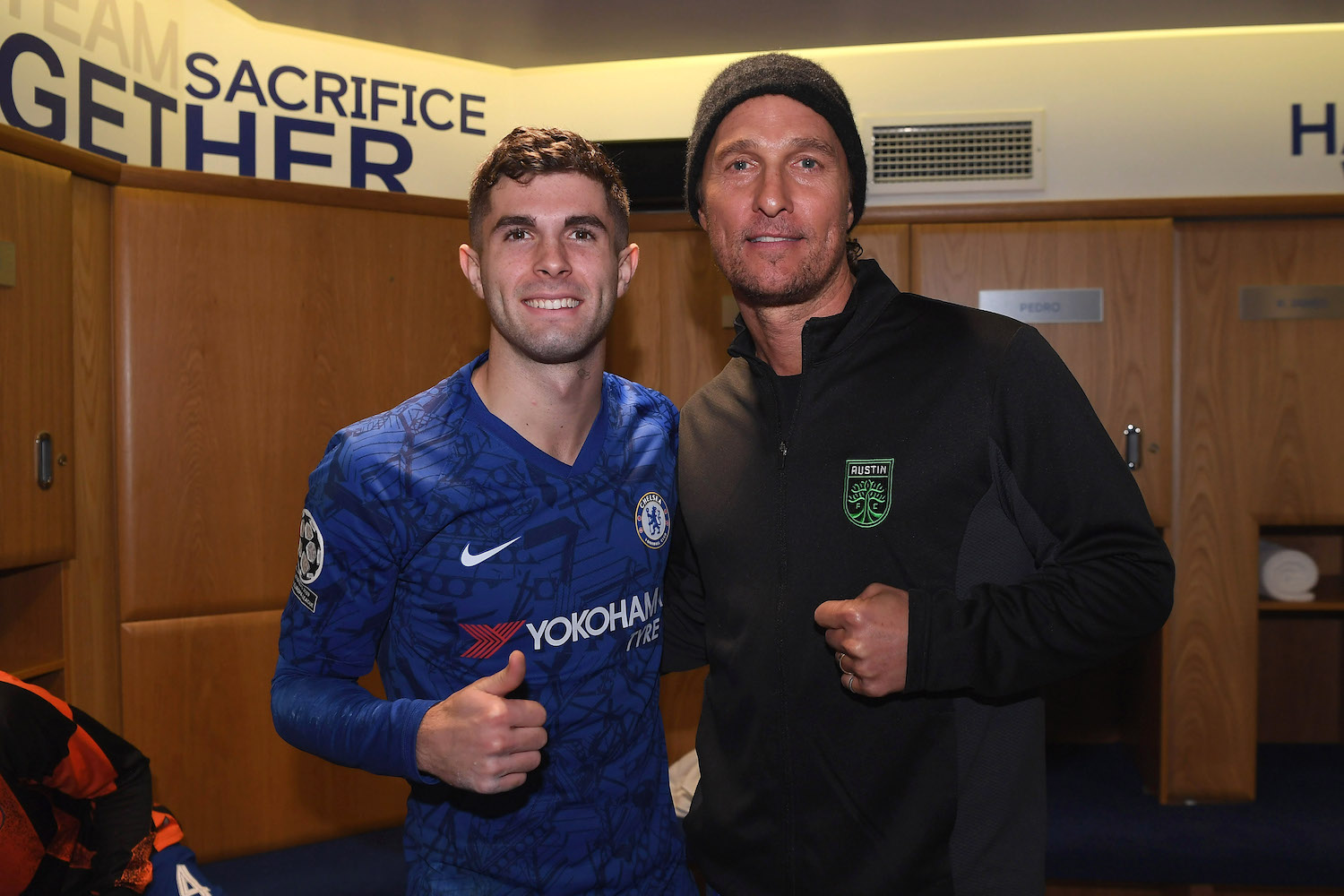 Matthew McConaughey Delivers Powerful Message on 25th Season of MLS Action
Matthew McConaughey loves American football. He is also passionate about soccer and delivers a powerful statement on the return of MLS in its 25th season.
Matthew McConaughey has been a long-time passionate fan of University of Texas athletics. The Academy Award-winning actor also revealed last year that he's a fan of soccer when Austin FC announced McConaughey as a part-owner of the new MLS club scheduled to start in 2021. Now, McConaughey is sharing his love for the game on a broader scale with a new video promoting the 25th season of MLS. 
Matthew McConaughey joins Austin FC
When Matthew McConaughey joined on as a co-owner of Austin FC, many were surprised to see the actor embracing the sport as enthusiastically as he did. McConaughey is known as a fan of the Texas Longhorns and can regularly be spotted on the sidelines at basketball and football games. That's the football most associated with McConaughey.
World football, or soccer, is something McConaughey has enjoyed since his days as a youth playing the sport. He said it was an easy decision when asked to join with Austin FC as a co-owner.
"Austin FC is more than a quality investment FOR Austin, it's a quality investment IN Austin," McConaughey said in press conference announcing his new ownership. "The most diverse and borderless game in the world is now coming to one of the most multicultural, creative, and diverse cities in the world. Austin FC is a healthy investment in our city's culture and future."   
McConaughey acting as ambassador of the world's game
While many entertainers/athletes become part owners of a sports team and fade into the background, that hasn't been the case with Matthew McConaughey. Like his love for the Longhorns and his passion for acting, McConaughey doesn't ever do anything halfway. He is passionate about the world's game and wants to share that excitement with others.
In an interview on the Men in Blazers podcast, McConaughey talked about how the soccer ball is the "greatest invitation in the world." 
"You can be at a square in Rome, and someone has as soccer ball, you can walk up. You don't introduce yourself. They kick the ball to you and all of a sudden you're in the game."
In his travels around the globe promoting his movies, McConaughey has been spotted at a variety of locations taking in a match, including a Champions League match late last year with Chelsea that featured American superstar Christian Pulisic. 
Matthew McConaughey promoting MLS
Matthew McConaughey said while soccer is currently in the fifth spot in popularity behind football, basketball, baseball, and hockey, he doesn't see it staying there for long. 
"I believe, very soon, soccer can move its way up to the three spot. North America is hosting the World Cup in 2026, which is the greatest advertisement for this great game," he said. "I see the youth movement. When the academies are understood to be a real way that the young American athlete can, going forward, see that there's a game that I can play until I'm 40. There's a game I can still be healthy until I'm 70. A game I can play that I can fill my passport." 
Until then, McConaughey is doing his part to promote soccer. He recently narrated a spot that highlights the growth of the sport in MLS during the last 25 years. 
"It's skill. It's style. It's community. It's teams," the actor describes, as a wide array of photos flash by showing the timeline of MLS. "It's fans, family, future. It's generations. It's a movement. And it's just getting started."
The video will air for the first time nationally during the MLS is Back Tournament final on August 11. The 25th MLS season is scheduled to resume with a full slate of action on August 20.