Matthew Stafford Contract: Rams Can't Trade QB, Even Though They Want To
The Matthew Stafford trade worked out great for the Los Angeles Rams, as the quarterback brought the team a Super Bowl trophy. However, just a year removed from that triumph, the Rams are paying the price. Stafford missed eight games last season with a spinal cord contusion, and now at age 35, the Rams would love to trade the signal-caller. The problem is no team wants to touch the Matthew Stafford contract.
The Matthew Stafford Contract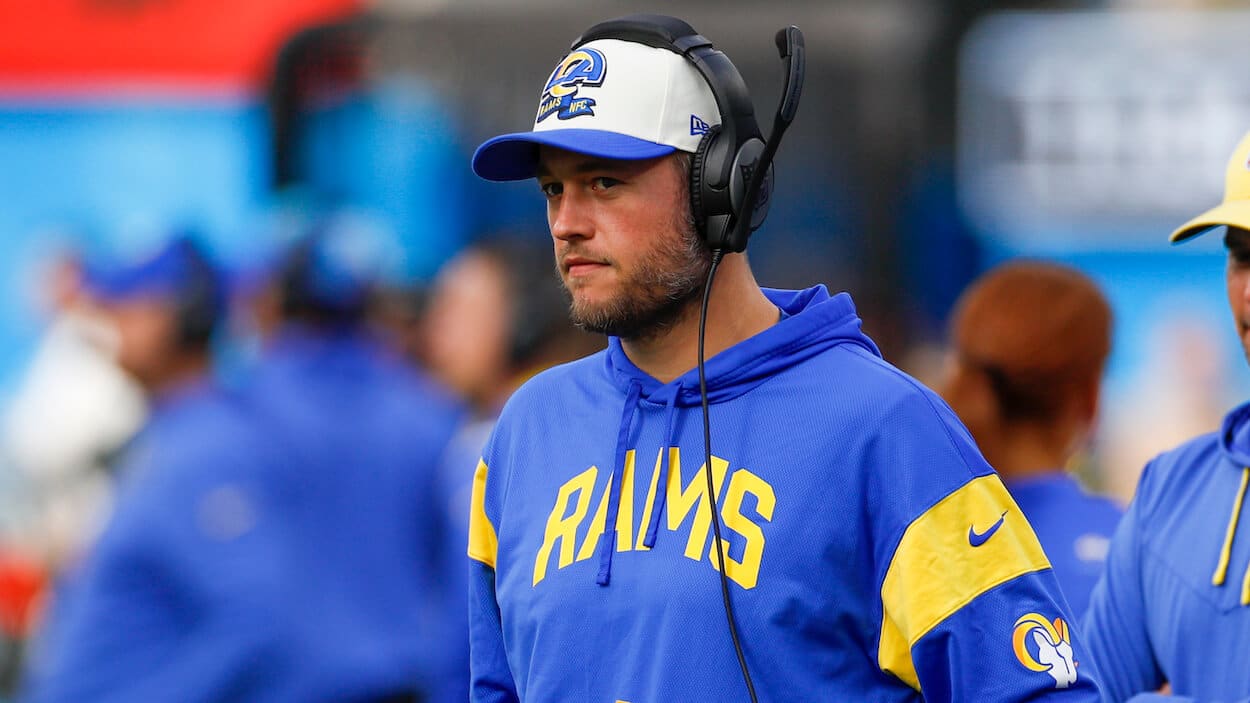 Matthew Stafford was the No. 1 pick in the 2009 NFL Draft. That was a year before the NFL implemented a rookie wage scale, meaning Stafford was the second-to-last No. 1 QB (before Sam Bradford) to get a massive rookie deal.
That rookie Matthew Stafford contract was a massive six-year, $72 million contract. That initial pact is what set Stafford on the path toward becoming the third-highest-paid NFL player of all time at $300,806,010. He is only behind Tom Brady and Aaron Rodgers.
The rookie deal wasn't the only huge Matthew Stafford contract, though. His current agreement is pretty large as well.
During the 2022 offseason, in the afterglow of the Rams' Super Bowl victory, LA signed Stafford to a four-year, $160,000,000 contract. It included a $60,000,000 signing bonus, $130,000,000 guaranteed, and an average annual value (AAV) of $40,000,000.
In 2023, Stafford's base salary is just $1,500,000, with $12,000,000 in prorated signing bonus and a $26,000,000 million option bonus. The QB's cap hit is $20,000,000, and the deal has a dead cap number of $49,500,000.
On March 17, 2023, $57 million of Stafford's remaining contract guarantees. That is his 2023 $26,000,000 option bonus and his entire $31,000,000 million 2024 salary.
Trading Stafford would mean the Rams having $48 million in dead cap in 2023 for the QB, which would wreck their cap for the year. However, the team is reportedly willing to do it in order to get out of the future money.
There just aren't any teas willing to take that on.
The Rams reportedly want a Matthew Stafford trade, but the money makes it hard
Former NFL executive Mike Lombardi went on the Pat McAfee Show on Thursday and somewhat shockingly broke the news that a Matthew Stafford trade is possible.
When asked if Stafford and possibly Kirk Cousins are on the block, Lombardi responded, "Oh, Matt Stafford is fully available. Matt Stafford, they would love to trade — they can't do it. He's got $57 million in guaranteed."
And Lombardi was steadfast in his sources.
"The Rams, what are they gonna do? They're tying to get out from it. So, I don't really want to hear the bulls*** that, 'Oh, we're not trying to trade him.' Yes, you are! You've called teams. I know this," Lombardi said. "I don't really care what they say. They all lie about it. I lied about it."
Regardless of whether the Rams want a Matthew Stafford trade or not, though, the chances are it's not going to happen.
In a league that has seemingly soured on big QB trades (see Lamar Jackson), the Matthew Stafford contract is just too huge to deal right now.