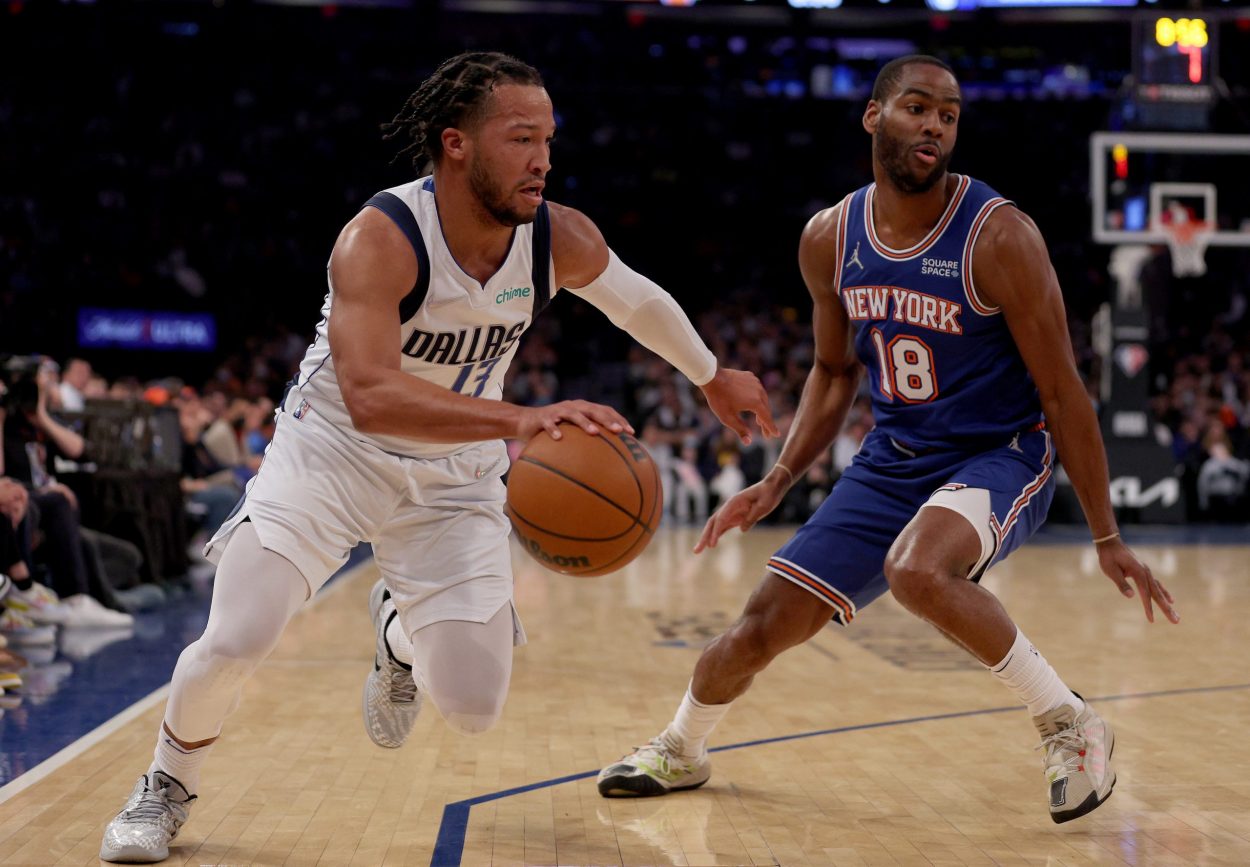 The Mavericks Might Need a Risky Trade Because of Cap Issues, and the Knicks can Capitalize
Salary-cap issues could force the Dallas Mavericks' hand at the NBA trade deadline, and the New York Knicks can take advantage.
The Dallas Mavericks might have to give a little to get future value ahead of the Feb. 10 NBA trade deadline, and the New York Knicks could very well come calling.
Future financial considerations might force the Mavs to part ways with guard Jalen Brunson. Meanwhile, the Knicks are desperate for stability at the point, and could very well make a play for Brunson with the idea of re-signing him this summer.
The Mavericks would almost certainly prefer to buy ahead of the deadline and surround Luka Doncic with the pieces he needs to win now. Simultaneously, Dallas must also plan for the future and figure out how best to roster-build for Luka's prime. All of the above factors could result in a slightly splashy deal with the Knicks.
The Mavericks have a Jalen Brunson dilemma
Jalen Brunson has been a winning player for the Mavericks. Is he worth $80 million? That's the question Dallas' front office is likely asking.
Bleacher Report's Eric Pincus reported that Brunson, a free agent this summer, is seeking a contract in the neighborhood of four years and $80 million. Questions remain about whether teams value Brunson that highly, but there's no doubt he will get paid.
Brunson is averaging 15.7 points, 5.6 assists, and 3.8 rebounds on 50.2% shooting. In 32 games as a starter, Brunson's averages rise to 17.8 points, 6.4 assists, and 4.2 rebounds on 57.3% true shooting. But the production hardly encapsulates the 25-year-old's value.
Brunson shows terrific patience in pick-and-roll, assessing mismatches and negotiating space to attack the basket on straight-line drives. He knifes into the lane almost at will, employing excellent footwork around the basket while also proving capable of making midrange jumpers off the dribble.
Even if Brunson fails to get $80 million, he should come close because of his yearly progression. That's tough news for the Mavericks.
If Dallas elects to keep Brunson and Dorian Finney-Smith, another Mavs player due for a raise, it will be hamstrung by luxury tax issues. Indeed, ESPN's Zach Lowe reported Brunson's "flight risk" is real.
Additionally, Brunson's status as an impending free agent somewhat mitigates his trade value unless the team acquiring him feels confident it can re-sign the former Villanova star.
The Mavericks need to get Doncic more help, but that might mean adding future assets or compensation that Dallas can use to make more trades in the offseason. This is where the Knicks come into play.
The Knicks need more of a true point guard and have the pieces to make a deal
Although RJ Barrett has shown flashes for the Knicks, he's not a true point guard. Similarly, the Kemba Walker experiment has mostly failed and is likely nearing its end.
New York needs a point guard before the NBA trade deadline, but it likely cannot afford a Ben Simmons blockbuster despite the potential upside. However, the Knicks could concoct an interesting package for Brunson.
Ian Begley of SNY.tv reported that the Knicks and Mavericks had some preliminary talks regarding Brunson a few weeks back. Insider Marc Stein reported the two teams have not had talks since then. Still, the stars could align for an intriguing deal.
A Brunson swap might look something like this …
Knicks receive: Jalen Brunson, Maxi Kleber, 2022 second-round pick
Mavericks receive: Kemba Walker, Taj Gibson, 2022 protected first-round pick (via CHA), 2023 first–round pick (via NYK)
At first glance, this looks like a questionable deal for the Mavs. But there are multiple considerations here.
When he's right, Walker remains a solid secondary playmaker and shot-creator who can space the floor and play off the ball. That makes him an ideal complement to Doncic. Yes, health is a question. But, considering he's only owed just over $9 million next season, it's a risk worth taking for Dallas, especially given the other assets it could attain.
Gibson is an improvement over Kleber on the defensive end with his rim protection and switchability. His contract is also not guaranteed for next season, allowing Dallas to free up over $5 million in cap space.
The first-round picks are the most consequential thing here. The 2022 pick, originally from the Charlotte Hornets, would not currently convey to the Knicks. But it's not out of the realm of possibility that Charlotte could sneak up the standings, which could result in the pick conveying. Even if it doesn't, the protections shrink, plus the Mavs could ask for an additional first with the notion that the Knicks would likely re-sign Brunson as part of the team's young core.
In essence, the Mavs can stockpile draft capital with the hopes of using them in a bigger deal for a potential star or impact player. That, plus the upside of healthy Kemba, could entice Dallas to make a move rather than risk Brunson walking in free agency.
Stein reported the Mavericks do not currently have interest in trading Brunson for future draft compensation. But Dallas might not have a choice.
How highly do the Mavs view Brunson?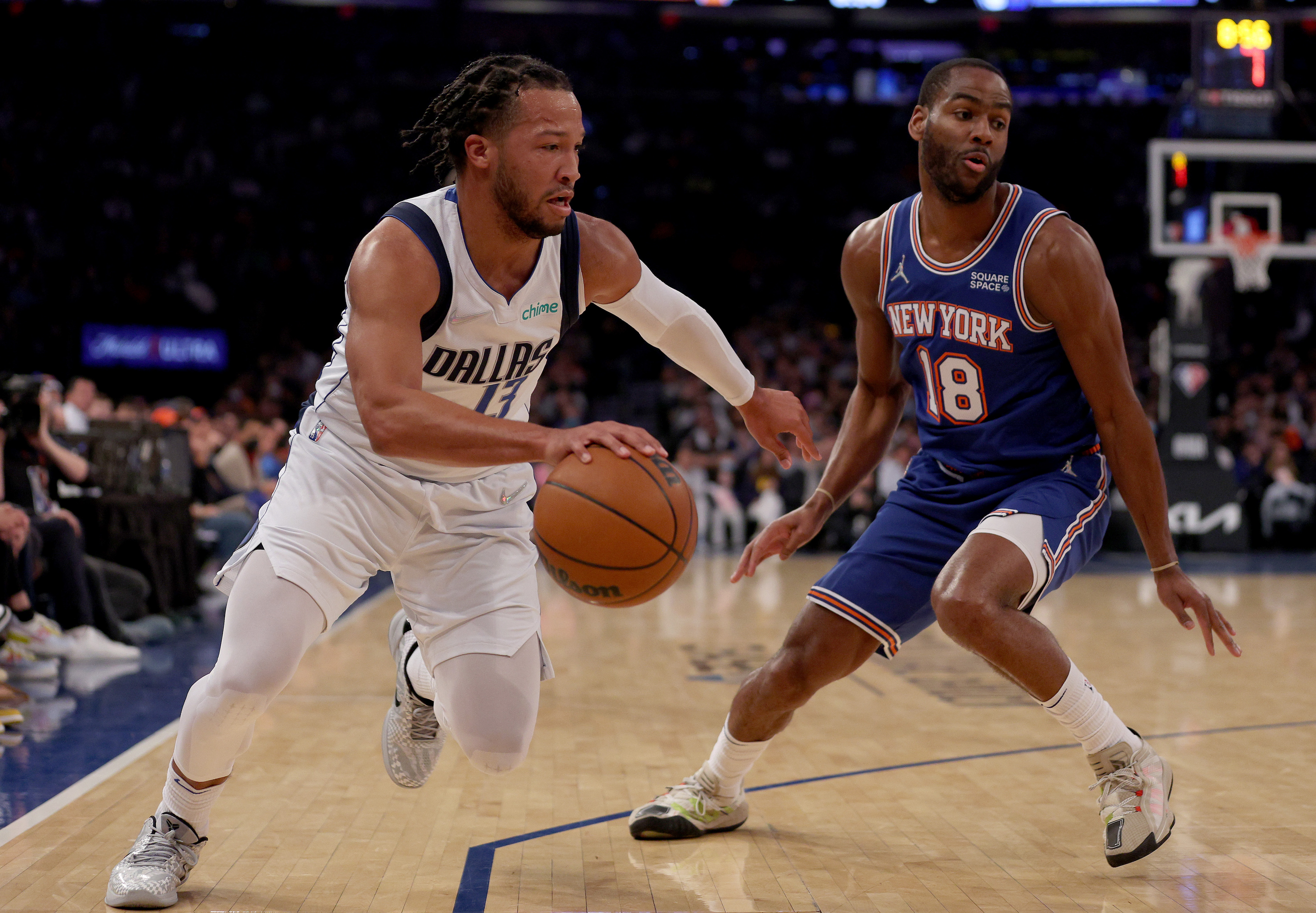 Ultimately, a deal between the Mavericks and Knicks likely comes down to how highly Dallas views Jalen Brunson.
The Knicks are going to be active ahead of the NBA trade deadline. They're reportedly shopping almost all of their veterans, including Walker. Acquiring Brunson might only tip the first domino.
However, there's no telling that the Mavs are willing to part with Brunson. Maybe Dallas chooses to re-sign Brunson because it really does feel he can play a significant role on a championship team. Or, the Mavericks might gamble on Brunson getting well below $80 million.
Dallas likely has some avenues that include trading Brunson and or Finney-Smith while obtaining valuable draft compensation. However, the Mavericks must decide whether the current roster is good enough to win a title. If the answer is no, then they might need to swing a deal.
Stats courtesy of Basketball Reference.