Mel Kiper Jr. Eats the Same Decadent Dessert for Breakfast Every Morning and Devours Pizza in the Most Bizarre Way Imaginable
As a man who spends most of his time in front of a television camera, Mel Kiper Jr. has to always be watching his figure. ESPN viewers would be quick to point out if Kiper put on a few pounds in between two runnings of the NFL draft. One might think Kiper would be on a strict diet of low-fat proteins, fruits, and vegetables to maintain his TV-friendly body.
But that isn't exactly the case.
Kiper has maybe the most bizarre diet you've ever heard of. ESPN's draft guru has admitted that he eats the same decadent dessert for breakfast every day: pumpkin pie. And if you think that's weird, just wait until you hear how he eats his pizza. Certifiably insane.
Mel Kiper Jr.'s journey to ESPN draft guru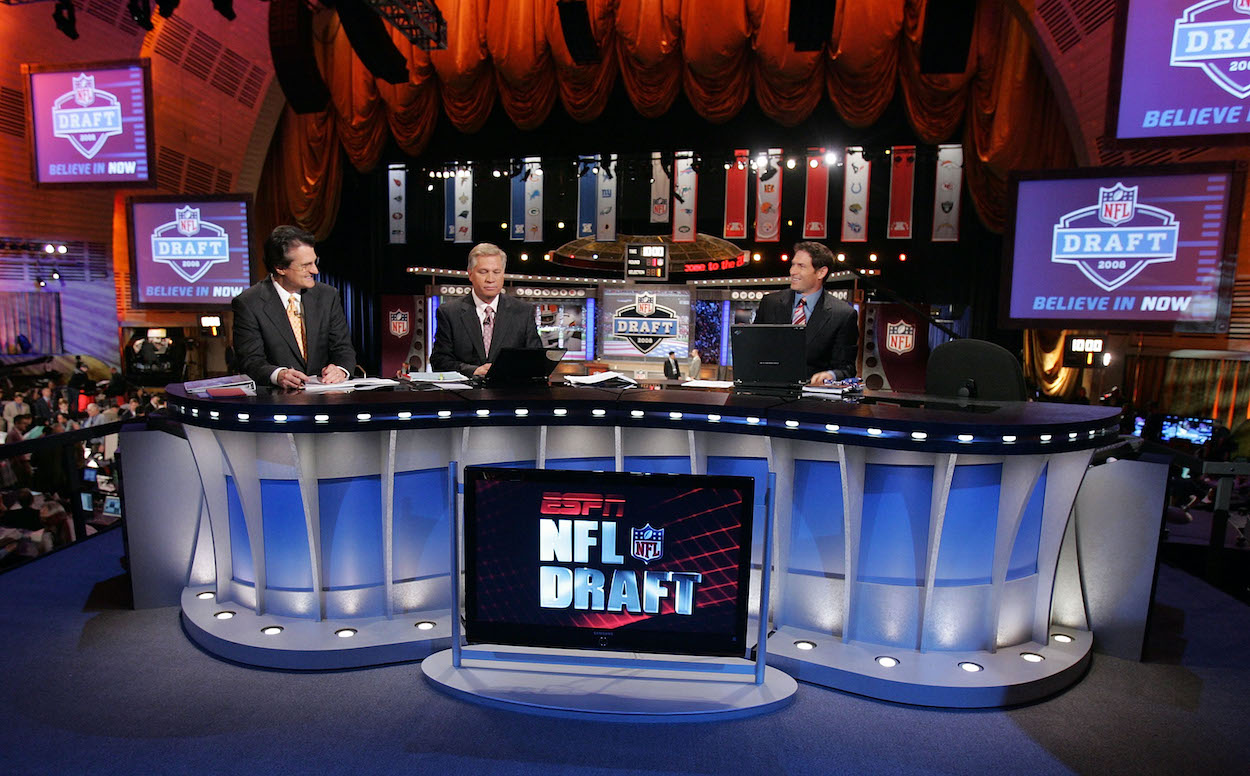 Kiper has been an NFL draft expert since he was a child growing up in Baltimore, Md. Before he became known as the top draft analyst in sports, he created his own draft reports by hand and gave them out to any willing passerby he could find.
Eventually, Kiper got one of his draft reports into the hands of former Baltimore Colts general manager Ernie Accorsi, and the famous executive convinced him to start selling his notes. So, that's exactly what he did.
In 1984, Kiper was hired by ESPN as an analyst for the company's NFL draft coverage, and he's remained in the same role ever since. Today, fans eagerly await Kiper's mock draft and big board every year, as he's become the most well-known draft analyst in sports media.
Kiper eats the same decadent breakfast every morning
Kiper is now making the rounds across ESPN's family of networks giving his thoughts on every team and every prospect in the 2021 NFL draft. With that much television time on his plate, you would think Kiper might be watching his figure leading up to draft night.
Apparently, not so much.
Kiper admitted during ESPN's coverage of the 2012 draft that he eats a slice of pumpkin pie with fat-free whipped cream on top every morning for breakfast. "But I don't eat the crust," Kiper noted.
Maybe that's how he keeps his television body in tip-top shape.
Kiper devours pizza in the most bizarre way imaginable
If you thought Kiper's breakfast habit was odd, get a load of the way he eats pizza.
"I take the cheese off the pizza, and I eat the pizza with mashed potatoes," Kiper revealed on a recent episode of the ESPN Daily podcast. "So, mashed potatoes and pizza without cheese is what I do. I think I'm healthy because I'm not eating the cheese, right? I don't eat the cheese. I just leave a little on there for the flavor. The cheese does give you the flavor, I do leave a little bit on.
"It's mostly just the sauce and the dough, and then I put the mashed potatoes on it, and that's what I do."
Truly bizarre. Keep doing you, Mel.