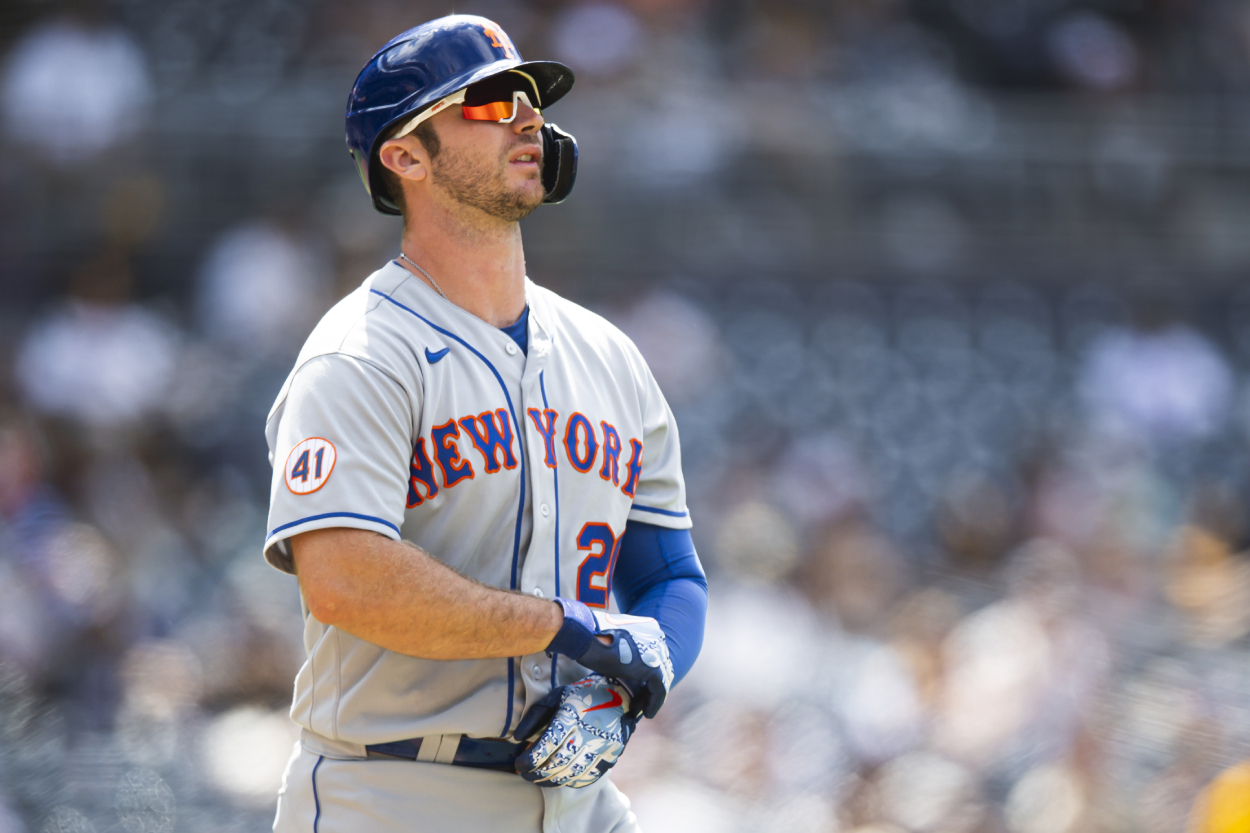 Mets Star Pete Alonso Shares His Bizarre MLB Conspiracy Theory … and He Might Be Onto Something: 'That's Not a Coincidence'
The hottest topic among MLB fans of late has been around the use of foreign substances by pitchers who want to have a better spin rate. Not all players are upset about it, though. In fact, Mets player Pete Alonso has his own conspiracy theory about something the league needs to address.
All the talk amongst MLB players and fans of late has been around pitchers potentially using foreign substances to help their spin rates. Which pitchers are using them? Is it really cheating if they have always done it? Do the substances really help all that much?
However, not every player seems to be as concerned as others, including a New York Mets star who has a conspiracy theory of his own: Pete Alonso.
The MLB is cracking down on foreign substances
Of all the major sports, baseball seems to have the most problems with players trying anything and everything to gain an edge. From PED use, to stealing signs, to now potentially using foreign substances on the mound, players never appear satisfied with just playing the game naturally.
The latter has been a hot topic of conversation of late, as, last week, reports surfaced that the MLB planned to instruct its umpires to enforce the rule against foreign substances, according to ESPN. The rule has been around for years, but not many umpires proactively enforce it, and not every pitcher follows it. 
The substances are supposed to help pitchers with their spin rates, and, as CBS Sports notes, multiple pitchers have had lower spin rates since the news of the league's potential crackdown surfaced.
All of this comes in a season where MLB hitters are on pace to record their lowest batting average in league history, and their highest strikeout rate ever.
However, Alonso doesn't think foreign substances are the issue.
Mets player Pete Alonso has his own conspiracy theory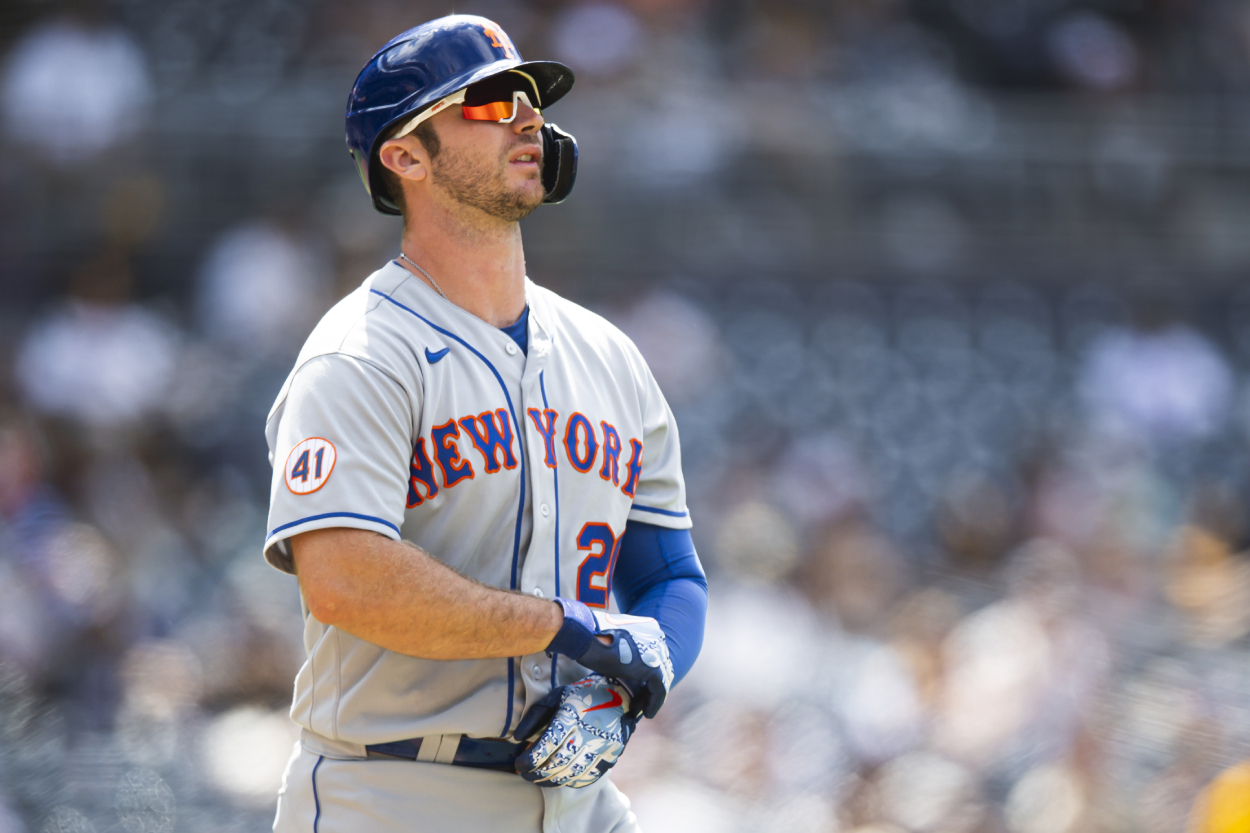 The 2019 NL Rookie of the Year, Alonso, recently said he isn't a supporter of the MLB's decision to crack down on foreign substances. He actually has an issue with something else.
"The biggest concern is MLB manipulates the baseball year in and year out depending on free-agency class, or guys being in an advanced part of their arbitration," Alonso said, per ESPN.
A reporter then asked the star Mets player if his peers around the league believe that the MLB purposely manipulates its baseballs based on upcoming free agents. And he replied by saying, "Oh no, that's a fact."
"In 2019, there was a huge class of free-agent pitchers and then that's quote-unquote 'the juiced balls,' and then 2020 was a strange year with the COVID season," Alonso added, per ESPN. "But now that we're back to playing in a regular season with a ton of shortstops or position players that are going to be paid a lot of money like high-caliber players — I mean, yeah, that's not a coincidence. It's definitely something that they do."
This theory seems pretty bold, and maybe even bizarre. But he might be onto something.
Could Pete Alonso's conspiracy theory be correct?
So, Alonso essentially thinks the MLB is altering its baseballs to keep some of its upcoming free agents from making as much money as they would typically be able to.
While there isn't enough evidence to fully back this up, he might be onto something.
According to ESPN, 3.6% of plate appearances ended with a home run in 2019. Hitters also set the MLB league-wide record for total home runs in a season.
Some of the free agents that offseason? Gerrit Cole, Stephen Strasburg, Madison Bumgarner, and Hyun-Jin Ryu.
The MLB then informed its teams before this season that it planned to deaden its balls slightly for the 2021 campaign. The home-run-per-plate-appearance average has since dropped to 3.1%, and, as mentioned earlier, hitters are on pace for a historically bad league-wide batting average.
Some of this year's free agents? They include 2020 World Series MVP Corey Seager, two-time Silver Slugger Trevor Story, Carlos Correa, and 2020 NL MVP, Freddie Freeman.
Is this enough proof to say that the MLB is cheating some of its stars out of millions? No, but the home run and batting average numbers in correlation to the upcoming free agents is definitely something to consider.
Given the fact that baseball has seemingly decreased in popularity over the years, with football now being king in America and basketball not following too far behind, maybe the league should just worry about making the game more appealing. The more hits and home runs, the more fun it is to watch.
If Alonso's conspiracy theory is correct, the league appears to have its priorities way out of order.
Like Sportscasting on Facebook. Follow us on Twitter @sportscasting19.