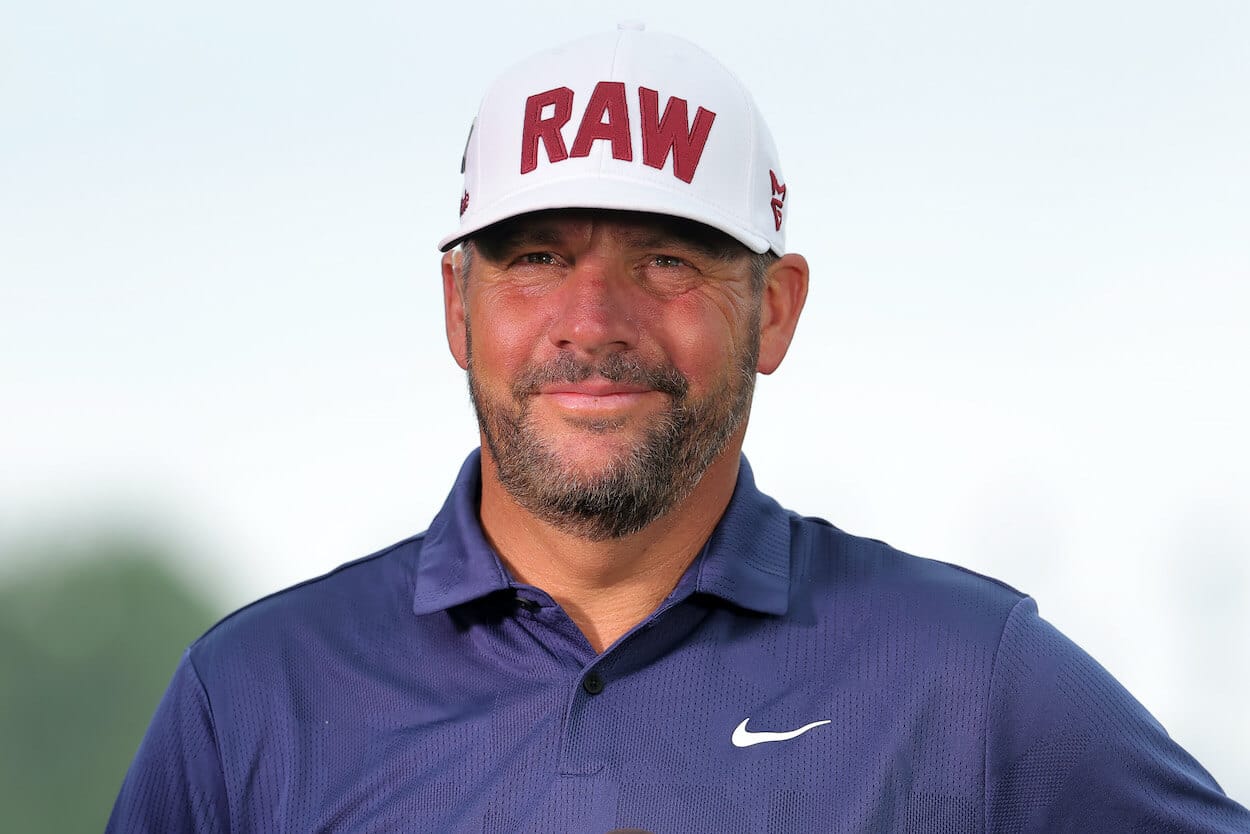 Michael Block Went From Beloved PGA Championship Hero to Smug Villain Overnight
Michael Block may have ruined his reputation as a beloved underdog with one comment.
"You either die a hero or live long enough to see yourself become the villain." For PGA Championship folk hero Michael Block, that transition occurred overnight.
Golf fans around the world fell in love with the 46-year-old club pro when he dunked a hole-in-one on 15 and made a miraculous up and down on 18 to cap off an improbable T15 finish at Oak Hill Country Club. Block's humility, fun-loving personality, and gratitude for his newfound fame captivated the golf world in a way we haven't seen since Tiger Woods' Masters triumph in 2019.
But he may have just ruined that reputation with one absurd comment.
Michael Block went from unknown club pro to PGA Championship hero in one week
Brooks Koepka won the 2023 PGA Championship to capture his fifth career major title, but his victory paled in comparison to Michael Block's Cinderella story.
Block, the head professional at Arroyo Trabuco Golf Club in Mission Viejo, Calif., entered the PGA Championship with 25 career PGA Tour starts and just four made cuts. His best finish on Tour was a T69 nearly 10 years ago. Almost no one knew his name when he teed it up at Oak Hill last Thursday.
That quickly changed when Block got himself into contention with three straight rounds of even-par 70. The magic seemed to be fading as he reached the backstretch of his final round, but the Cinderella story hit its peak when Block dunked an ace on the par-3 15th hole to send the Rochester crowd into a frenzy. He finished off Sunday's round with a near-impossible up and down on the 18th hole to punch his ticket to the 2024 PGA Championship.
Throughout the week, Block remained humble every step of the way. He cherished every moment he got to play with Justin Rose and Rory McIlroy on the weekend, and he was genuinely appreciative of the millions of new fans he won over at Oak Hill.
But that honeymoon phase didn't last long.
Michael Block flips from hero to villain after absurd Rory McIlroy take
Golf fans fell in love with Block because of his humility at the PGA Championship. He knew his game shouldn't have been good enough to put himself in contention at a major championship, so he was just enjoying the ride while it lasted.
But it turns out that's not how he really feels.
In an appearance on the Ripper Magoo Podcast with Bob Menery this week, Block claimed he would be at the top of the PGA Tour if he could drive the ball as far as Rory McIlroy.
"He's (McIlroy) a lot longer than I am, that's what it is," Block said.
"So the length is the big thing?" Menery posed.
Oh my God. What I would shoot from where Rory hits it would be stupid. I think I'd be one of the best players in the world, hands down. If I had that stupid length, all day. My iron game, wedge game, around the greens and my putting is world-class.

Michael Block
Woah there. I know he played the tournament of his life last week, but world-class? This is the same guy who made just four cuts in 25 tries before the PGA Championship. There are hundreds of PGA Tour players who have won tournaments over that span who can't get within 30 yards of McIlroy's drives. When you can't drive the ball past 300 yards on a consistent basis, you have to be elite at every other aspect to compete on the PGA Tour, and Block's game simply isn't on that level.
At the PGA Championship, Block ranked 25th in strokes gained on approach, 55th in strokes gained around the green, and sixth in putting among the 76 players who made the cut. If he really was a world-class player from 150 yards and in, he would've at least been in contention at one PGA Tour event on a shorter course.
Golf Twitter quickly turned on Block after his McIlroy comment went viral, so he better be able to back up his bold claim at the Charles Schwab Challenge this week.