Michael Cooper Explains What Made Larry Bird 'Larger Than Life'
Larry Bird could do it all on the basketball court. The Boston Celtics legend is one of three players in NBA history to win three straight MVPs, and he helped the C's win three championships in the 1980s.
Bird, along with Los Angeles Lakers point guard Magic Johnson, helped take the NBA to another level. Their rivalry was second to none and saw them meet up in the NBA Finals three times. Johnson's teammate, Michael Cooper, knows just how good Bird was because he had the unenviable task of guarding the Celtics star. Recently, Cooper explained just how good Bird was and revealed what made him "larger than life."
Larry Bird said Michael Cooper was the only player who could shut him down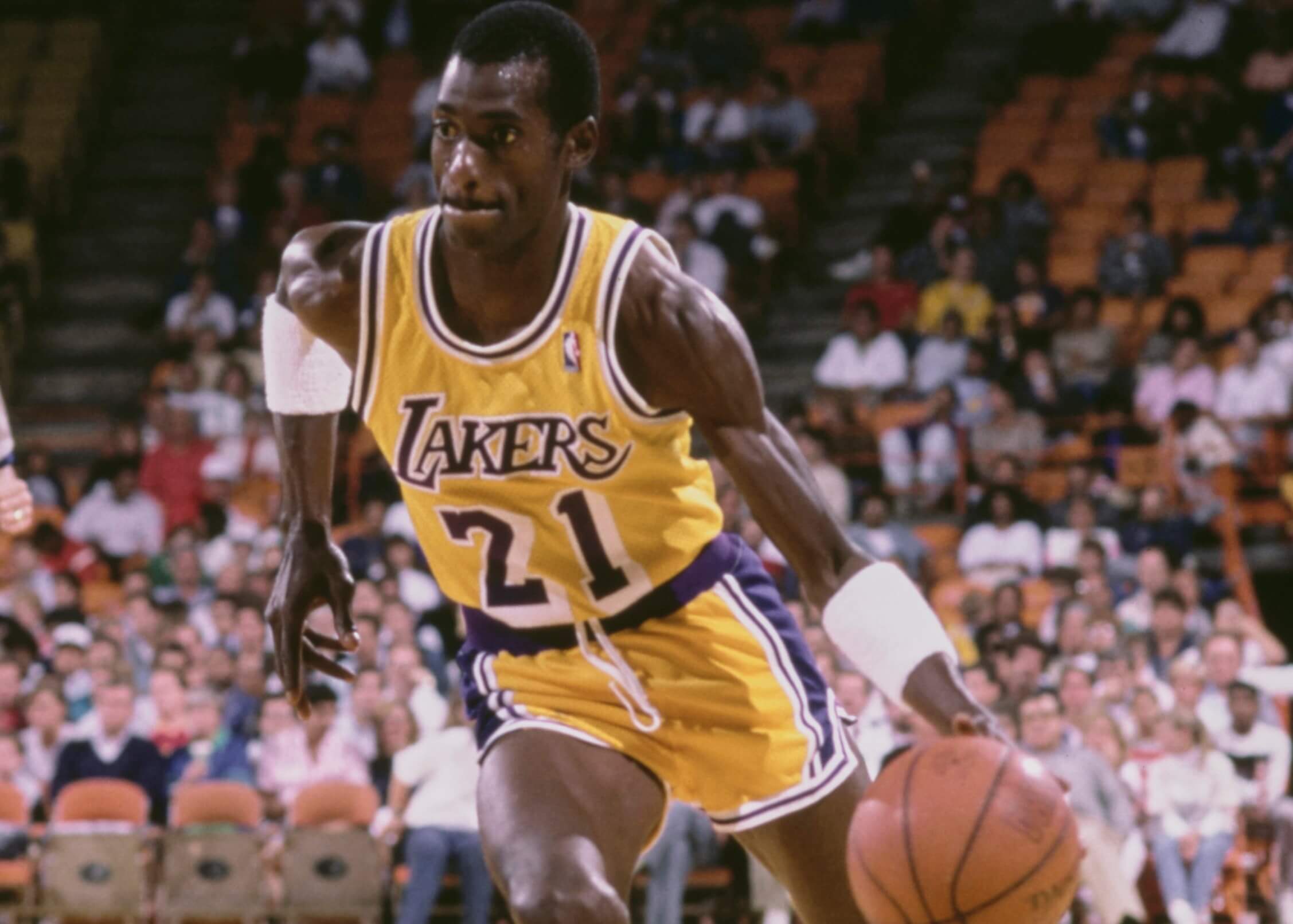 The Celtics and Lakers met in the NBA Finals in 1984, 1985, and 1987 with Bird and Cooper going at it. But it was in 1986 when the Celtics faced the Houston Rockets for the championship when Bird paid Cooper the ultimate compliment.
"Michael Cooper's not in this series, and he's the only one who can really shut me down," Bird said then, per Sports Illustrated.
"When Larry says something like that, it kind of puts the — cross the T's and dot the I's — and kind of like puts all that together for me," Cooper told former teammate Byron Scott during a 2021 appearance on Scott's Off the Dribble podcast. 
"He was a handful. That's one that kind of makes me pat myself on the back and know it's a job well done. But the job I did wouldn't have been great without you guys, my teammates."
With Kareem Abdul-Jabbar, James Worthy, Johnson, and Scott on the Lakers, Cooper didn't need to focus on offense. He was the defensive specialist and a damn good one.
"When I first got to the Lakers, they told me, 'We got Kareem, Norm Nixon, Jamaal Wilkes. I don't need nobody else shooting the ball,'" Cooper told Scott. "That's kind of how I got into the forte of being a good defensive player."
Cooper explained why Bird was 'larger than life'
During the most recent episode of his Showtime With Coop podcast, Cooper spoke about Bird after former NBA player JJ Redick made some foolish comments regarding Bird and 80s basketball. After Cooper blasted Redick, he turned his attention to Bird.
Cooper said he didn't like Bird, but he respected the heck out of him for what he could do on the court. He talked about how much Lakers coach Pat Riley prepared the team when they faced Bird and the Celtics, and it wasn't always good enough.
"I've always said this," Cooper said of Riley. "Yeah, he was a taskmaster and he'd run the s*** out of us, but when the playoffs started — especially when we got to the Finals and saw the Boston Celtics — his attention to detail was better than any coach I've ever been around.
"We knew what play — when they called 'Four Down,' 'Three Out,' '33 C,' or whatever it was to get Larry open — we knew. We knew where the ball was going to go. That's what made Larry larger than life because he knew that we knew he was going to get the basketball.
"Larry never really talked to me, but one time in the '84 series, we're playing in The Forum. They're coming down, and Larry gets me at the top of the key, and he's walking me underneath his basket. He goes, 'Coop, I'm gonna wear your ass out.'
"I get down in my best defensive stance, and he goes down the lane and comes off the left side. Robert Parish sets a pick. We knew the play, knew what was coming up. Larry comes off the pick shoulder-to-shoulder with Parish, and I'm trailing behind him, he catches the basketball right about at the elbow. Kareem stops him from turning the corner.
"Larry catches the ball, goes up in the air, and here I come. I'm like ready to smash this s***. I jump up, and I don't know how Larry got this ball between Kareem and I. Kareem had his hands up. I'm coming with my right hand. He got a great pass, like I said, I don't know how he got it to him, but he got it to Robert Parish, who went to the basket and Robert dunked it. Larry looks over his shoulder at me and laughs and said, 'I told you motherf***er.'"