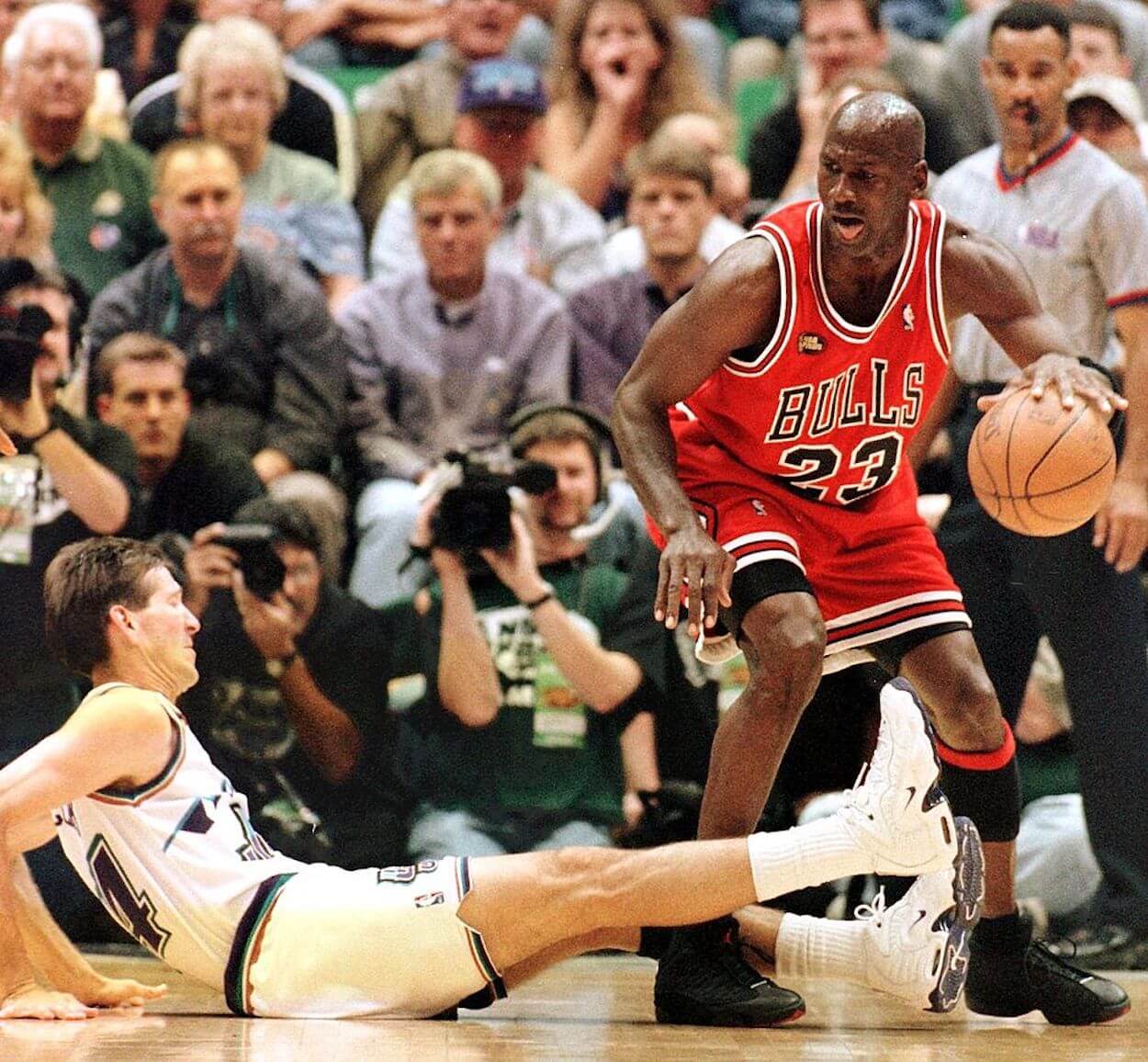 Michael Jordan's Act of Generosity Is at the Center of a Lawsuit Involving Sneakers, Panic, and Lots of Cash
During the 1990s, Michael Jordan gifted two pairs of shoes to a ball boy. Decades later, one of them is at the center of a lawsuit.
While he's remembered as a legendary basketball player, Michael Jordan has also earned a reputation as somewhat of a jerk. Between punching teammates during practice, talking trash, and taking things personally, His Airness doesn't seem like someone you'd necessarily want to spend too much time with.
In the 1990s, though, the living NBA legend did make a couple of kind gestures. During the 1997 and 1998 NBA Finals, Jordan gifted some sneakers to a Utah Jazz ball boy. That was a kind gesture at the time, but it's turned into a headache since.
These days, Preston Truman is engaged in a lawsuit related to one pair of those famous Nikes.
Michael Jordan beat the Utah Jazz in two NBA Finals but left some shoes in Salt Lake City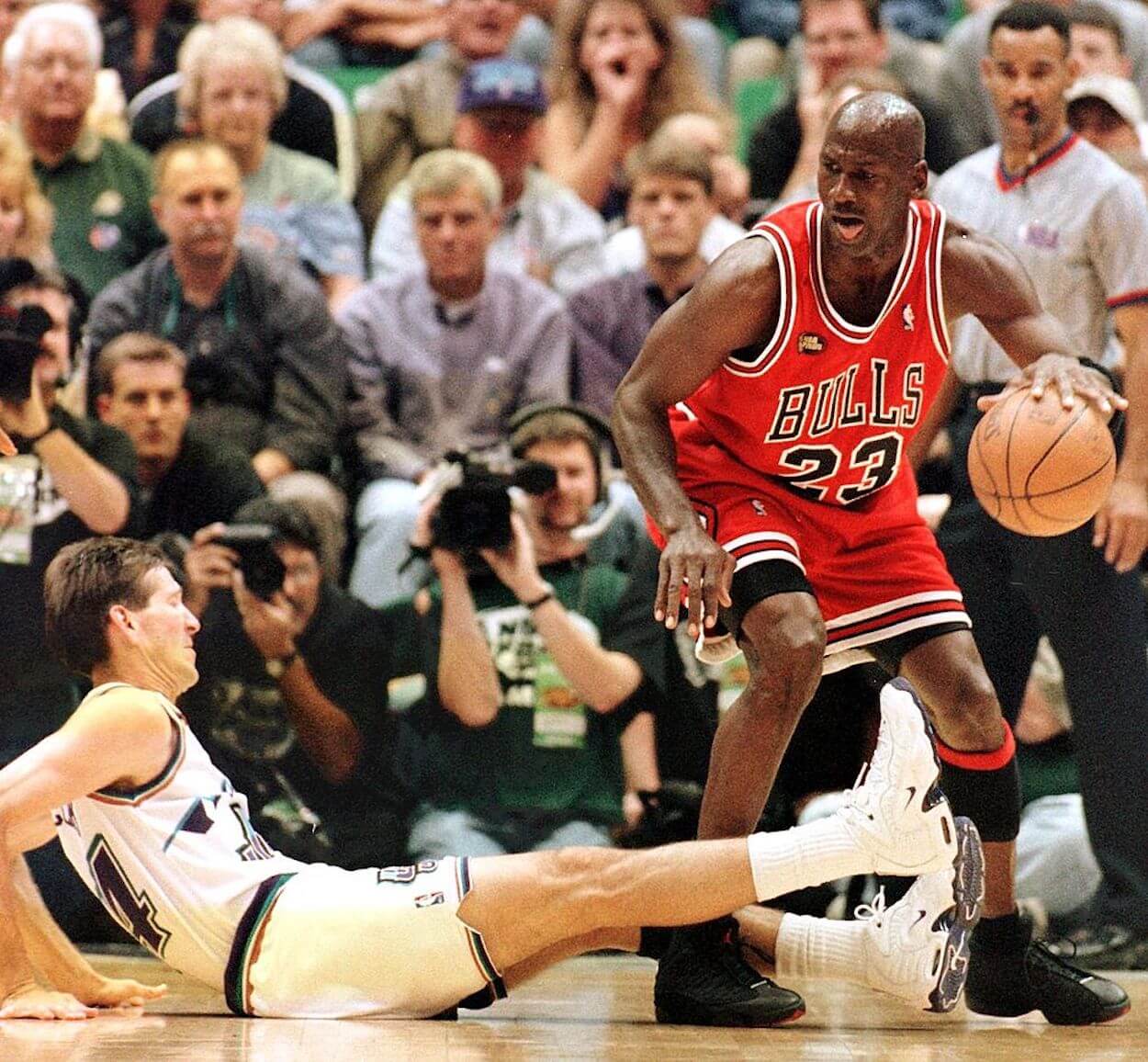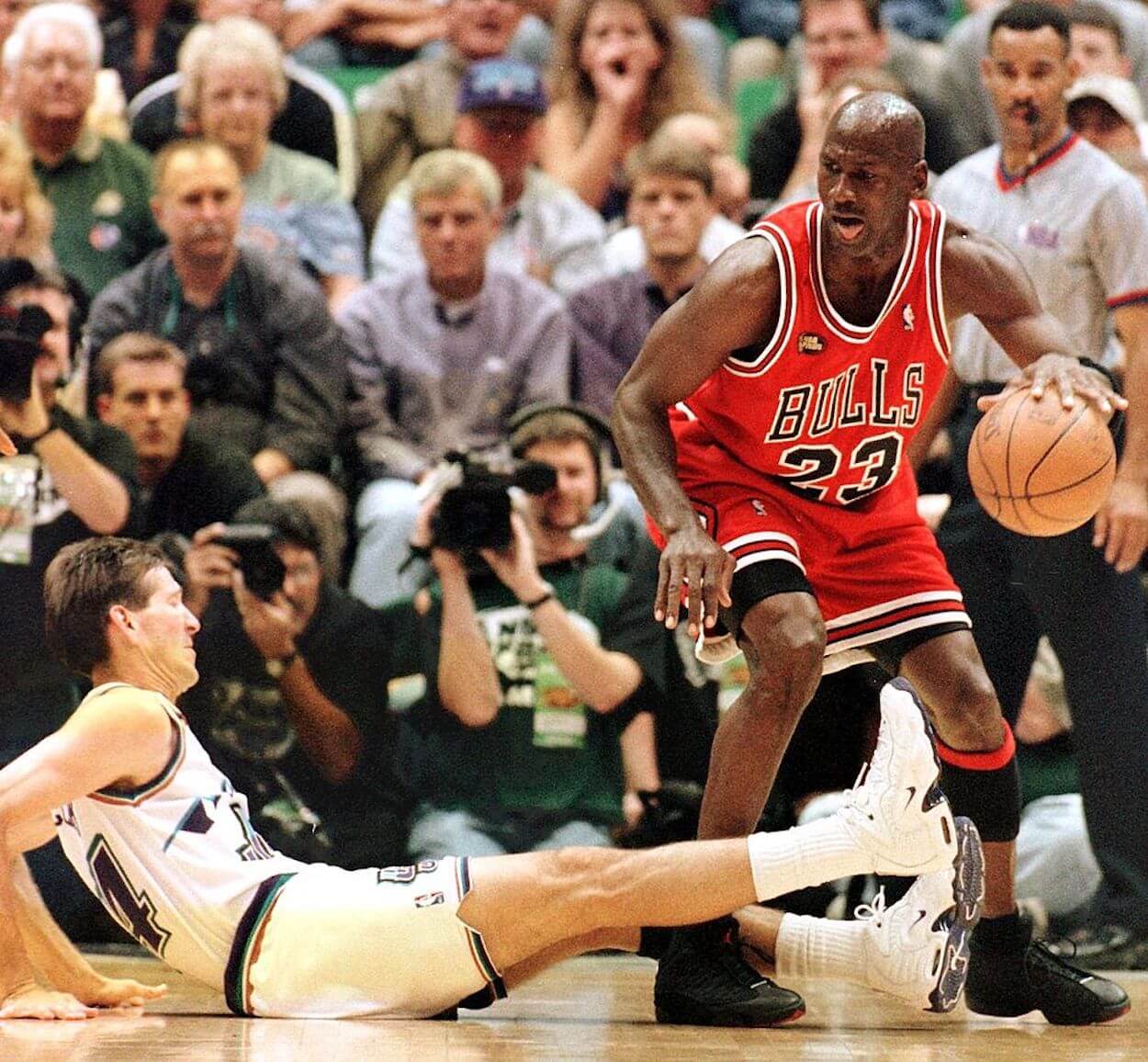 In both 1997 and 1998, the Chicago Bulls and the Utah Jazz met in the NBA Finals. While that was bad news for most of Utah — it's crushing enough to fall at the final hurdle, let alone to lose twice to the same dominant opponent — ball boy Preston Truman probably didn't mind.
As laid out in an archived Salt Lake Tribune story from 2013, Jordan sent Truman searching for apple sauce ahead of a November 1996 game. The ball boy came through, and after the game, Jordan signed an autograph for him and quipped that they might see each other in June.
Sure enough, the Bulls and Jazz both reached the NBA Finals, and Truman was assigned to the Bulls locker room once again. He brought Jordan some more apple sauce and, before the legendary Flu Game, was asked to run some tickets downstairs to the will-call window. Before doing that favor he went in for the kill.
First, though, Truman leaned in and whispered — wondering whether this was a remotely sane thing to do — "Are you doing anything with your shoes after the game?"

Jordan looked him in the eye. "Why, you want them?"

"I would be honored," he said.

Matthew Piper writing for the Salt Lake City Tribune
And, sure enough, after the on-court heroics, MJ set the shoes aside for Truman. Jordan even autographed them, and he and the ball boy posed for a photo together.
The following year, the Bulls made it back to the NBA Finals and returned to Utah. While the details on this trip are a bit harder to find — a Sotheby's write-up explained that the ball boy found Jordan's lost jacket during practice and asked for another pair of shoes — His Airness gifted Truman the autographed pair of "Bred" Air Jordan XIIIs that he wore during Game 2, which are theoretically the same he's wearing in the above photo.
And while he made the ball boy earn it, those were two generous gestures from MJ.
Now, one pair of those Jordan-autographed shoes is at the center of a lawsuit
As you might expect, autographed, game-worn Michael Jordan sneakers can be worth a pretty penny. Preston Truman has cashed in, but things have apparently gotten a bit complicated.
According to a more recent Salt Lake City Tribune story, Truman sold the Flu Game shoes through Grey Flannel Auctions in 2013. They were listed for a starting bid of $5,000 and ultimately reached a shade under $105,000. Then, after the airing of The Last Dance, he sold the other pair for $215,000.
Those shoes, however, have since changed hands for more than $2.2 million, making them the most expensive sneakers ever sold at auction by a comfortable margin. In that context, Truman is filing a lawsuit against Gray Flannel Auctions, Director of Operations Michael Russek, and five unnamed John/Jane Does.
"Through a combination of high-pressure sales tactics, fraudulent misrepresentation, coercion, and implied threats, defendants fraudulently induced Plaintiff into entering a sales agreement with Defendants at an unconscionably low value," the documents allege, as laid out by Eric Walden of The Salt Lake City Tribune.
For further details, allow Walden to explain:
The lawsuit states that on May 16, 2020, around 11 a.m. MT, Russek called Truman, claiming to represent an unnamed private buyer from overseas seeking to acquire the 1998 Finals shoes and keep them in a personal collection, with a vow to never sell them. The offer was for $215,000, was said to be nonnegotiable and final, and came with a three-hour time limit to agree.

The suit states that Russek told Truman "that this was 'the best offer' [Truman] would ever get, and that the time was right then to sell the Game 2 Air Jordans," so he agreed.

However, Truman alleges he developed serious misgivings within a day or two, and reached out to Russek wanting to cancel the deal, only to be given various explanations for why he couldn't or shouldn't, the lawsuit states, including "these are not the type people you mess with;" "the sale was final;" "there would be repercussions;" and "the money was on the way."

The lawsuit alleges that the overseas private collector was effectively a work of fiction, and argues that Russek and the actual buyer(s) effectively convinced Truman to accept a lowball offer through the combination of taking advantage of his trust in Grey Flannel and inducing "panic" via a false three-hour time limit.

Eric Walden, The Salt Lake City Tribune
At this point, it's not clear what the future holds. Given Michael Jordan's name recognition and the value of anything related to him — let alone game-worn sneakers — it's safe to assume we'll hear more about Truman's lawsuit as it works its way through the legal process.