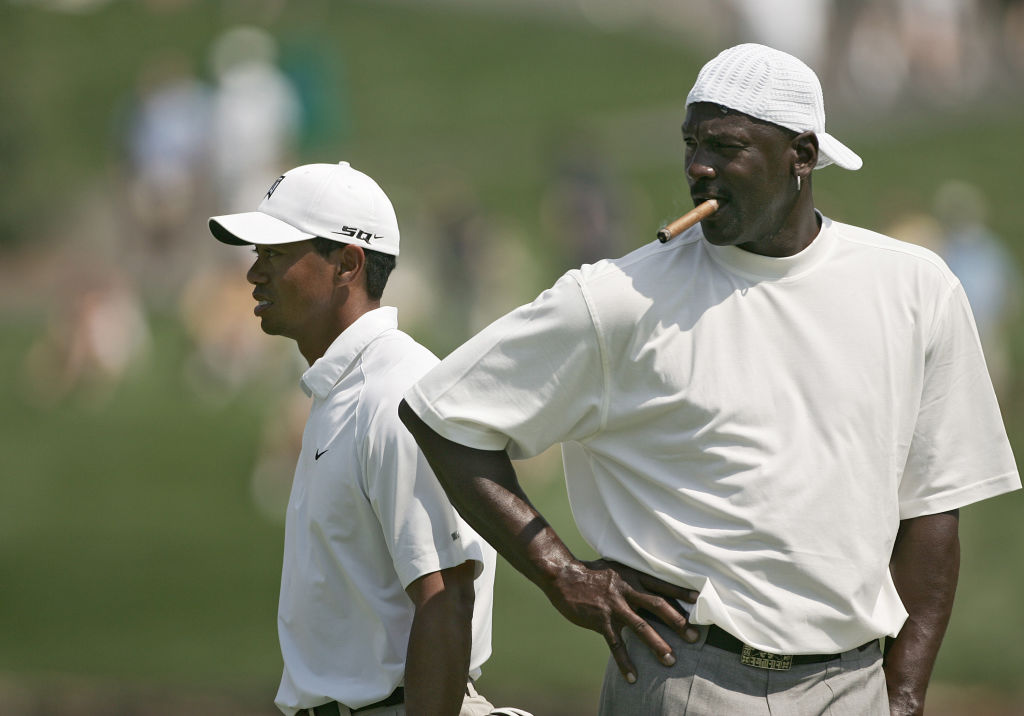 Michael Jordan and Steph Curry Could Join Tiger Woods and Phil Mickelson for 'The Match 3'
'The Match' with Tiger Woods, Peyton Manning, Phil Mickelson, and Tom Brady was a success, but could Michael Jordan and Steph Curry be next?
'The Match' that pinned Tiger Woods and Peyton Manning against Phil Mickelson and Tom Brady was a roaring success. With no live sports in the U.S. for the past few months, it was a much-needed showing of competitiveness that captivated the whole country. Mickelson clearly enjoyed the match too, and he said he's ready to run it back. The lefty wants to make 'The Match' an annual tradition, and he already has two athletes in mind for the second round: Michael Jordan and Steph Curry.
'The Match' was the most-watched golf telecast ever
Golf is far from the most popular sport in America. The NBA, NFL, MLB, and NHL routinely attract more viewers than the PGA Tour week in and week out. However, the unique mesh of two of golf's most famous figures and two NFL legends led to a record number of viewers.
'The Match' averaged 5.8 million viewers on Sunday, and the broadcast peaked at 6.3 million viewers. The massive numbers made it the most-watched golf telecast in television history.
It wasn't just the celebrity names that brought every sports fan to their TVs Sunday. The foursome brought some serious fireworks on the course.
Tom Brady holed out an approach shot from over 100 yards out. Brady and Mickelson eagled a par-4. Peyton Manning stuck a shot to a few feet on a par-3 and made multiple birdies. 'The Match' came down to the final hole, and Woods and Manning held on for the win. It made for incredible theatre.
Phil Mickelson wants Michael Jordan and Steph Curry for 'The Match 3'
'The Match' was so successful the first and second times around, it would be a crime not to run it back for a third. The number of professional athletes who play golf and have engaging personalities is huge.
Mickelson had so much fun that he wants to play a similar match every year featuring him, Woods, and two other athletes.
"I think you could showcase guys like Steph Curry and Michael Jordan or Tony Romo and Patrick Mahomes, who are all good golfers, elite talents, and have great personalities," Mickelson told the Los Angeles Times. "Those personalities are going to come out with this event. Or you could have someone who loves the game and is competitive but is really entertaining like Larry David and Bill Murray. I think that could shine."
Imagine a match with Tiger Woods and Michael Jordan playing alternate shot together. Goosebumps.
Michael Jordan and Steph Curry are the perfect pair for 'The Match 3'
We got a glimpse of Michael Jordan's golf game from "The Last Dance," but he plays almost every day. According to Golfweek, Jordan holds a 1.9 handicap, which is better than Brady's and Manning's.
Not only is Jordan a great golfer, but he would also spice up the match with a bit of gambling. Jordan can't play a round of golf without putting a little (or a lot of) money on the match.
As for Steph Curry, he isn't too shabby either. Curry actually played in a Web.com Tour event in 2018, where he shot 71 in the first round. He's even played a Pro-Am tournament with Mickelson, so the two would be perfect partners.
It's just a rumor for now, but we need Tiger Woods and Michael Jordan vs. Phil Mickelson and Steph Curry in 'The Match 3.'