Michael Jordan Once Asked George Gervin About the Sucker Punch He Threw in College, and The Response Was a 3-Word Classic
George Gervin was the early version of Michael Jordan. A scoring machine, Gervin used his patented finger roll to capture four NBA scoring titles in five years for the San Antonio Spurs. Gervin's college basketball career ended with him getting tossed for sucker-punching Jay Piccola of Roanoke College in the NCAA college-division semifinals in 1972. When Gervin and Jordan became NBA teammates for a year, Jordan asked him about the incident, prompting a classic response from the Ice Man.
Michael Jordan and George Gervin spent one year together with the Chicago Bulls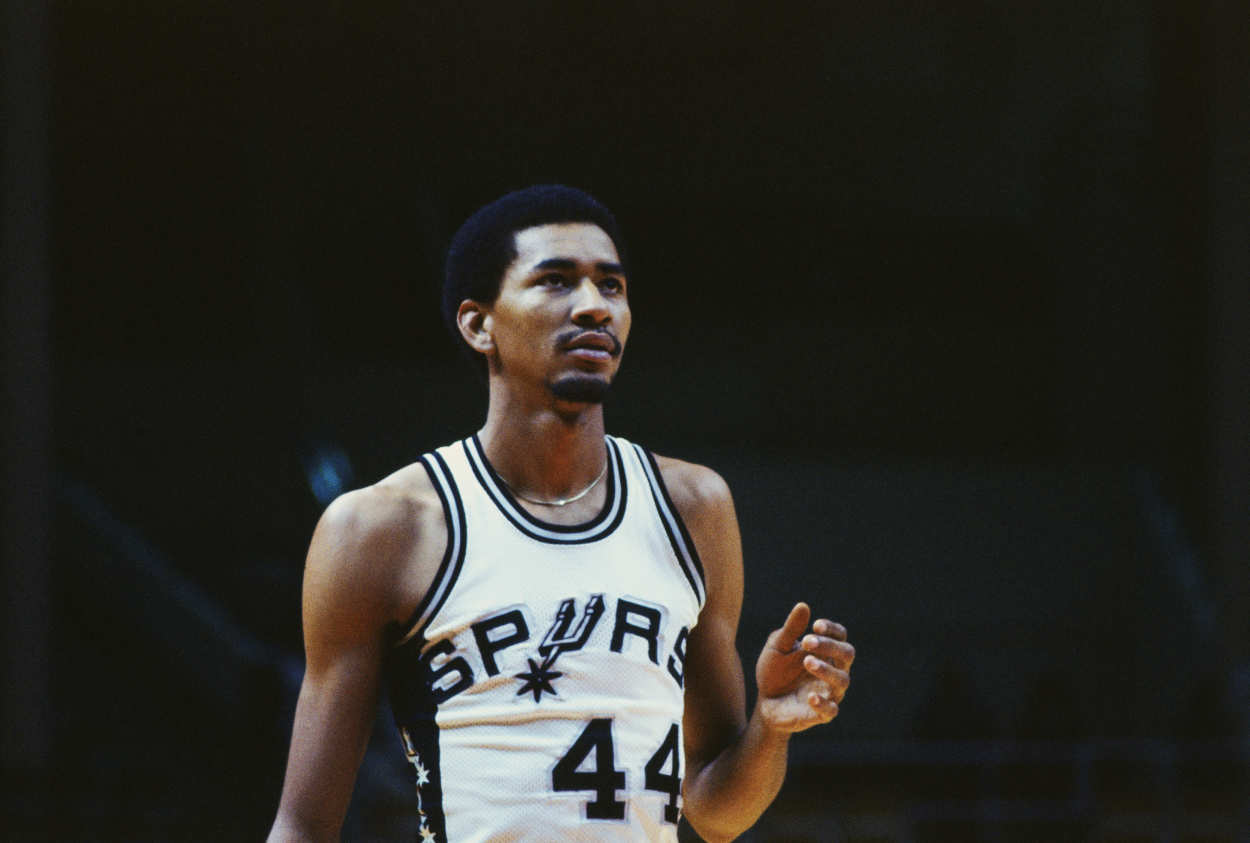 Gervin played 10 seasons in the NBA after playing for two teams over your years in the ABA. Nine of those NBA seasons were spent with the Spurs, where he was a four-time scoring champion and an All-Star in every season.
The Spurs traded Gervin to the Bulls right before the 1985-86 season, Jordan's second year in the league. Jordan was limited to 18 regular-season games that year after breaking his foot. Gervin, although not the prolific scorer he once was, managed to put up some big numbers, averaging 16.2 points per game. He played in all 82 games, starting 75 of them.
When the Bulls acquired Gervin, he didn't look at himself being that final piece for them to make a run at a title. The Bulls hadn't yet blossomed with Jordan, who had only been in the league for a year. "No. (Jordan) was too young," Gervin told The Post Game back in 2017. "He was just finding himself. Then he got hurt, and I took his spot, so I gave him a chance to show him some history."
Michael Jordan later asked George Gervin about his college sucker punch
Back when Gervin played college basketball for Eastern Michigan, his team played in the NCAA college-division semifinals in 1972. Gervin played two seasons with the Hurons, averaging 26.8 points per game. During that tournament, Gervin sucker-punched Roanoke's Jay Piccola, earning an immediate ejection.
"I hated that it happened," Gervin said, according to Sports Illustrated, "but it turned out to be a positive thing because my whole career began after that."
Gervin was ineligible the next season because of a testing irregularity, so he played for $500 a month in the Continental Basketball League. "I was earning a living and I had my own car," Gervin said. "I was happy."
Two years after Gervin and Jordan played with each other in Chicago, they were together on set to tape the syndicated TV show Greatest Sports Legends. It was then that Jordan brought up the sucker punch. Gervin didn't appear to be all that remorseful.
"Ice, if you had it to do over, what would you do differently?" Jordan asked, according to Sports Illustrated.
"Throw the left," Gervin answered as the two broke out in laughter.
Gervin had himself one heck of a career
Gervin made his NBA debut in 1976. He played for the Spurs in the ABA and stuck with them when the leagues merged. During his first NBA season, he averaged 23.1 points per game while shooting 54% from the floor. He then won the NBA scoring title the next three years. During the 1979-80 season, he averaged a career-high 33.1 points per game.
The following season, he missed out on the scoring title despite averaging 27.1 points. He bounced back in the 1981-82 season to reclaim the scoring title, putting up 32.3 points per game.
Did he ever think of coming back for one more year to play a full season with Jordan?
"Hell no," he told The Post Game. "I went overseas. One game a week, 5 p.m. on Sundays, 30 games in 30 weeks. I loved it. Got a nice check, lived in Italy. Went over there 190 (pounds), came back 240. Food was good, kid was in school, wife was happy. Come on, man. I had my turn."