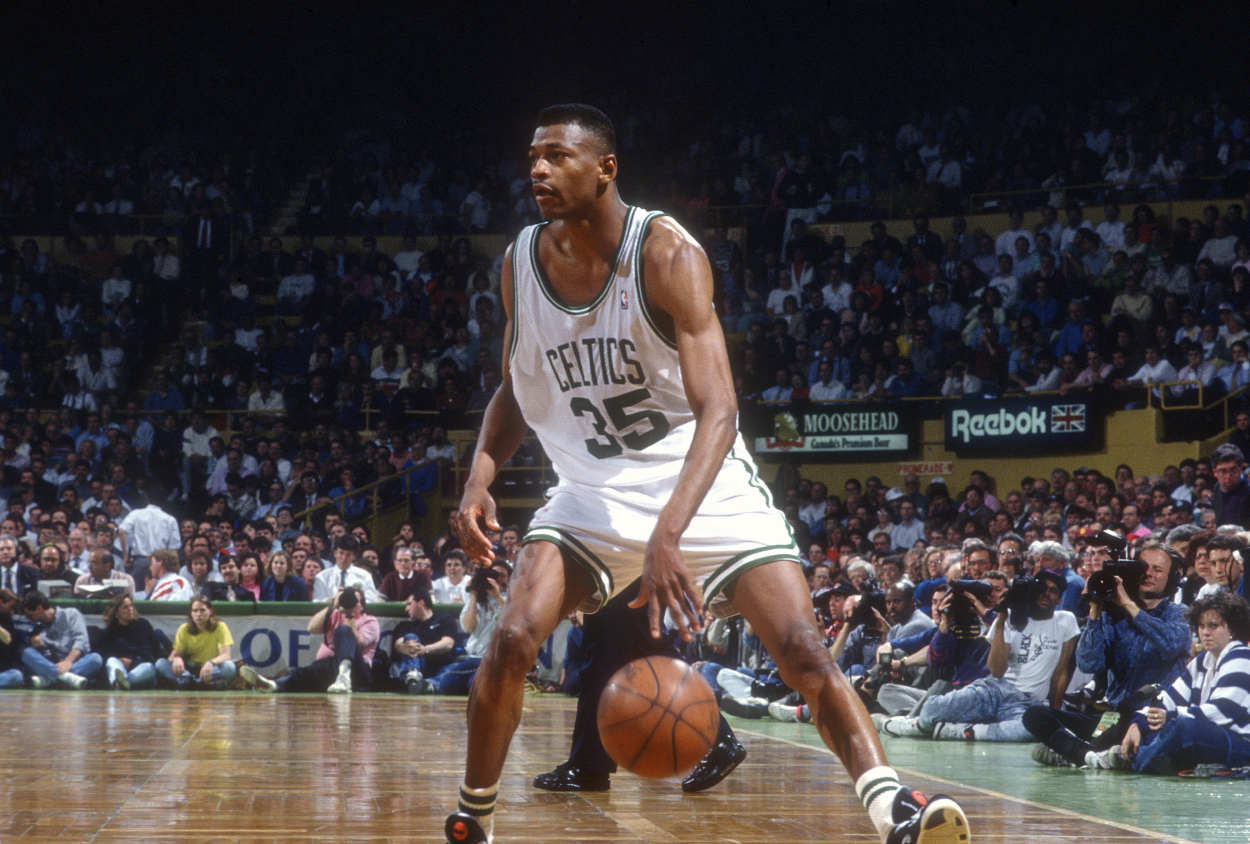 Michael Jordan Was Blocked 4 Times in a Game by Reggie Lewis, a Young Celtics Star Primed to be the Next Big Thing
Reggie Lewis, the late Boston Celtics phenom, had his way with Michael Jordan, blocking four of his shots in a game in 1991.
Sure, Michael Jordan got his points on March 31, 1991. The former Chicago Bulls star, however, had to work for every single one. He finished the game with one more point (37) than shots taken (36). Four of those shots were swatted away by Reggie Lewis, a young Boston Celtics phenom who was on his way to becoming a Jordan-like figure. He never got the chance.
Michael Jordan experienced some rough games in his career
Jordan had some poor shooting games in his storied NBA career. In his rookie season, he went 5-for-18 from the floor and also 6-for-11 from the foul line, finishing with 16 points in a loss to the New York Knicks. In another game in 1986 against the Milwaukee Bucks, he went 3-for-17 in 31 minutes and was outscored by teammate Brad Sellers, 15-11.
Even when he lit up the scoreboards, it wasn't always pretty. One of the worst outings of Jordan's career was when he scored 43 points on 43 shots in 43 minutes. On Jan. 15, 1987, against the Houston Rockets, Jordan misfired on 26 of those shots in a 107-96 loss. It happens. Stars have off nights.
His bad nights were once the subject of a Nike commercial where he said he would be successful if he hadn't failed.
"I've missed more than 9,000 shots in my career," he said in the ad. "I've lost almost 300 games. Twenty-six times I've been trusted to take the game-winning shot and missed. I've failed over and over and over again in my life. And that is why I succeed."
Michael Jordan never experienced a game like he did against Reggie Lewis in 1991
On March 31, 1991, not only did Jordan have a rough shooting night, but he also found himself in a struggle against Boston's Lewis. Lewis was in his fourth NBA season and compared athletically to some of the best in the game. He wasn't quite yet the NBA All-Star he became, but he did average 18.7 points and 5.2 rebounds while playing tenacious defense during that 1990-91 season.
Lewis had the task of guarding Jordan and more than held his own. The 6-foot-7 swingman out of Northeastern frustrated Jordan all game. Not only did Jordan make only 12 of his 36 field goal attempts, but he had his shot blocked four times by Lewis. Lewis finished the game with 25 points on 10-for-20 shooting. He played 53 minutes in the overtime win, hounding Jordan most of the game.
"He was long, smooth, effortless, unassuming at times," said former Celtics player Rick Fox of Lewis in a YouTube interview with Bill Simmons. "Then you'd look up and he'd have 36, 38, against the best, like Mike.
"I saw it first hand, and I saw it every day in practice. I looked up to him."
Jordan remembered that particular night even well after his playing days.
"Oh, I remember it well," Jordan laughed, according to a 2013 ESPN article. "He had my number that particular night."
Reggie Lewis never got the chance to become the next big star
During a summer workout at Brandeis University in preparation for the 1993-94 season, Lewis collapsed on the court and died at age 27. This happened two months after collapsing on the court during a playoff game against the Charlotte Hornets.
"I haven't talked too much about it over the years," Fox said. "He called me literally the day he died, and I was at Jordan's Furniture — remember Jordan's Furniture? I was getting some furniture, and he said, 'Hey man, I got clearance to play. I got clearance to shoot again. Meet me at Brandeis.' I said I'll be down there, man. If Jordan's Furniture wasn't so far away, I probably would've been there that day and may have been able to maybe get him over to the hospital."
Jordan remembers Lewis and not just because of those four blocks. MJ remembers the young Celtics star and someone who was going to make it big.
"He was a tough matchup," Jordan said. "He had those long arms that really bothered me. I was trying to be aggressive with him. I was trying to take advantage of his passive demeanor, but he didn't back down. He never relinquished his own aggressiveness. He shocked me a little bit."
None of Jordan's teammates poked fun at him for getting rejected four times.
"No, nobody did," Jordan said. "That's because they understood who I was up against. They knew Reggie Lewis was no slouch. When someone with his talent does that to you, you can live with it."