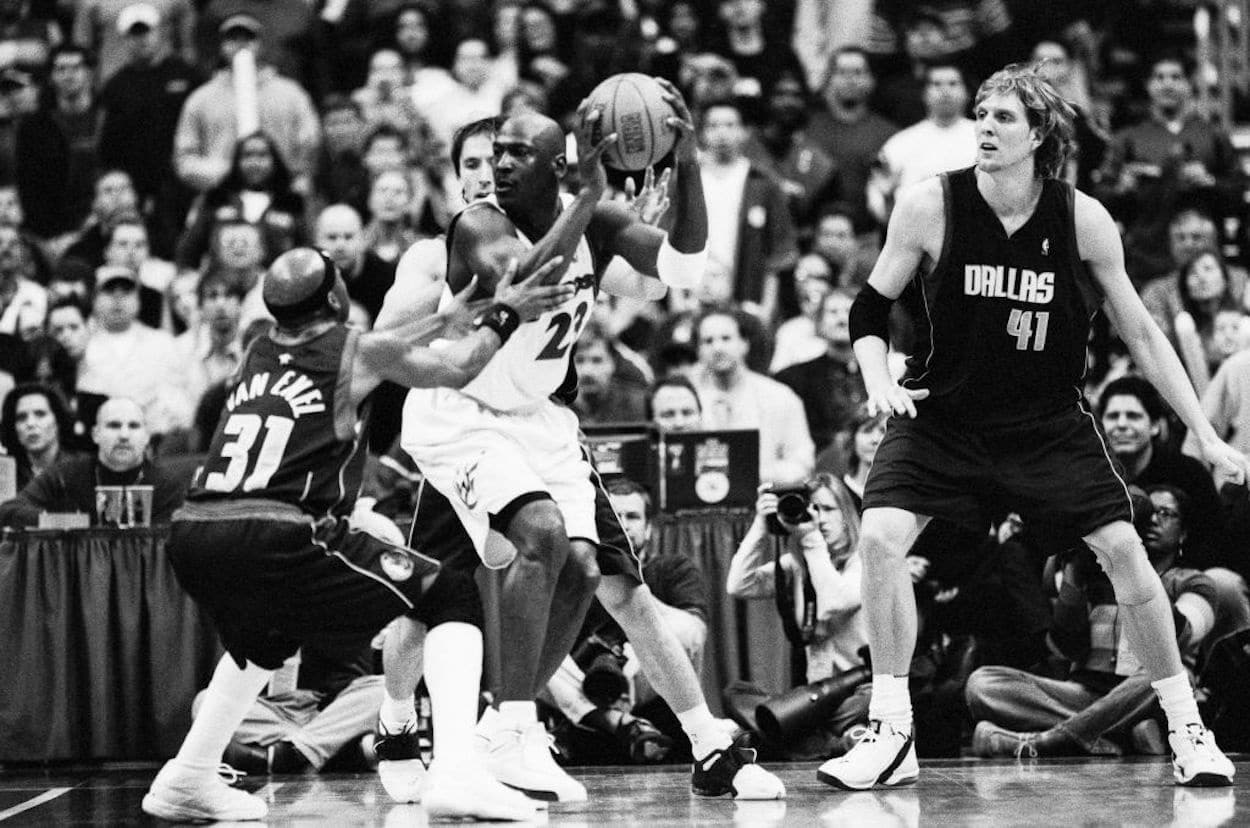 Michael Jordan Is Dirk Nowitzki's GOAT, but Not the Best Player He Ever Faced
During his time on the NBA hardwood, Dirk Nowitzki faced plenty of modern legends. Michael Jordan was only one of them.
Whenever retired NBA players do a big-time interview, it's safe to assume a few topics will be raised. One of those is usually their pick for the GOAT. Dirk Nowitzki was no exception to that rule when he sat down with Rachel Nichols; the former Dallas Maverick went with the safe choice and handed Michael Jordan the metaphorical crown.
When it came to another honor, though, MJ didn't take the top spot.
Although the two men faced off on three separate occasions, Nowitzki doesn't call Jordan the best player he ever faced on the hardwood. Instead, the late, great Kobe Bryant claimed that distinction.
Let's break it down.
Dirk Nowitzki paid proper respect to Michael Jordan, but facing Kobe Bryant was special
During his time with the Dallas Mavericks, Dirk Nowitzki faced off with virtually every big name in modern basketball. While that could make singling out the best opponent he ever faced rather challenging — like selecting an all-star team, some names simply can't make the cut — the big German knows exactly who takes the top spot.
During a sit-down interview with Dirk, Rachel Nichols asked the former Maverick about the time when Kobe Bryant tried to convince him to come to Los Angeles. Nowitzki didn't head to Hollywood, but he certainly appreciated the attention of a player he respected.
"Well, I was honored to get a call from Kobe," he explained. "I never made it a big secret. I was a big Kobe Bryant fan. You know, to me, he's still the best player that I have ever played against in my carer. That felt super cool to get that call from him and, but, I think he respected me almost more when I said, 'Listen, I've been here so long, and, you know, I want to finish my career here.'"
If you're wondering why Nowitzki didn't mention Michael Jordan — they did briefly overlap in the early 2000s — you're in luck. Nichols clarified that on social media.
"Dirk also noted that 'MJ is my GOAT,' but since he never played against Michael in his prime he's going with Kobe as 'the best player I ever played against,'" she explained.
Jordan did show Dirk something close to his best on one occasion, though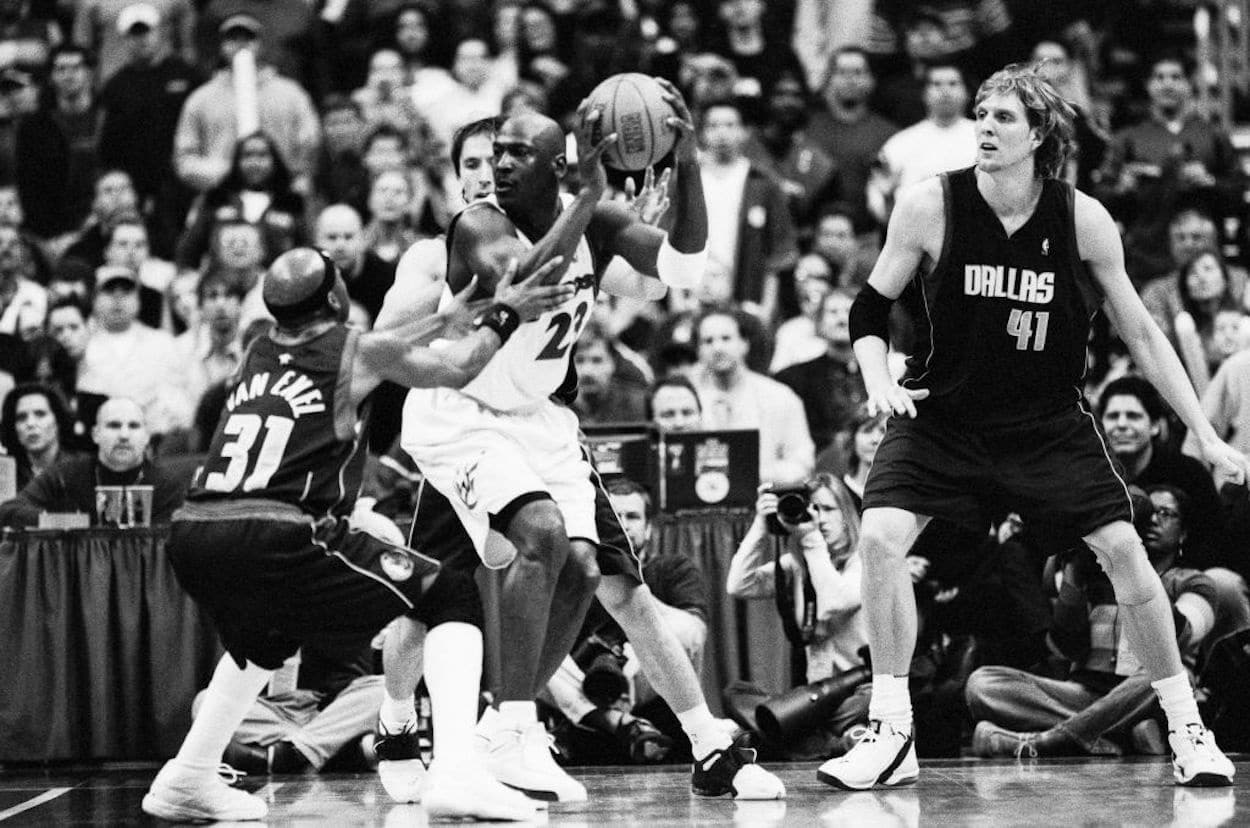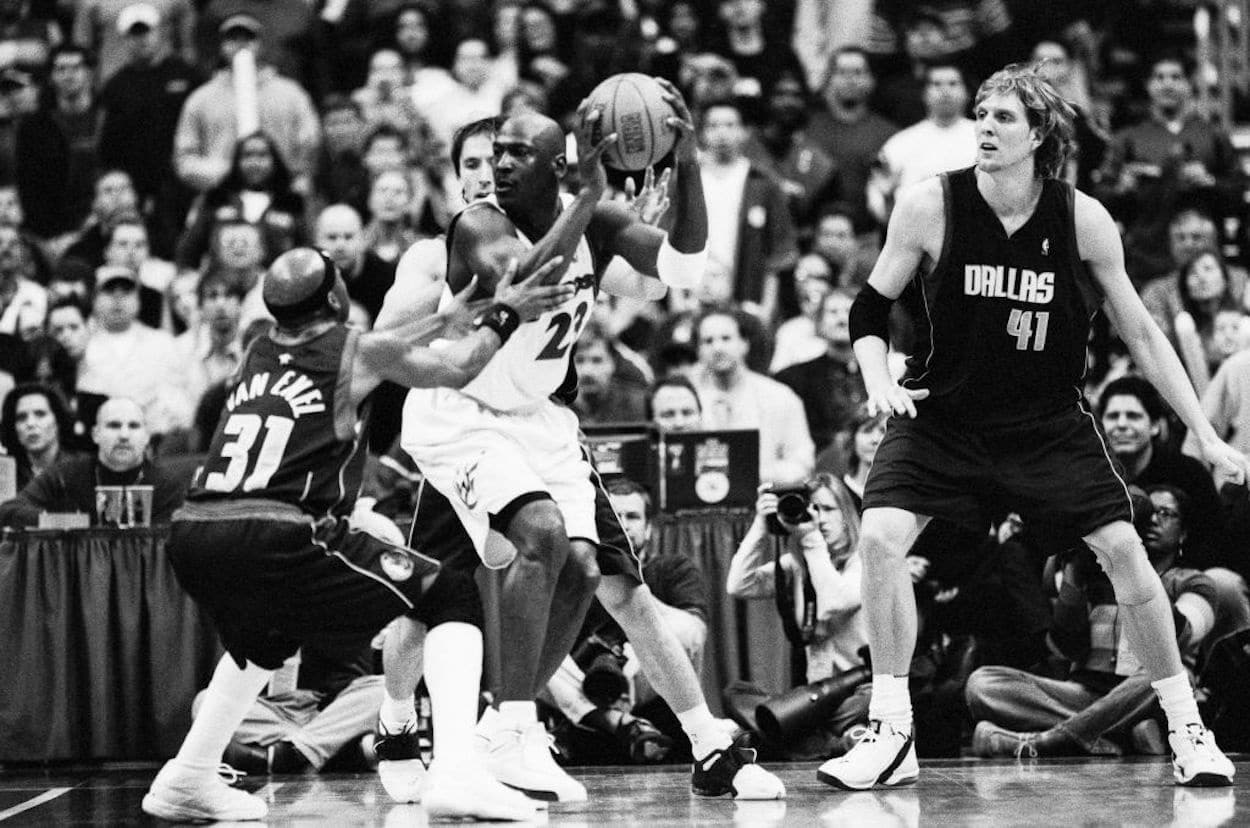 While it would have been very easy for Dirk Nowitzki to mail things in and say that Michael Jordan was the best he ever played against, the German does get credit for taking the interview seriously and considering what happened on the court rather than simply naming the biggest star. But what actually happened during their head-to-head meetings?
As Nichols explained, Nowitzki and Jordan only met on three occasions after His Airness had joined the Washington Wizards. During the first two, MJ showed his age. He posted 10 points in 28 minutes during March 2002, then 13 points in 36 minutes at the start of the 2002-03 campaign. The third meeting, however, was a bit different.
On February 23, 2003, the Wizards and Mavericks headed into overtime. While Dallas ultimately won by a five-point margin, Jordan shouldered his share of the load. He played 52 minutes and scored 30 points while shooting 53.8% from the field; that was one more point than Dirk scored in one fewer minute of action.
Was His Airness in his prime? No, but it's not like he was being wheeled onto the court for a five minutes of ceremonial action before retreating to the locker room.
With that being said, though, Dirk did see some big-time Kobe performances. Bryant faced the Mavericks star on 49 occasions, dropping 62 points in December 2005 and 52 in March 2008.
Either way, though, it's tough to take too much issue with Dirk Nowitzki's response. If you're picking between Kobe Bryant and Michael Jordan, you're already in a good spot.