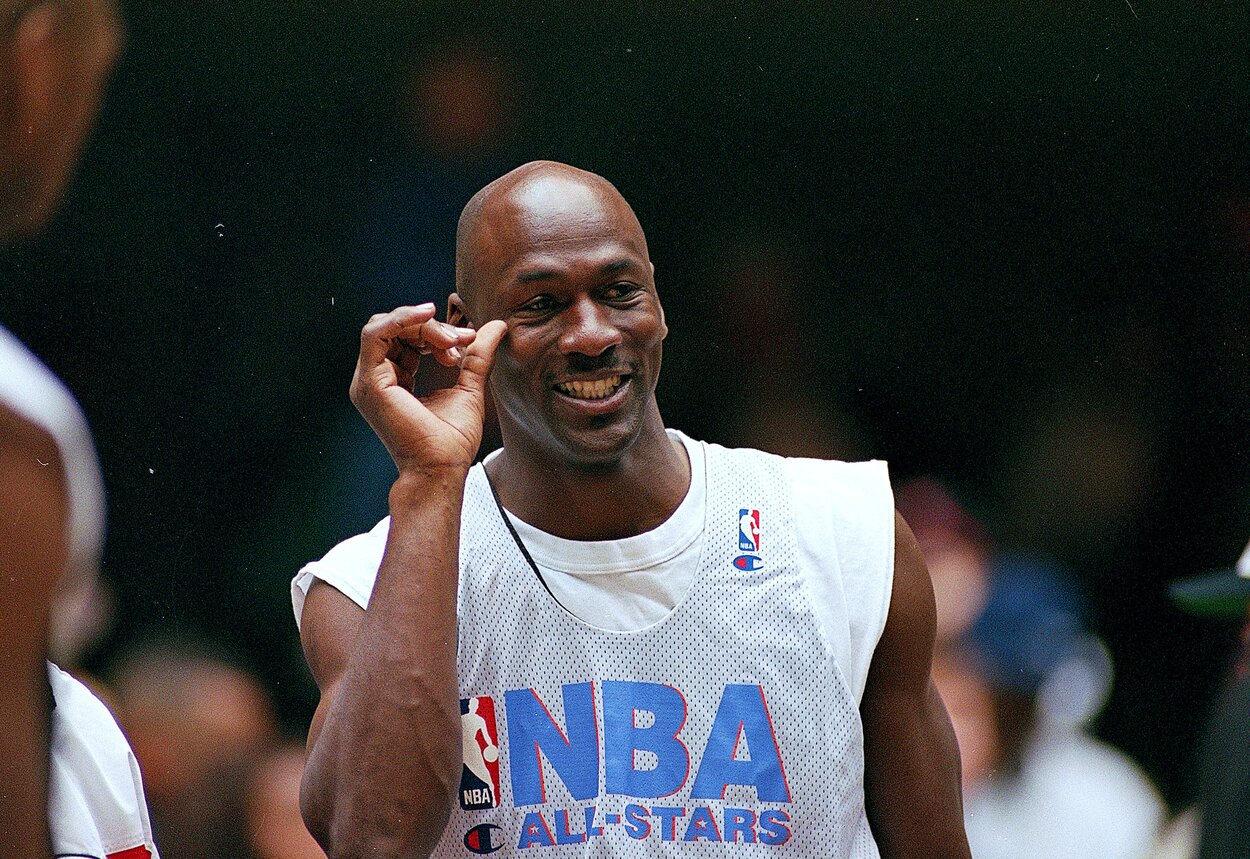 Michael Jordan Made $94 Million in the NBA, but Wilt Chamberlain Believed He Also Should Have Earned 'About 10% of Every Guy's Contract'
Michael Jordan strengthened the NBA's popularity so much, Wilt Chamberlain believed MJ deserved a cut of every other player's contract as a result.
Many basketball experts often point to Magic Johnson and Larry Bird as the players who saved the NBA. And while that may be true, it was Michael Jordan who helped the game explode to new heights.
The Chicago Bulls megastar led the charge in growing the NBA's popularity. As a result, players across the league received an influx of money never before seen, including Jordan himself.
As legendary big man Wilt Chamberlain once told Howard Stern, MJ deserved a financial reward for helping his fellow players get their respective paydays.
Michael Jordan made nearly $94 million from NBA contracts
It's unlikely anyone reading would scoff at earning close to $94 million from a job. But His Airness was grossly underpaid up until the final few years of his Hall of Fame career.
When Michael Jordan came to the Chicago Bulls as the third overall pick in 1984, he made just $550,000. His annual salary didn't reach seven figures until 1988-89, after he signed an eight-year extension worth $25.7 million. He played on that contract for its entire duration, making no more than $4 million in a season.
Going into the 1996-97 campaign, Jordan became the highest-paid player in the NBA by a wide margin. MJ inked a one-year pact with Chicago for a record-setting $30.1 million. He topped it the next year — his "last dance" with the Bulls — for $33.1 million. Yet his two seasons with the Washington Wizards carried a cap hit of $1 million each, with Jordan donating the entire salary from his first season in D.C.
All in all, Jordan was paid $93.7 million from NBA contracts alone. That figure doesn't come close to the top 100 highest-paid players of all time, with the GOAT sitting nearly $40 million behind No. 100 Derrick Favors, per Spotrac at the conclusion of the 2022-23 NBA season.
Wilt Chamberlain believed Jordan deserved compensation for making the NBA popular
Michael Jordan's presence on the court compelled the country to tune in for his games. To this day, No. 23 has been featured in each of the top four highest-rated NBA Finals games of all time. And with ratings come money, as the league and its teams received more cash to throw at its players.
During an appearance on The Howard Stern Show, Hall of Famer Wilt Chamberlain said he believed Jordan deserved not just the salary he was earning but also a portion of everyone else's:
"I see all the money being paid to all these guys out there, and I think Michael Jordan should get about 10% of every guy's contract. He's made basketball exciting; he made it what it is. So when young guys like this boy [Allen] Iverson comes out for Philadelphia and says he has no respect for anybody, he should be taking his hat off to Michael Jordan and say, 'Here, [take] whatever you want.'"

Chamberlain had every right to believe Jordan deserved less. After all, the former MVP told Stern he earned right around $2.5 million in his entire career. Yet Wilt still saw Michael as a player worth even more than his record-breaking salary indicated.

Wilt Chamberlain
Michael Jordan filled up his bank account off the court
Michael Jordan's $94 million career earnings are nothing to scoff at. But he became the first NBA player-turned-billionaire from endorsements and business ventures.
According to Forbes, Jordan has earned $1.7 billion (pre-tax) over the last 40 years from sponsors, including Nike, Coca-Cola, McDonald's, Wheaties, and Chevrolet. Nike has served as his biggest backer thanks to the popular Jordan Brand, with MJ taking home approximately $130 million in 2019 for his involvement with the company.
Jordan also upped his $2.2 billion net worth, per Celebrity Net Worth, due to his ownership stake in the Charlotte Hornets. After a few years as a minority governor, MJ took majority control of the team in 2010 in a deal valued at $180 million. He eventually raised his stake to 90% before selling 20% of the team in 2019 at a $1.5 billion valuation.
In June 2023, reports NBA.com, Jordan finalized the sale of his stake to a group that includes Hornets minority owner Gabe Plotkin and Atlanta Hawks minority owner Rick Schnall. MJ will still keep minority ownership in the Charlotte franchise.
While Chamberlain's intentions were in the right place, it's OK if the hundreds of other NBA players not named Michael Jordan got to keep their full salaries. MJ still managed to do pretty well for himself without the extra 10%.
All contract figures courtesy of Spotrac.