Michael Jordan Played a Role in Ending Arsenal's Championship Dreams
Michael Jordan is no longer playing professional sports, but he still managed to affect the top flight of English soccer.
During his time in the spotlight, Michael Jordan has touched a variety of sports. The living legend, of course, made his name on the basketball court. He tried his hand at baseball and probably had the athletic chops — although not the desire — to play football. Well, now you can indirectly add soccer to the list.
On Sunday, May 14, Arsenal hosted Brighton in Premier League action. While the Gunners had lost their place atop the table, the North London club was fighting to keep the slim hope of winning a title alive. The Seagulls, however, had a different idea and soared to a 3-0 victory. Things aren't officially done yet, but that result all but assures that Manchester City will win the league.
And Michael Jordan, it seems, indirectly played a role in that result.
Brighton watched a clip of Michael Jordan before blitzing Arsenal
One of the marks of a great team is the inability to promptly bounce back from a misstep in order to avoid a losing streak. Brighton might not be a great team just yet, but they did exactly that.
On Monday, May 8, the Seagulls faced off against relegation-threatened Everton. And while everyone would have felt fairly confident in Brighton getting a result — they've been one of this season's best stories — the exact opposite happened. Everton, who usually struggle to score, put five into the net for a comfortable victory.
The next time out, however, Brighton had turned the page. Visiting teams have found Emirates Stadium a tough place to visit, but Sunday was a different story. The Seagulls kept hold of the ball and prevented Arsenal from getting into a rhythm. Were there some moments of luck? Of course, but it was tough to argue with Brighton's 3-0 victory.
Beyond making a statement, that result has end-of-season implications for both clubs. As mentioned above, the defeat will essentially end Arsenal's chance of winning the title. There's still a slim mathematical possibility, but expecting Manchester City to slip up once, let alone multiple times, is a fool's errand. From Brighton's perspective, the victory puts them in a strong position to qualify for European football for the first time in club history.
So what was responsible for the change between the Everton and Arsenal matches? While it's possible the former game was simply a bad day at the office, it also seems like His Airness helped change the tone.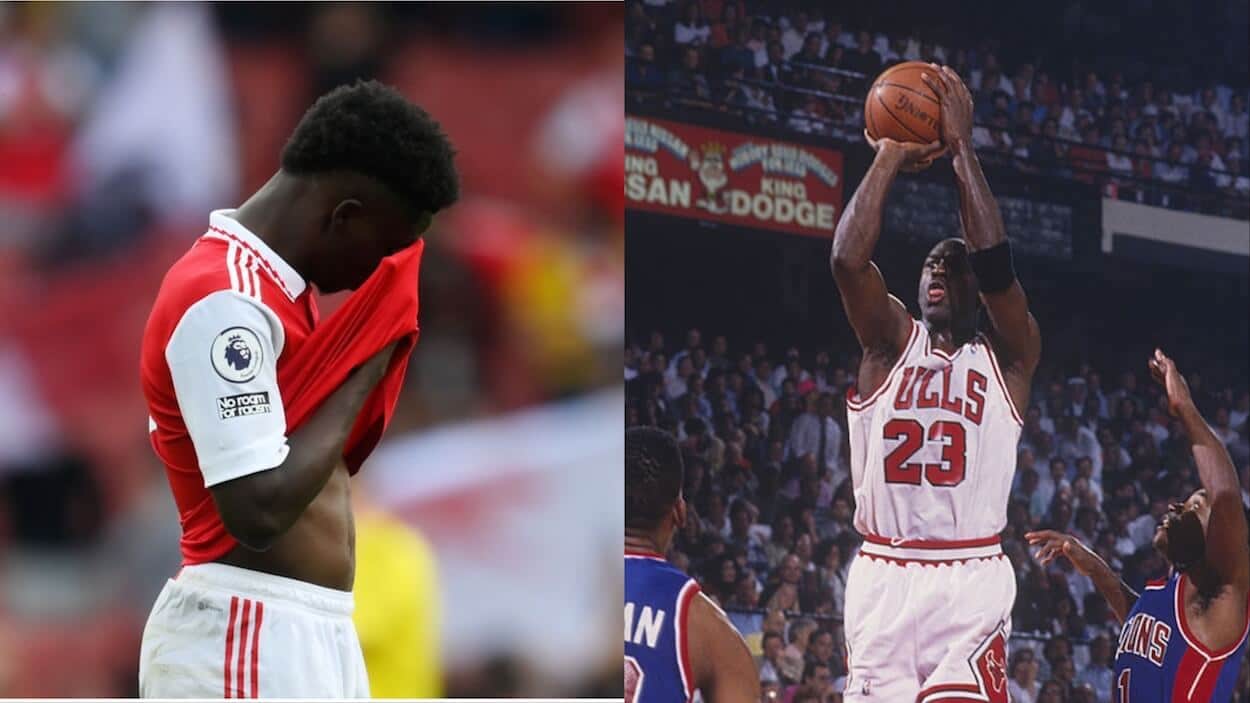 "We showed a good reaction after defeat by Everton. It was a big three points, and we're happy we got the win," Deniz Undav explained after the Arsenal match, according to The Athletic. "The manager showed us a Michael Jordan video, to show us how he motivated himself for each game. He showed us after the defeat by Everton, and I think it was the right choice to show us the video, and we showed today how mentally strong we are."
In another piece, Andy Naylor of The Athletic shared some further details.
"It was quite funny, because he [manager Roberto De Zerbi] said, 'We've got a meeting tonight, and it's not about football'. Straight away, we were wondering what it was going to be about," goalkeeper Jason Steele recounted. "Then he asked who the biggest sportsman was. Pascal [Gross] answered Michael Jordan."
That guess turned out to be right. In a surprising twist, though, the bench boss revealed that he doesn't even have a particular affinity for basketball.
"I don't like basketball, but I love the mentality of the champion in every sport," De Zerbi explained. "If I can learn something from the big champion, I am trying to catch it."
And if you're looking for a champion who knows how to stare a setback in the eye and recover, it's tough to get any better than Michael Jordan. No matter the sport, game recognizes game.