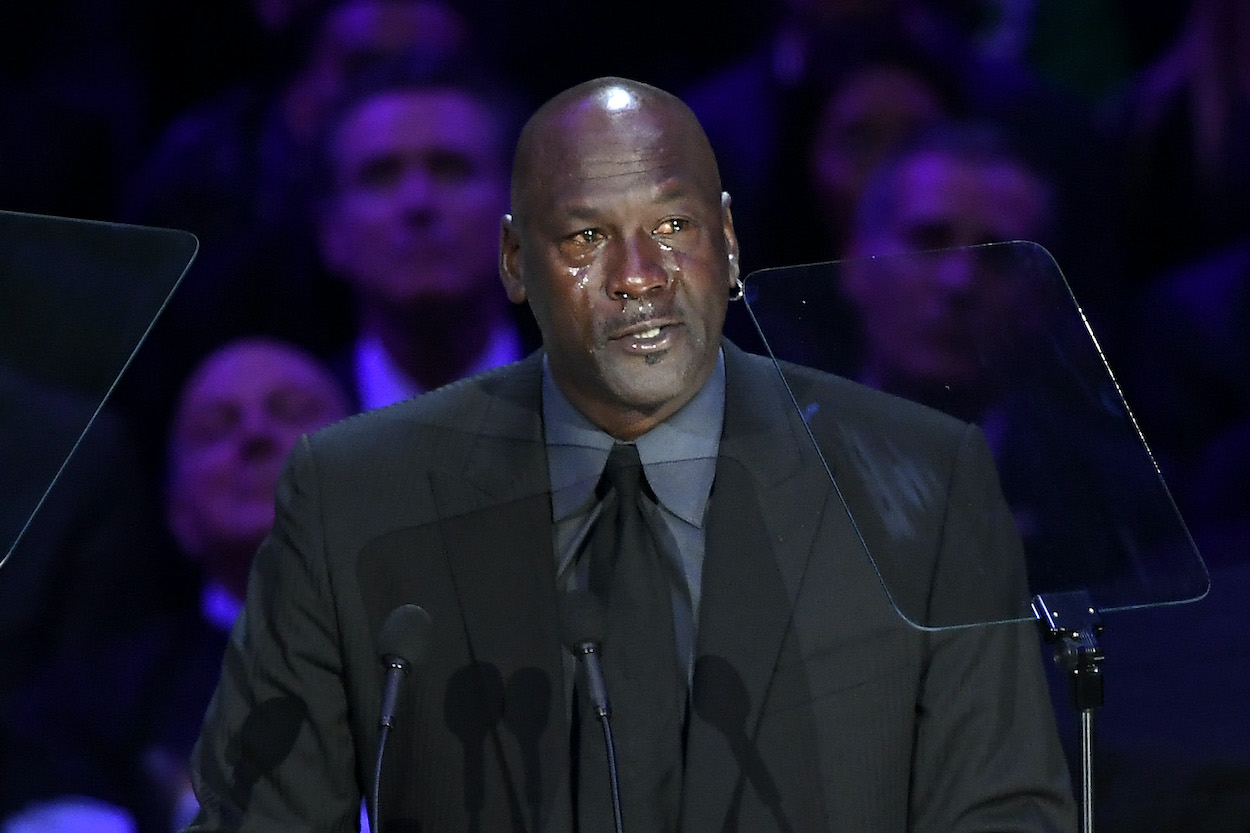 Michael Jordan Reveals the Last Text Conversation He Shared With Kobe Bryant a Month Before His Tragic Death
Michael Jordan and Kobe Bryant regularly texted to check in on each other, and their last conversation was about tequila and basketball.
Michael Jordan wasn't just a dear friend to Kobe Bryant.
He was also a mentor.
A big brother.
A hero.
When Bryant tragically passed away in a helicopter crash last January, Jordan was crushed. Bryant was just scratching the surface of what he was going to accomplish in life, and Jordan knew it.
MJ and Kobe regularly checked up on each other via text message in retirement, and a few days ahead of Bryant's Hall of Fame induction ceremony this weekend, Jordan revealed the final text conversation he shared with the Lakers legend.
Michael Jordan and Kobe Bryant shared a special friendship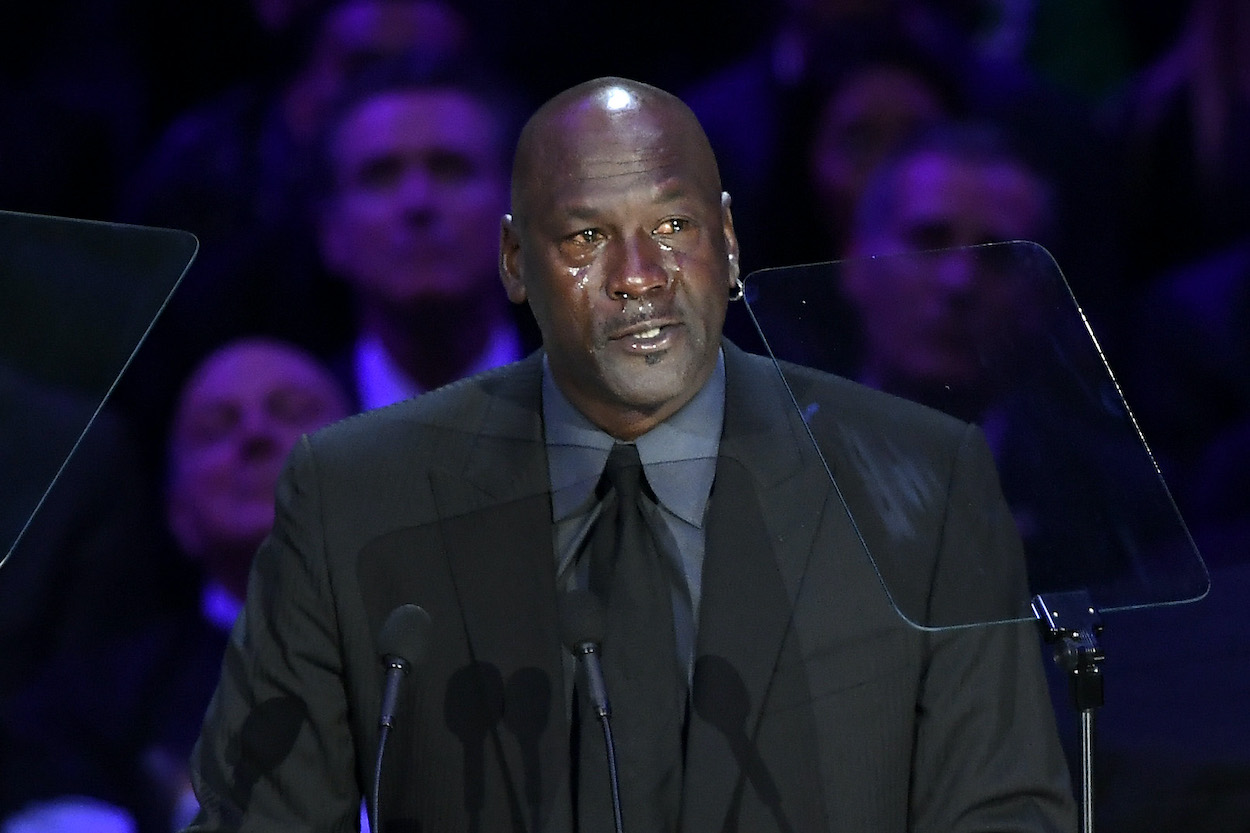 Jordan was one of the most ruthless competitors to ever grace the court in the NBA. It didn't matter who you were; if you were wearing a uniform that wasn't black and red, Jordan was out to destroy you at all costs.
But in 1997, a brazen, 19-year-old Bryant came along and immediately caught Jordan's eye. He didn't shy away from the challenge of taking on the most feared basketball player on earth. He embraced it.
The recent high school graduate went toe-to-toe with Jordan and scored 33 points off the bench in his first-ever matchup against the Chicago Bulls great. Jordan approached Bryant after the game to offer some words of encouragement, and from there, a beautiful friendship was born.
Bryant spent the rest of his NBA career trying to emulate Jordan in everything he did. Jordan was always there for late-night chats with the budding superstar. He saw a lot of his younger self in Bryant, and when his protégé suddenly died on Jan. 26, 2020, Jordan later admitted "a piece of me died" as well.
Speaking at the memorial for Bryant and his daughter Gianna a month after their deaths, Jordan fought back tears reminiscing about his old friend.
"As I look in this arena and across the globe, a piece of you died, or else you wouldn't be here," he said. "Those are the memories that we have to live with, and we learn from. I promise you, from this day forward, I will live with the memories of knowing that I had a little brother that I tried to help in every way I could."
Jordan reveals the final text conversation he shared with Bryant
It's been nearly 16 months since Bryant lost his life in that devastating helicopter accident, but Jordan is still grieving the loss of his little brother. The six-time NBA champion recently spoke to Jackie MacMullan of ESPN about how he's been dealing with the pain, and he revealed the final conversation he shared with Bryant on Dec. 8, 2019, just a month before his death.
"This tequila is awesome," Kobe texted, referring to Jordan's Cincoro Tequila, a bottle of which was sent to Bryant at the launch.

"Thank you, my brother," Jordan responded.

"Yes, sir. Family good?" Kobe replied.

"All good. Yours?"

"All good."

Jordan smiled, then decided to have a little fun. "He was really into coaching Gigi," MJ explains, "so I hit him up about that."

"Happy holidays," Jordan texted back, "and hope to catch up soon. Coach Kobe??!"

"I added that little crying/laughing emoji," Jordan chuckles.

"Ah, back at you, man," Kobe wrote. "Hey, coach, I'm sitting on the bench right now, and we're blowing this team out. 45-8."

Jackie MacMullan, ESPN
Jordan has kept the conversation saved on his phone for over a year, and he frequently revisits the texts whenever Bryant pops into his head.
"I just love that text," Jordan said, "because it shows Kobe's competitive nature… I don't know why, but I just can't delete it."
Jordan will present Bryant into the Hall of Fame on May 15
Bryant always stated that he wanted his hero and mentor to present him into the Naismith Memorial Basketball Hall of Fame when the time came. Well, the time has finally come, and Jordan will be there this Saturday, May 15 to welcome Bryant into the HOF.
"It's going to be a great honor, to be honest. It's like standing up for a family member," Jordan told ESPN. "He paid me the highest respect by trying to emulate certain things I did. And I can only repay that by showing my support and admiration for a guy who I felt was one of the greatest to ever play the game."