Michael Jordan Thought About Trying to Be an NFL Wide Receiver
Despite being arguably the greatest basketball player of all-time, Michael Jordan took one full season and part of another one off to try out another sport. That sport, as you probably know, was baseball. However, baseball was not the only sport Jordan thought about attempting. Jordan thought about becoming an NFL wide receiver. 
Michael Jordan was the best player in the world in 1993
Michael Jordan was at the top of his game in 1993. From his first season in 1984-95 through 1992-93, Jordan was an All-Star in every single season. He also led the entire NBA in scoring seven seasons in a row from 1986-87 through 1992-93, and won the NBA's MVP award in 1987-88, 1990-91, and 1991-92.
In addition to all of that, Jordan and the Bulls were one of the greatest teams of all-time. Jordan, Scottie Pippen, and the Chicago Bulls won three straight NBA championships from 1990-91 through 1992-93. 
So, with Jordan being a part of something so historical, and so successful, why would he want to mess that up by leaving? Well, he did just that. 
Retiring and trying a baseball career
On Oct. 6, 1993, Jordan shocked the entire world by announcing his retirement from the NBA, according to CBS Sports. 
"I'm very solid with my decision of to not play the game of basketball in the NBA," Jordan said, according to the Chicago Tribune. "The reason being, I've heard a lot of different speculations about my reasons for not playing, but I've always stressed to people that have known me and the media that has followed me that when I lose the sense of motivation and the sense to prove something as a basketball player it's time for me to move away from the game of basketball."

Michael Jordan
Jordan then ultimately attempted to play professional baseball. In March 1994, the Chicago White Sox assigned Jordan to the Birmingham Barons in the Double-A, according to ESPN Stats & Info. 
Jordan then ultimately appeared in 127 games for the Barons. He went .202 at the plate and had three home runs to go with 51 RBIs.
As you probably know, Jordan ultimately returned to the NBA and played for the Bulls near the end of the 1994-95 season. He then won three straight championships again with the Bulls from 1995-96 through 1997-98.
While his baseball career maybe didn't go as planned, baseball was not the only sport Jordan wanted to try.
Jordan also had dreams of playing football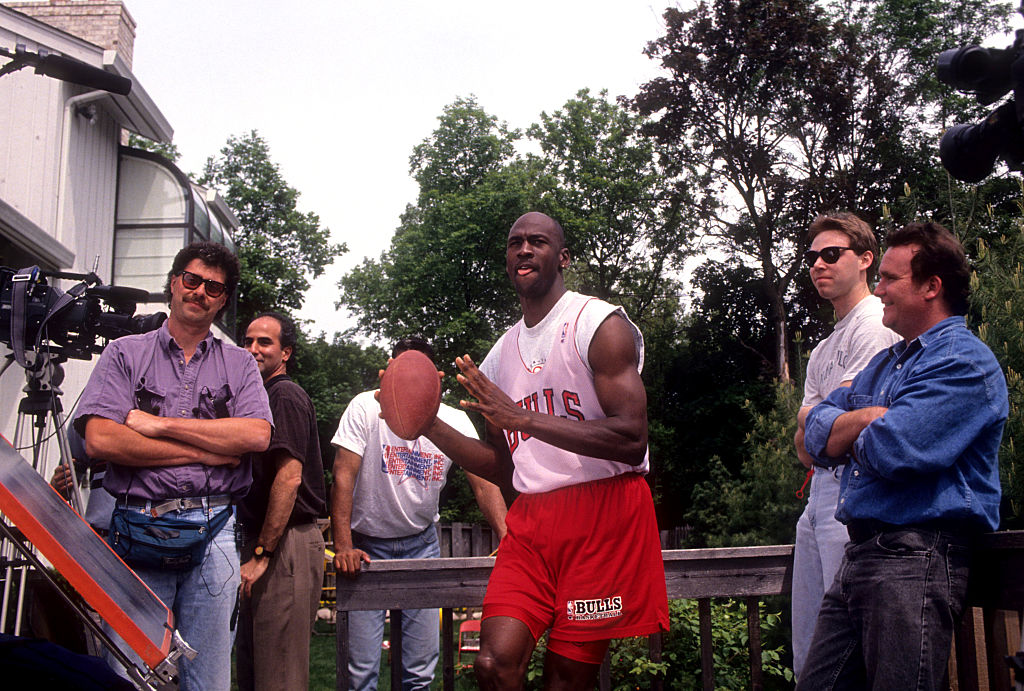 Michael Jordan did actually try to play professional baseball. He, however, also discussed wanting to try professional football.
Author David Halberstam wrote in his book "Playing for Keeps: Michael Jordan and the World He Made," about an interview he did with Jordan for a story he did for Sports Illustrated, according to CBS Sports.
"Jordan took the opportunity to go on at length about wanting to try major-league baseball, and he talked about his recent dreams of batting against some of baseball's most feared power pitchers," Halberstam wrote, according to CBS Sports. "He had also mentioned trying professional football — one more challenge — and had talked about it with his friend [former Bears defensive end] Richard Dent. He would be a wide receiver but would not go after passes coming across the middle, he noted."


David Halberstam
Jordan maybe had a chance to be an even better wide receiver than he was a baseball player. Not only was he tall, but Jordan was very fast. Current North Carolina head basketball coach Roy Williams told Colin Cowherd on The Herd that Jordan ran a 4.38 40-yard dash during his sophomore season, according to CBS Sports. He could have been one of the most explosive wide receivers in the NFL with that speed.
Michael Jordan was a great basketball player and a mediocre baseball player. However, we will always be left to wonder how great (or not-so-great) of a football player Jordan could have been.