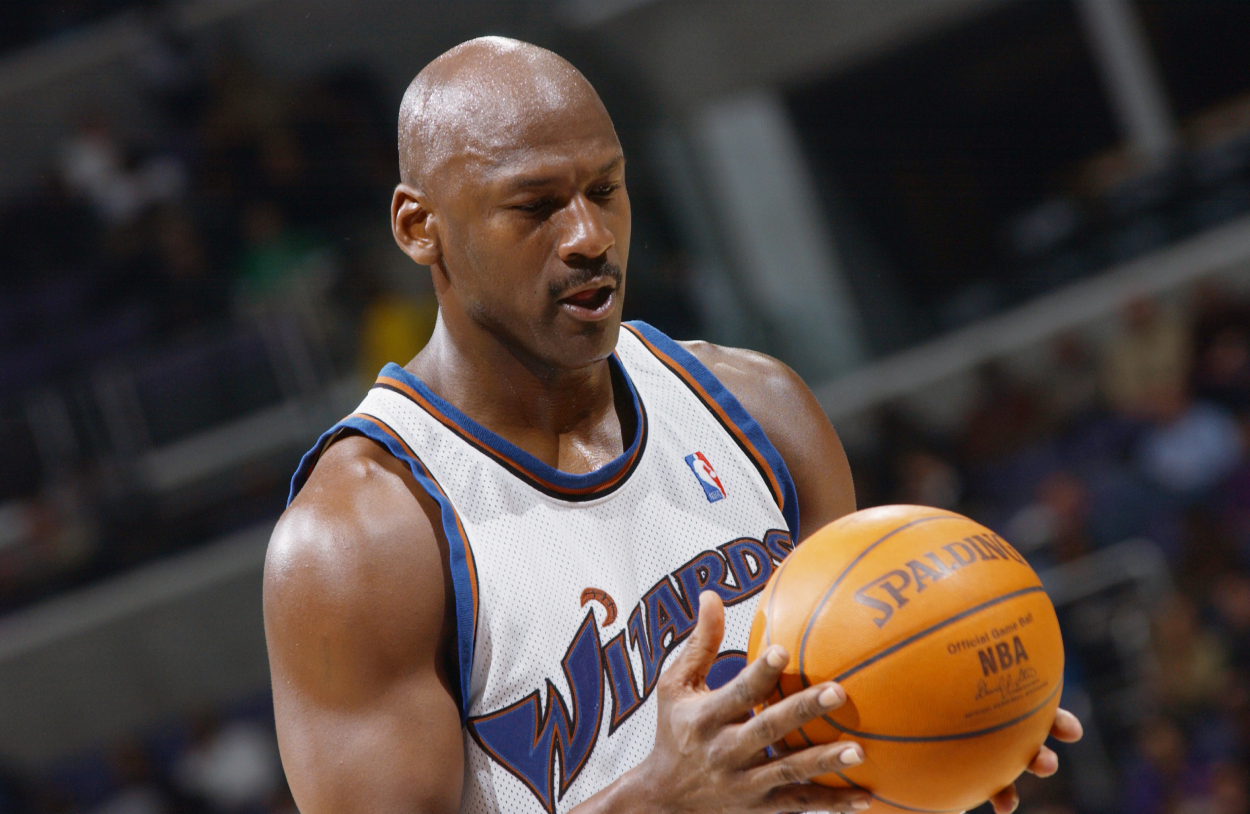 Michael Jordan Once Made a Trash-Talking Wizards Teammate Pay and Quickly Reminded Him Who He Was: 'You Know Better. You Grew up Watching Me'
Michael Jordan was older and not as successful during his Washington Wizards tenure, as his numbers weren't where they were during his prime, and the Wizards missed the playoffs in both of his seasons with the team. But MJ was still pretty intense, especially to one of his trash-talking teammates.
Like Tom Brady on the Tampa Bay Buccaneers or Joe Montana on the Kansas City Chiefs, Michael Jordan in a Washington Wizards uniform still looks weird. Jordan became a sports and pop culture icon in Chicago, so his seasons in Washington seemed like an odd dream.
However, MJ still wanted to win during those years; he still wanted to be the best, and he was just as intense as ever. So, the GOAT's signature ruthlessness was absolutely present in Washington, and it led to him reminding his trash-talking Wizards teammate, Brendan Haywood, who exactly he was.
Michael Jordan played on the Wizards for two seasons
Michael Jordan could have ridden off into the sunset after his final season with the Chicago Bulls. He was already considered the greatest player of all time, and — following his nearly two season baseball hiatus — Jordan won his second three-peat in Chicago from 1995-96 through 1997-98.
MJ retired after that 1997-98 campaign and could have ended his basketball career on top. But in 2001, after being retired for three seasons, Jordan returned to the court in a Wizards uniform.
The five-time NBA MVP was still a talented player during his next two years with the Wizards, but he wasn't the MJ that everyone grew to love. He averaged 22.9 points in 2001-02 before averaging 20.0 in 2002-03. Both scoring outputs were the lowest of his career, other than when he only played in 18 games in 1985-86 and scored 22.7 points per game. The Wizards also went 37-45 and missed the playoffs in both seasons.
So, instead of ending his career as a champion, Jordan exited the league after two consecutive losing campaigns. His lack of success, though, didn't mean his intensity wasn't there.
Michael Jordan made Brendan Haywood pay while on the Wizards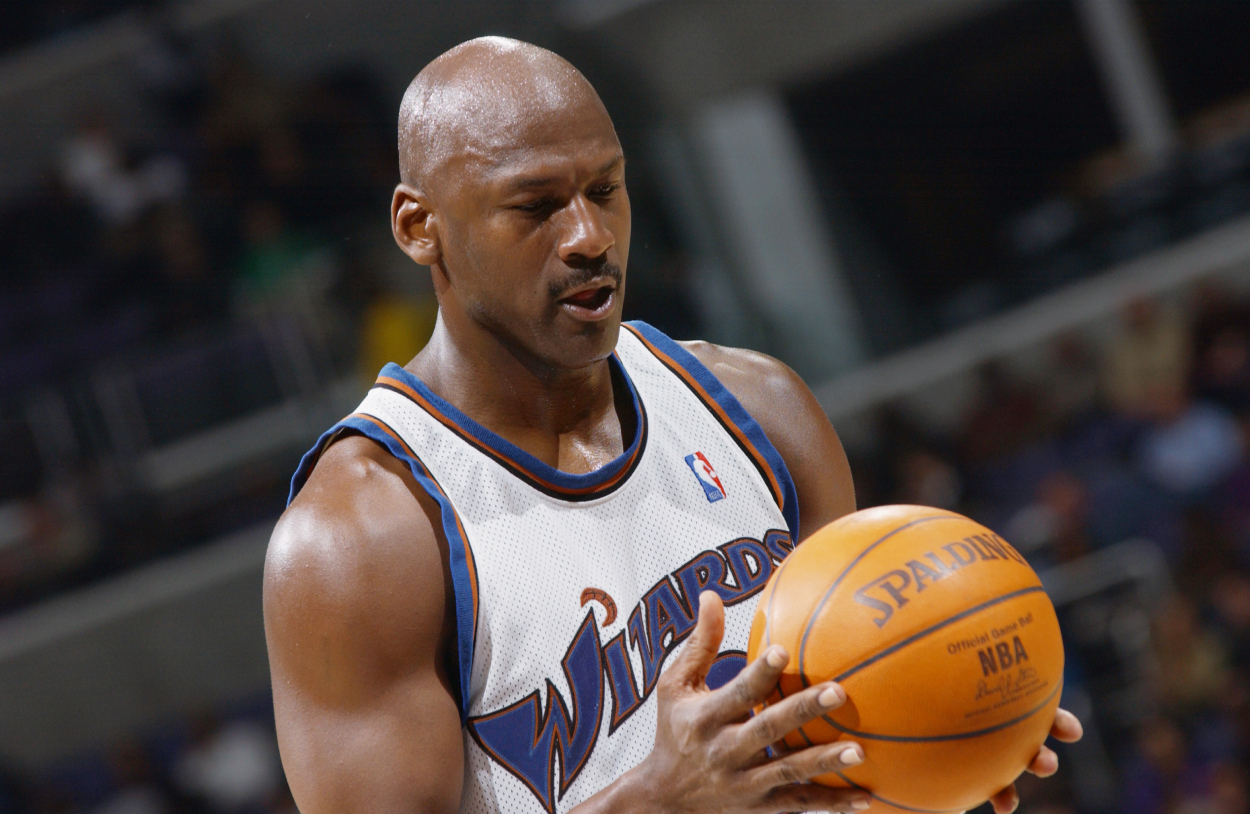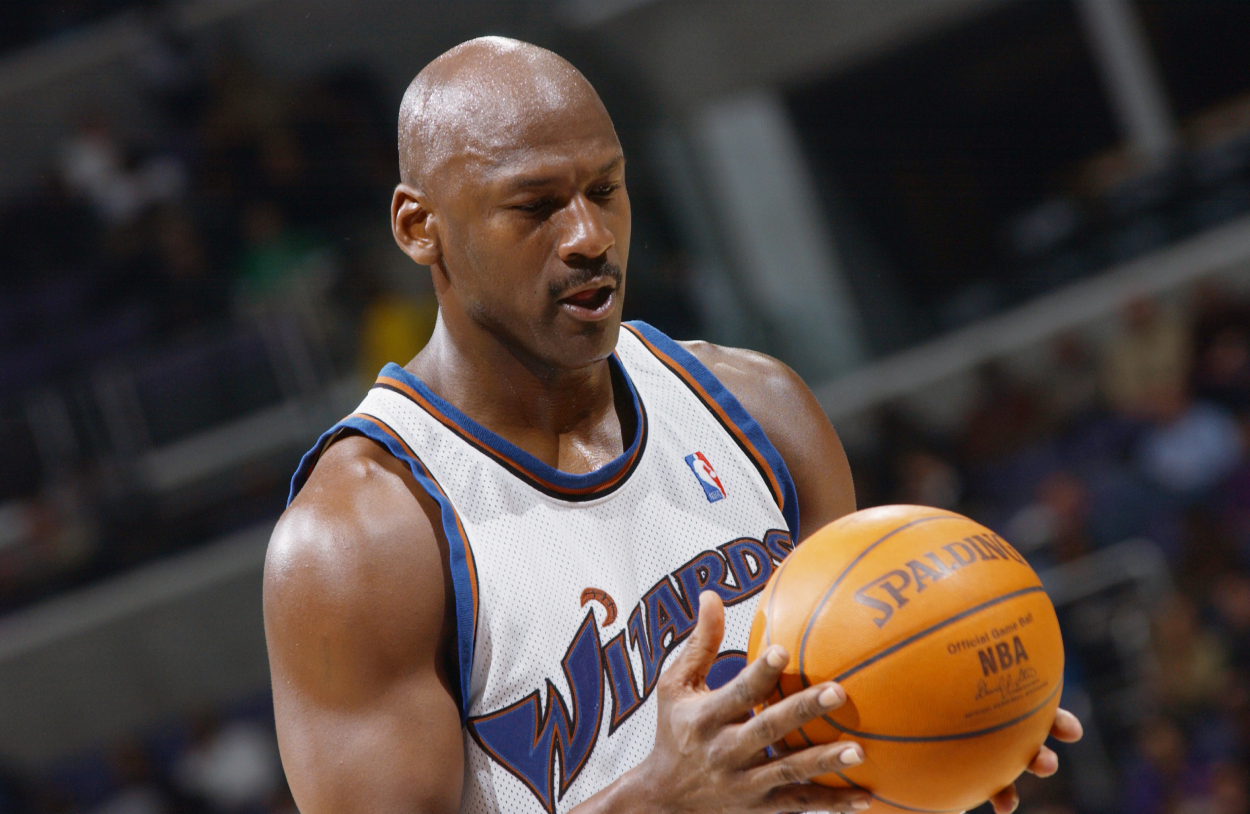 Brendan Haywood was a rookie during Jordan's first season with the Wizards, and he played in Washington for a little over eight seasons overall. Despite Jordan being at the end of his career when they were teammates, Haywood said MJ was still extremely competitive.
"He was incredibly intense," Haywood said to The Ringer in 2018. "He still wanted to win everything. He was still super competitive. He was still in practice talking junk to everybody."
However, Haywood — who also played for Jordan's alma mater, North Carolina — talked some mild trash to MJ one day, and the six-time NBA Finals MVP made him pay.
"In scrimmages, if I got short-side on him, Mike wasn't known for shooting the three," Haywood told The Ringer. "One day, he was dribbling, he was talking to me, and I was like, 'Man, you don't shoot threes.' He just pulled up from three right as the scrimmage ended, and it went right through the net. And he was like, 'You know better. You grew up watching me. You know better.'"
Haywood continued: "He was always pushing the envelope. He didn't care who you were. He didn't care that I went to UNC as well. It was just one of those things where Mike, he always want to cut your heart out."
Sure, Jordan was nearly 40 years old at that point, but he still wanted to win. His desire to be the best didn't just go away in retirement.
That was what made the GOAT, well, the GOAT.
Brendan Haywood also played with LeBron James
Haywood didn't just watch greatness during Wizards practices. He also played with LeBron James on the Cleveland Cavaliers in the final season of his career, as he's one of four people who were both MJ and LeBron's teammates.
So, was The King just as ruthless? Not so much.
"LeBron is totally different than Mike from a personality standpoint," Haywood told The Ringer. "LeBron is a great people person. He loves to interact with his teammates. He's a hard worker as well. But they're different people as far as their approach. … LeBron goes out there and just plays excellent, great basketball. The difference is Mike wants to win at every little thing."
It appears Haywood wasn't on the wrong side of James' trash talk like he was with Jordan's. But MJ is one of a kind and would make anyone pay for doubting him. Haywood learned that lesson the hard way.
Stats courtesy of Basketball Reference