Michael Jordan Had 5 Words of Advice for Peyton Manning, but the QB Didn't Ultimately Follow It
Throughout his legendary career, Peyton Manning's play on the football field shocked fans everywhere. But in 1997, Manning made a decision that surprised people across the country: He chose to stay at the University of Tennessee for his senior season.
The choice to stay in school led to him not playing for the New York Jets — who had the first pick in 1997 — and going to the Indianapolis Colts with the No. 1 overall pick in the 1998 NFL Draft.
He didn't make his decision without thinking it through carefully, though. In fact, Manning reached out to Michael Jordan for advice.
Michael Jordan left North Carolina early, while Peyton Manning stayed at Tennessee
Michael Jordan had a legendary college career at the University of North Carolina.
He won a national championship with the Tar Heels in 1981-82 before becoming one of the best players in the country in 1982-83 and 1983-84. Jordan averaged 20.0 and 19.6 points in those seasons, respectively, and over 5.2 rebounds both years, which helped him become a two-time consensus All-American and the 1983-84 AP Player of the Year.
Following his junior season, though, Jordan chose to skip his senior year and enter the 1984 NBA Draft. He then went to the Chicago Bulls with the No. 3 overall pick.
Peyton Manning, on the other hand, also had a great college career while at the University of Tennessee. After throwing for 2,954 yards, 22 touchdowns, and four interceptions during his sophomore year, he recorded 3,287 yards, 20 touchdowns, and 12 interceptions as a junior. He also led the Volunteers to two consecutive seasons with 10 or more wins and back-to-back Citrus Bowl victories.
Manning would likely have gone to the Jets with the No. 1 pick in 1997 had he entered the NFL draft after his junior year. But he ultimately did the opposite of Jordan and stayed for his senior season. The star QB then threw for 3,819 yards, 36 touchdowns, and 11 interceptions during that final year, which helped Tennessee reach the Orange Bowl.
Manning then went to the Colts with the first overall pick in 1998.
Michael Jordan gave Peyton Manning five words of advice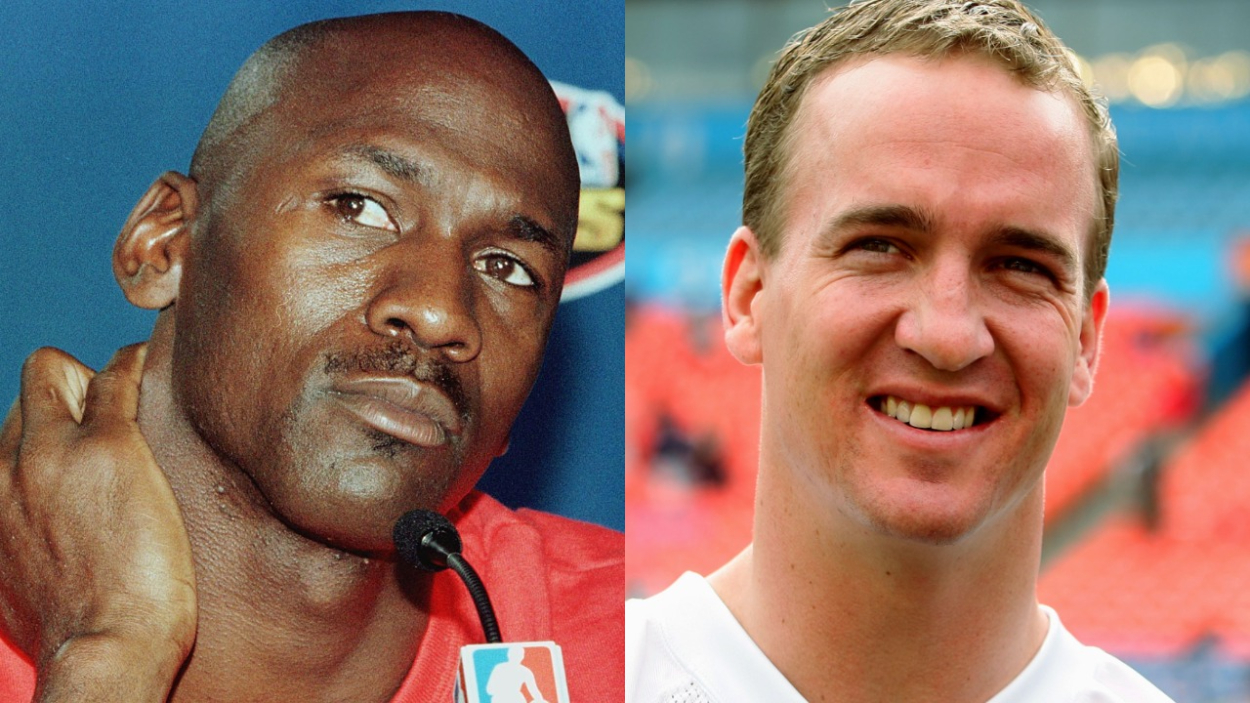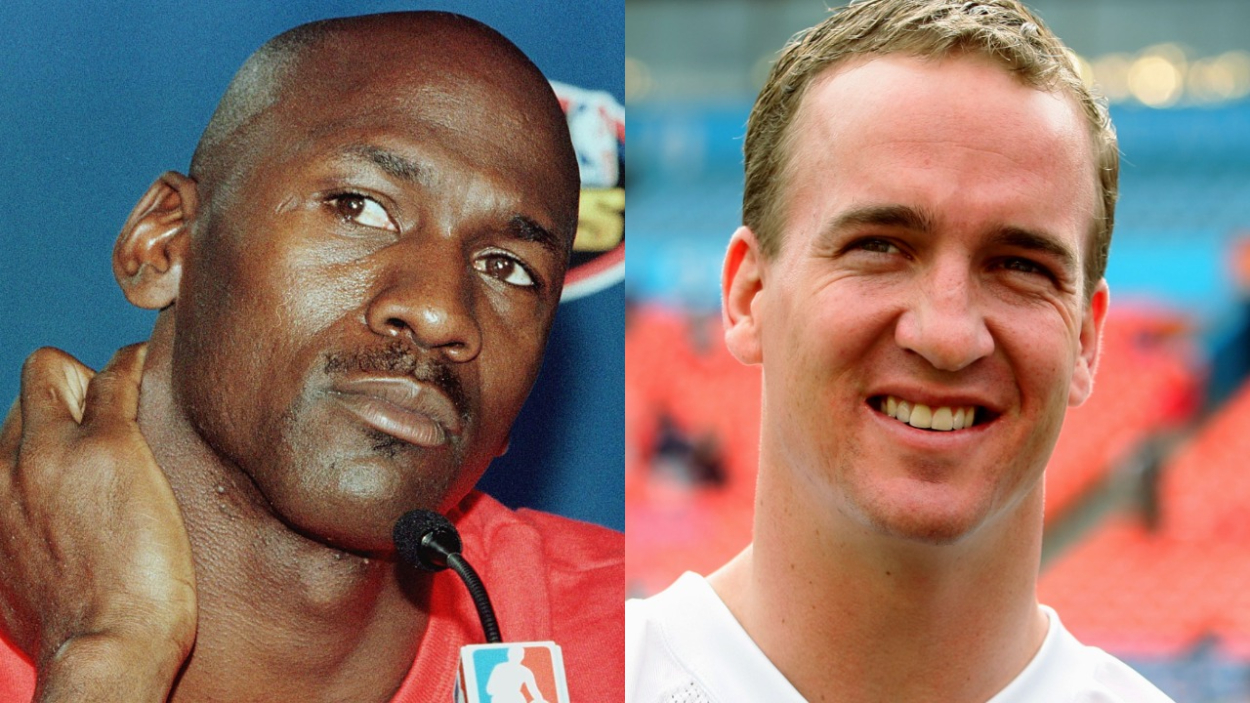 When Peyton Manning was deciding between staying at Tennessee and going to the NFL, he reached out to several big-time athletes.
According to Zak Keefer of The Athletic, Manning called quarterbacks who both stayed and left school early, including Roger Staubach, Phil Simms, Troy Aikman, Drew Bledsoe, and Bernie Kosar. However, he also reached out to a couple of basketball stars, including, yes, MJ, as well as Tim Duncan, who stayed for his senior season at Wake Forest the year before Manning chose to stay at Tennessee.
"I had a chance to visit with [Duncan] at a basketball game and just got good advice from him," Manning said to WBIR in 2018. 
When it came to Jordan, though, the NBA GOAT reportedly gave him five words of advice, according to Keefer.
"Take the money and run."

Michael Jordan
Manning obviously didn't take Jordan's advice. But it probably would have worked out either way as he became one of the greatest quarterbacks in NFL history.
Peyton later gave advice to Andrew Luck
Toward the end of a legendary professional career in which he won five NFL MVPs and two Super Bowls, Manning found himself on the other side of the coin: He was the one giving advice.
Manning's father, Archie Manning, was teammates with Andrew Luck's dad, Oliver Luck. So, Peyton — who didn't know that Andrew would ultimately replace him as the Colts' starting quarterback — helped the young star when he was deciding between going to the NFL in 2011 and staying for his senior season at Stanford.
"Before he made his decision he had a couple of long conversations with Peyton," Oliver said in 2011, per ProFootballTalk. "Archie and I played together way back when with the old Houston Oilers, so we've known the family, and Peyton's kind of acted like a mentor to Andrew."
Determining the right choice between staying at school and leaving early just depends on who you ask. Many pro athletes have had success doing both. But someone like Luck potentially made the wrong one as he ultimately retired early due to injuries after seeing the team he went to in the draft (the Colts) fail to protect him throughout his career.
Given that Peyton and MJ had all the success they did, though, it's hard to argue with either of their decisions. Although they took two different paths, they became two of the greatest athletes ever.
Stats courtesy of Sports Reference