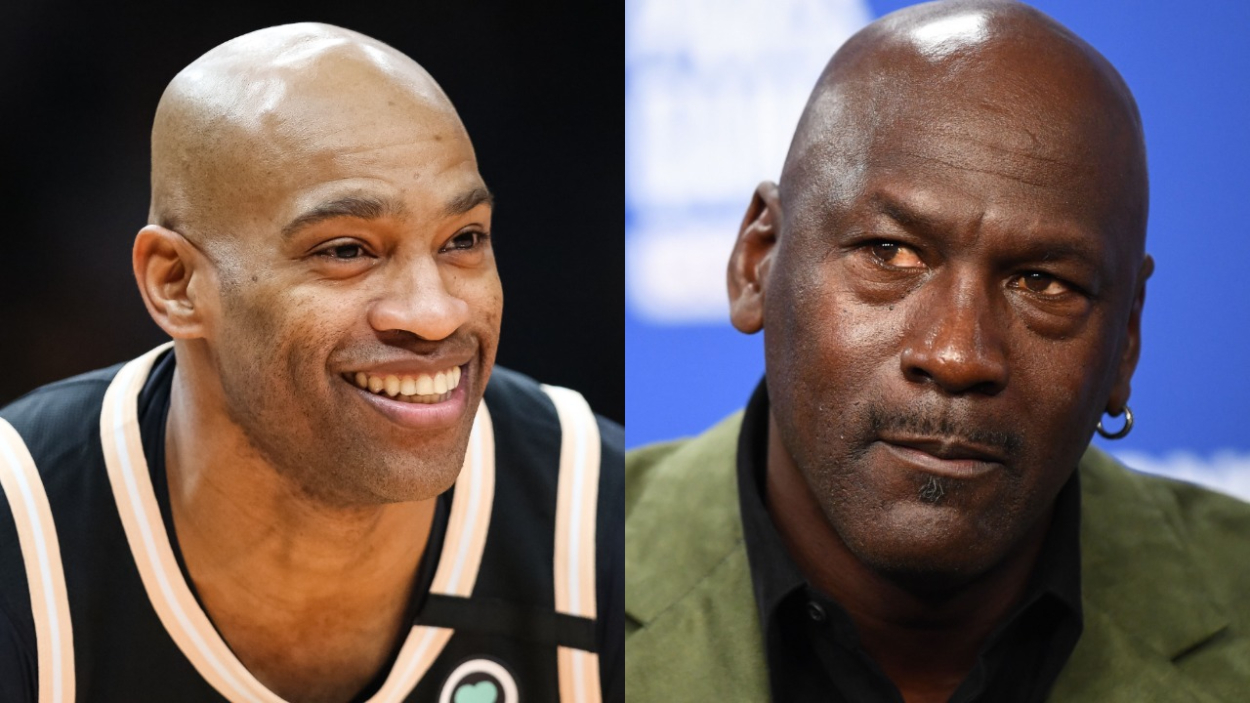 Michael Jordan's Fellow UNC Alum Vince Carter Says Kevin Durant Is 'More Gifted' Than MJ
Many people have been comparing Kevin Durant to MJ lately. His NBA playoff performances with the Brooklyn Nets were truly incredible. Michael Jordan's fellow UNC alum, Vince Carter, recently joined the debate, and he agreed with Steve Kerr's bold claim that Durant is the "more gifted" player of the two.
Kevin Durant's playoff performances for the Brooklyn Nets have everyone debating whether Durant is comparable to Michael Jordan. In fact, Jordan's former teammate and Durant's former coach, Steve Kerr, recently said KD is "more gifted" than MJ, and some notable stars have since agreed with him. In fact, one of Jordan's fellow North Carolina alums even joined the debate: UNC legend Vince Carter.
Steve Kerr said Kevin Durant is 'more gifted' than Michael Jordan
Durant recently had an MJ-like playoff performance for the Brooklyn Nets. With Kyrie Irving out and James Harden nowhere near 100%, Durant recorded 49 points, 17 rebounds, and 10 assists in a Game 5 Eastern Conference semifinal win over the Milwaukee Bucks. He then had 48 points, nine rebounds, and six assists in Game 7, but the Nets ultimately lost the series, 4-3.
Durant's play, though, garnered Jordan comparisons.
Steve Kerr, who won three championships playing with Jordan and two coaching Durant, recently said that KD is the "more gifted" player.
"He just showed he's the most talented basketball player on earth, if not of all time," Kerr said of Durant to NBC Bay Area. "Honestly. He's just so gifted."
Wait, did he say of all time?
"I think he's more gifted (than Jordan), I really do," Kerr said. "That's saying something, but Kevin is a different, entirely different breed. Six-eleven with guard skills, unlimited 3-point range, passing, shot-blocking, shot-blocking at the rim; it's just stunning. Watching him this year was really, really gratifying to see."
Michael Jordan's fellow UNC alum Vince Carter agrees with Kerr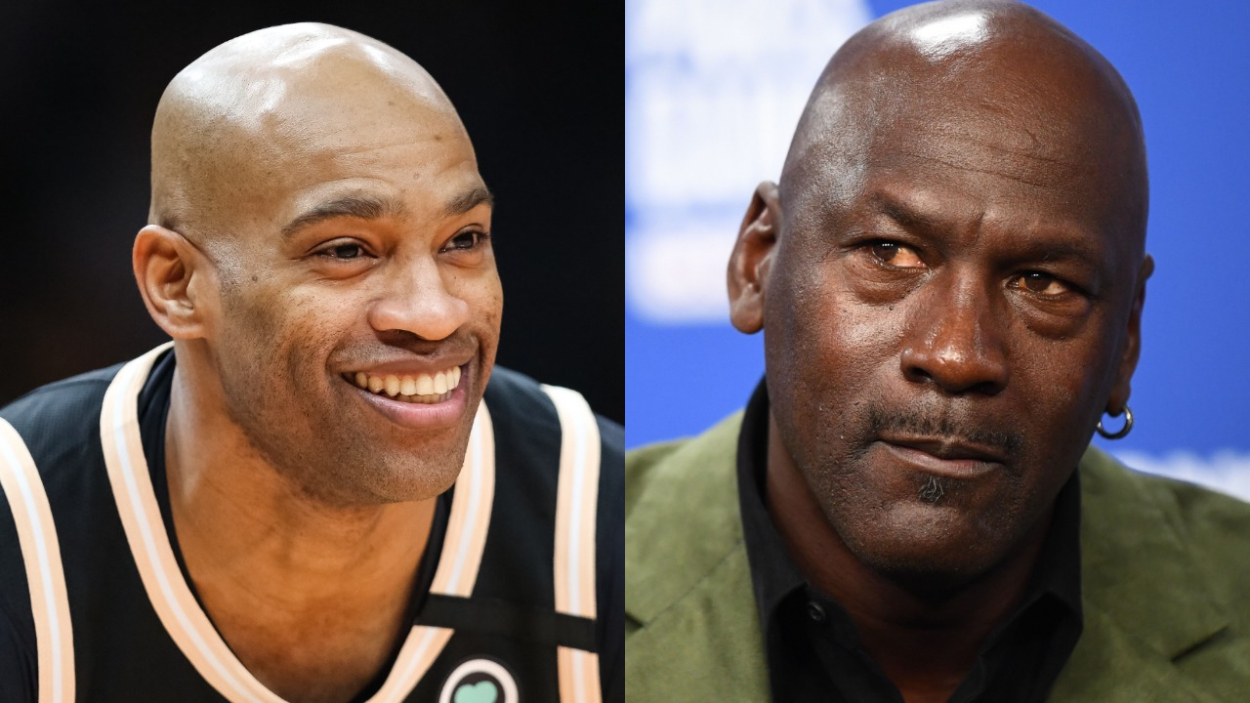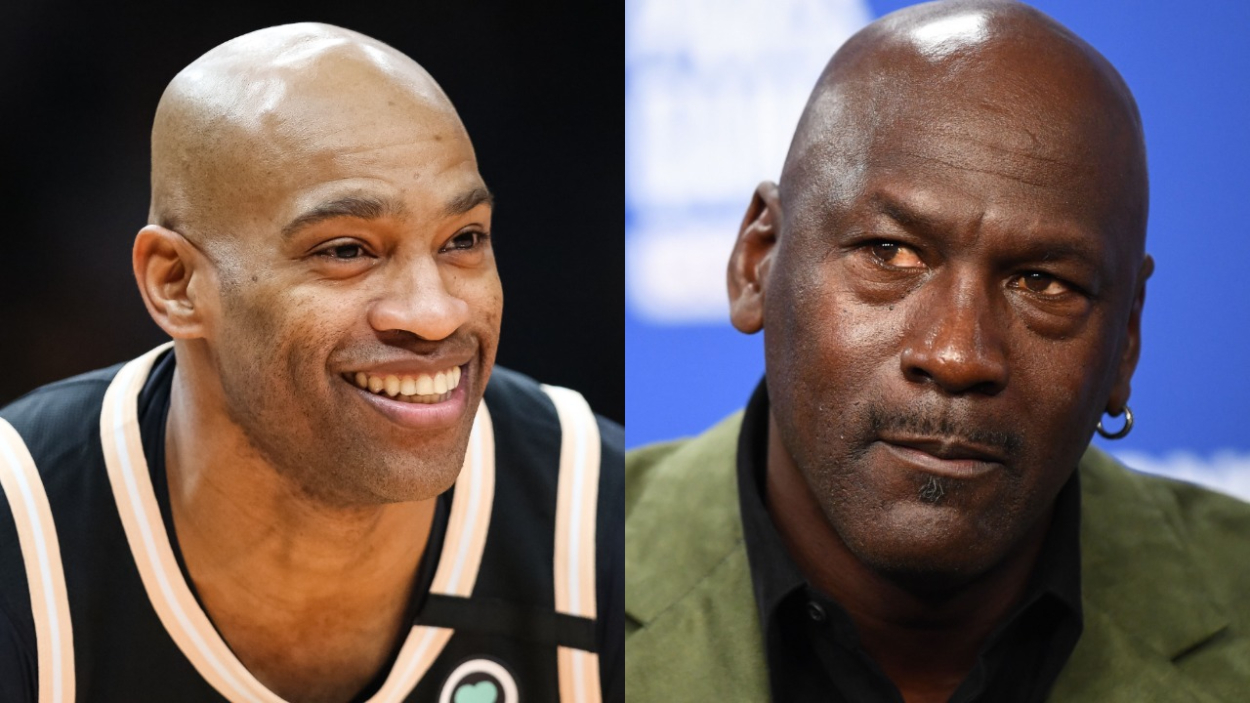 Michael Jordan and Vince Carter never played together at UNC, but Tar Heels typically stick together. However, while Carter admitted he was "rattled" when he heard about what Kerr said before actually seeing the video, he ultimately agreed Durant is, in fact, more gifted.
"He's not saying 'Kevin Durant's the greatest player of all-time,'" Carter said on the June 24 episode of Get Up. "He's saying he's more gifted, and I agree with that. Here's why I say that: I think Kevin Durant being 6-11, can get to where he wants to get to, and if you particularly happen to stay in front of him and guard him, he can still shoot over you. Not like Michael Jordan couldn't do that, don't get me wrong, but [Durant] has a gift. He's athletic; he can do whatever you wish to do as a fan or a basketball player."
What Carter said makes sense; it's amazing what Durant can do at his height, which, in turn, makes him pretty gifted. Apparently, that Carolina loyalty only runs so deep.
Others debated about Steve Kerr's comments
Carter hasn't been the only one who has addressed Kerr's comments. P.J. Carlesimo, who coached the Portland Trail Blazers and Golden State Warriors while Jordan played for the Bulls, and was then Durant's first head coach in the NBA, agreed as well.
"Look at those arms, [Durant's] not 6-11 (with his long arms); he's like over 7-feet, so trying to guard him is ridiculous," Carlesimo said on Get Up. "Probably a better shooter right now than MJ ever was, and MJ improved significantly."
However, ESPN's Stephen A. Smith disagreed with Kerr's statements.
"What I hold against Kevin Durant, specifically as it pertains to this comparison or this quote by Steve Kerr is, A) The times that we're playing in now compared to what it was then," Smith said on the June 24 episode of First Take. "And B) The one thing to hold against Kevin Durant, we all know what Kevin Durant is capable of, but it's whether or not he wants to."
Smith then pointed to how Durant was forced to carry the Nets due to Irving and Harden's injuries.
"[He] was forced to step out of character and to be an assassin; Michael Jordan had that in his DNA from the moment he stepped on the court as an NBA player," Smith said.
Smith also added that if Durant's size is a gift, so is Jordan's mentality.
Like Carter's, Smith's points were also pretty strong, but there isn't an easy answer to this debate, especially since no one is calling KD the GOAT.
Whichever side you're on, though, it's pretty clear that both Durant and Jordan are NBA legends.
Stats courtesy of Basketball Reference