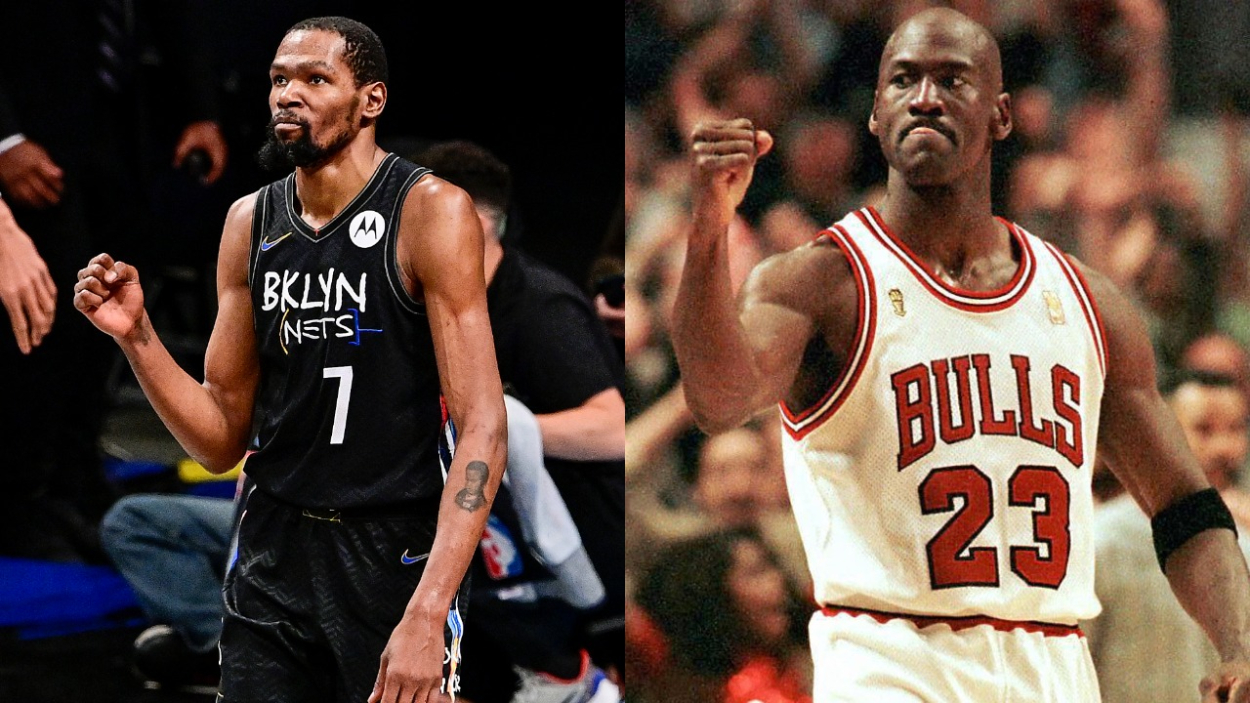 Kevin Durant Recently Reminded Magic Johnson of Michael Jordan: 'Kevin Durant Put Himself in That Type of Atmosphere'
Brooklyn Nets star Kevin Durant has become one of the best players in the NBA and certainly the best scorer in the league. In fact, he has become so good that he recently reminded Hall of Famer Magic Johnson of the NBA GOAT, Michael Jordan, as Johnson had a lot of praise for KD.
Brooklyn Nets superstar Kevin Durant has proven he is one of the best scorers to ever play in the NBA. In fact, despite Durant and the Nets losing to the Milwaukee Bucks in the playoffs, an NBA legend recently said that KD actually reminded him of Michael Jordan during that series.
Yes, the Michael Jordan.
So, who was this star of yesteryear? It was Los Angeles Lakers legend Magic Johnson.
Kevin Durant dominated in the playoffs for the Brooklyn Nets
Durant recently had a difficult task of trying to beat the Milwaukee Bucks in the Eastern Conference semifinals. The Brooklyn Nets were favored to win the title all year, but they struggled with injuries throughout the Bucks series. Kyrie Irving ultimately missed Games 5–7, and James Harden wasn't his normal self in the four games he played in for Brooklyn. That's, of course, on top of them facing two-time NBA MVP Giannis Antetokounmpo.
So, with the odds stacked against him, Durant went off.
In Game 5, with the series tied 2-2, Durant scored 49 points, pulled down 17 rebounds, and had 10 assists in a 114-108 win. He then dropped 48 points, nine rebounds, and six assists in Game 7, while also hitting the game-tying shot to force overtime with one second left in regulation. The Nets eventually lost the game 115-111 in OT, and lost the series, but Durant gave it everything he had during those seven games.
He ultimately averaged 35.4 points, 10.6 rebounds, 5.4 assists, and shot 49.7% from the field against the Bucks.
His play caught the eyes of many, but it also got the attention of the Hall of Famer and five-time NBA champion in Johnson.
Magic Johnson said KD reminded him of Michael Jordan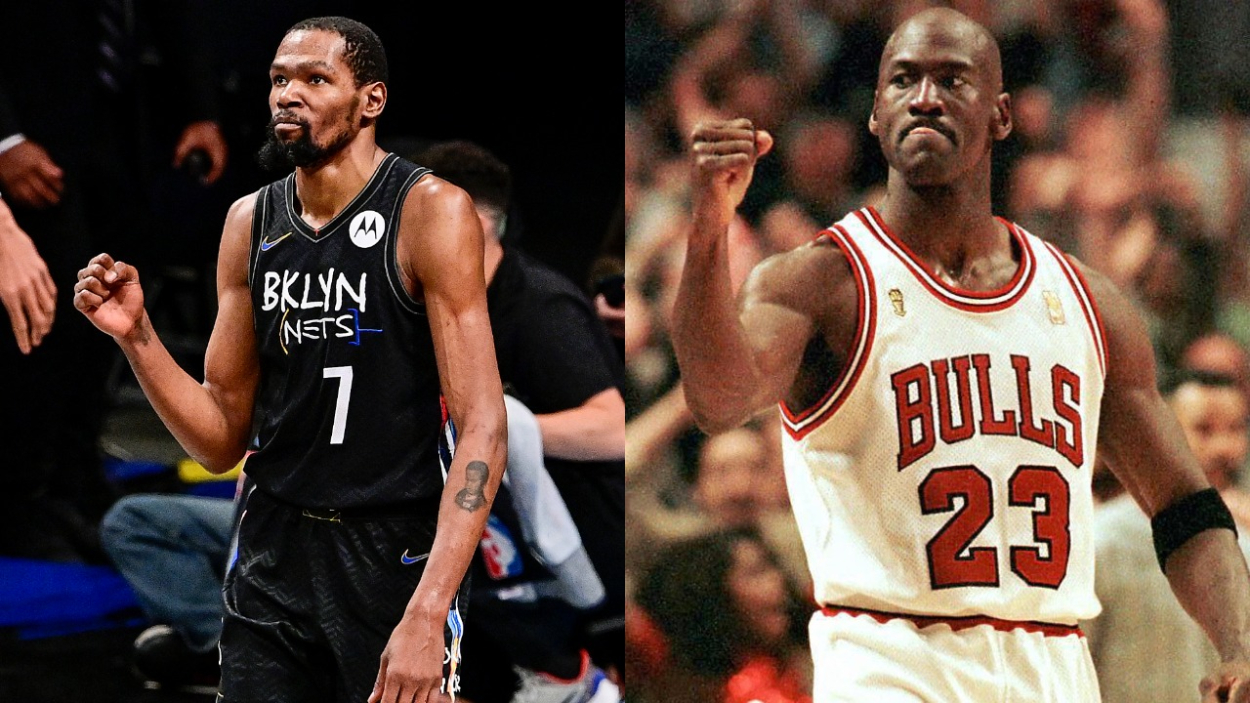 While recently appearing on ESPN's Get Up, Johnson discussed Kevin Durant's conference semifinal performances for the Nets, specifically in Games 5 and 7. He then had some massive praise for the 2013-14 NBA MVP.
"That showed me a Kobe Bryant, Michael Jordan-type performance," Johnson said on the June 21 episode. "It reminded me of Michael Jordan against the Celtics when he got 60, and they lost."
Johnson was referring to the 1986 first-round series between the Chicago Bulls and Boston Celtics. Jordan dropped 63 points for the Bulls in Game 2, but Boston ultimately won 135-131 and swept Chicago 3-0.
"That same type of performance, and everybody said 'Uh oh, it's getting ready to be Michael Jordan's league," Johnson said. "So, I think that Kevin Durant put himself in that type of atmosphere with those type of players, Michael Jordan, Kobe Bryant."
That's certainly some high praise coming from a former player who actually played against Jordan.
Johnson and Jordan faced each other in the 1991 NBA Finals, and the Bulls ended up winning the series in five games. Jordan averaged 31.2 points, 11.4 assists, and 6.6 rebounds in the series, while Johnson averaged 18.6 points, 8.0 rebounds, and 12.4 assists.
That wasn't all Johnson had to say about Durant, though.
Magic Johnson said Kevin Durant will become the best player in the NBA … soon
In addition to saying Durant put up some MJ-level performances, he also said KD will soon become the best player in the NBA.
He hasn't passed LeBron James yet, though.
"I think LeBron's got one more year to be the man, and then it's Kevin Durant's league right after that," he said. "… I think Kevin Durant is the best scorer on this planet, in the world; I think that, yes, now they're running neck-and-neck. … Let's see what happens next season. LeBron, he can just do everything. So, he's not going to give up this crown too easy of being the best player in the world."
Durant may be up there with the all-time greats, but he hasn't quite passed James for the best player in the world title yet. Maybe, they'll get a chance to battle for it in the NBA finals next season when everyone is hopefully healthy.
Stats courtesy of Basketball Reference