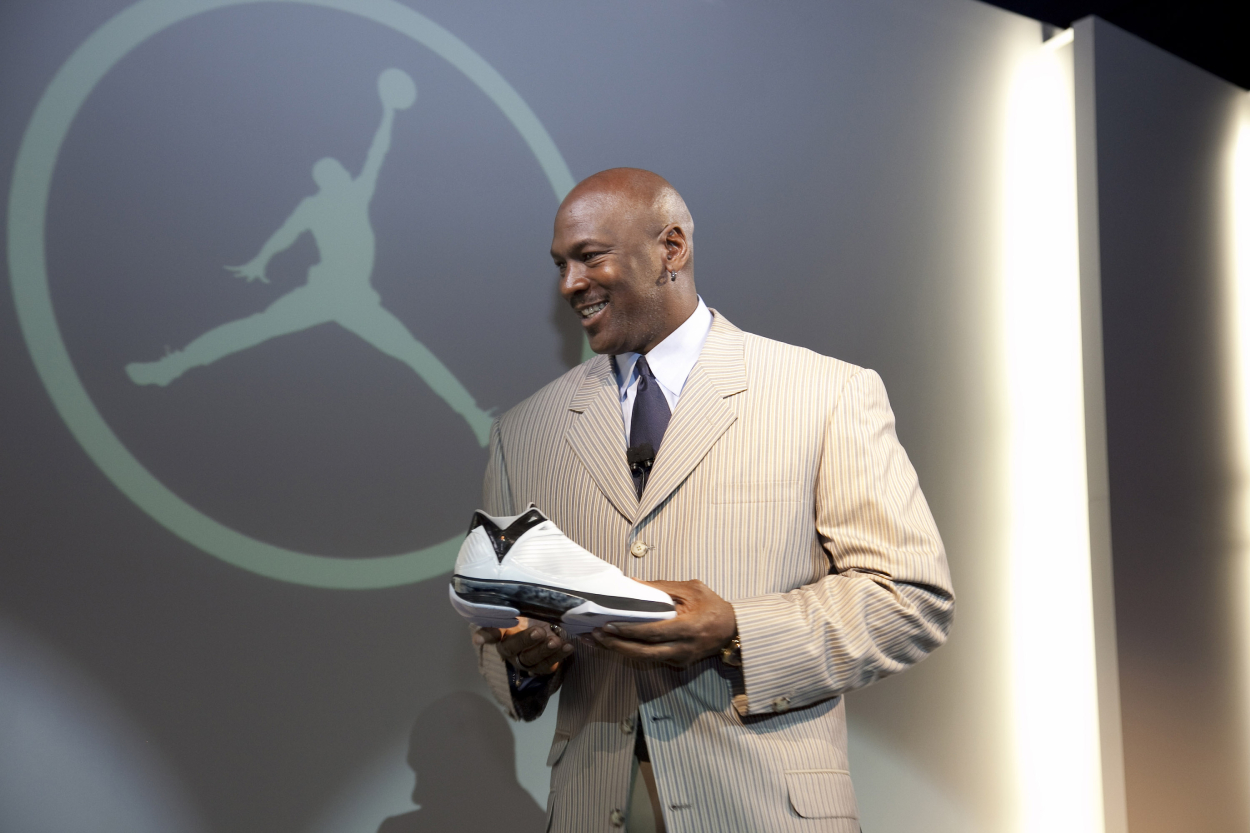 Michael Jordan Refused to Let Certain NBA Players Wear His Shoes: 'My Whole World Was Deflated'
Michael Jordan's shoes and his Jordan Brand have been extremely popular over the years, as fans have waited in long lines to get his newest kicks. Jordan has also had some stellar NBA stars represent his brand. However, MJ refused to let certain players wear his shoes on the court.
Michael Jordan's NBA career with the Chicago Bulls not only made him an NBA legend, but it also made him an international superstar. Fans everywhere just wanted a glimpse of Jordan, which led to him coming out with his famous Nike Air Jordan shoes. However, once Jordan and Nike launched his Jordan Brand, MJ only wanted certain stars to wear his shoes on the court.
In fact, he refused to let some players wear them altogether.
Michael Jordan's shoes and clothes have been extremely popular
We all know how successful Jordan was as a basketball player. He won five NBA MVP awards and led the Bulls to six NBA championships, including two separate three-peats.
His popularity made his Air Jordan shoes widely successful — so successful that about 12 years after releasing his signature shoe, Nike and Jordan launched Jordan Brand.
Jordan has since made a significant amount of money from Nike, and Jordan Brand has given the company a consistently strong source of revenue. According to Forbes, Nike has paid Jordan over an estimated $1 billion since signing him in 1984. Jordan Brand also made $3.1 billion in the fiscal year that ended in May 2019 and is worth more than $10 billion.
Jordan's face and the faces of all the athletes who have starred on Team Jordan over the years have made his clothes and shoes timeless. However, when it initially came to which NBA players wore his shoes, Jordan only wanted the best of the best.
Michael Jordan only wanted certain NBA players wearing his shoes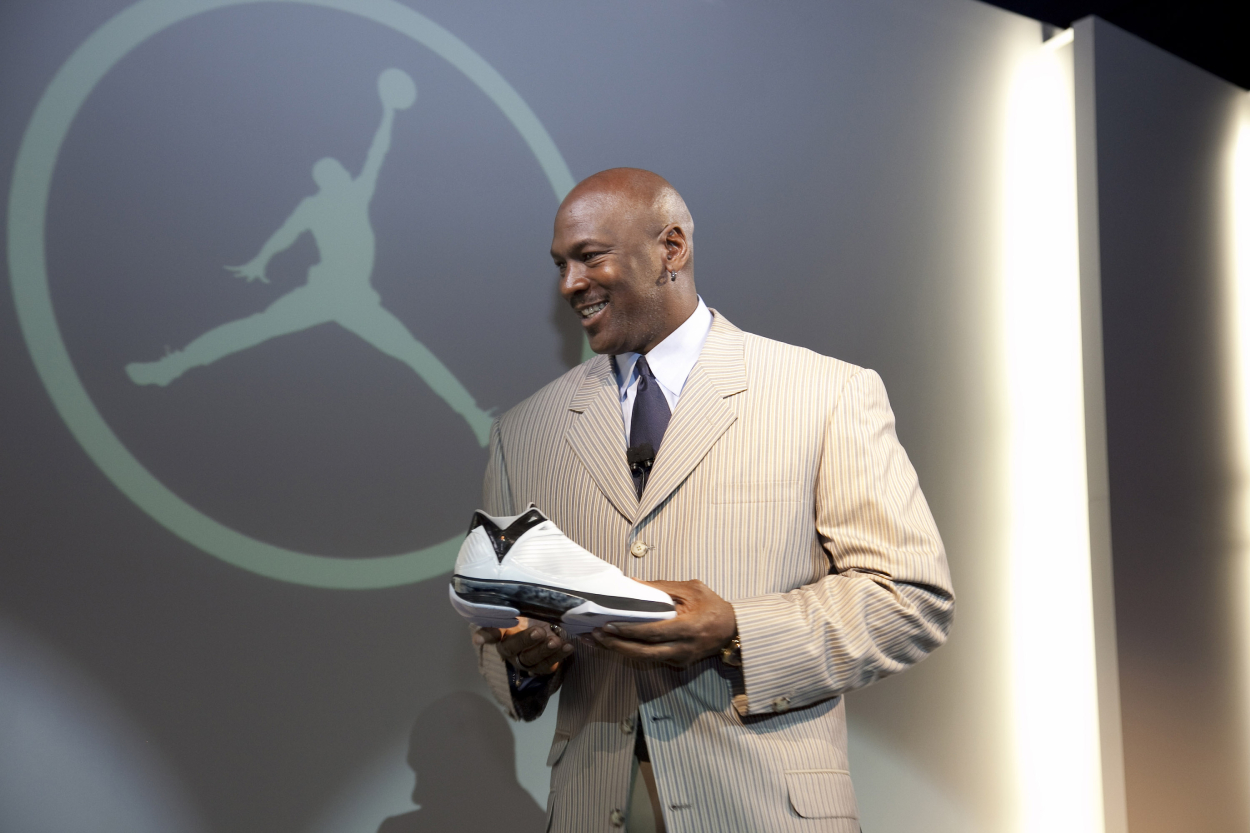 Quentin Richardson was one of the former stars Michael Jordan hand-picked to represent Jordan Brand and wear his shoes, as he became one of the brand's ambassadors during its first few years of existence.
However, while Richardson was discussing how he first signed with Jordan Brand on former NBA player Raja Bell's podcast, Real Ones, Bell brought up how he was actually not allowed to wear Jordans.
"I come into the league; I'm on a 10-day [contract], right?" Bell said on the Feb. 11, 2021, episode. "I cop my own pair of 16s. We're wearing that Sixers' alternate blue uni in Orlando. … So, I bought my own 16s, took the removable top off of them. They have the blue toe; all white, blue sides, blue toe. I am crispy, bro, national TV."
Bell then said that the 76ers' equipment manager came in and told him he couldn't wear his Jordans.
"I was like, 'What are you talking about? I bought these; they're my shoes,'" Bell said. "He said, 'Bro unless you're Team Jordan, you cannot wear those.' And my whole world was deflated."
Richardson confirmed that MJ wanted Team Jordan to stay exclusive.
"I used to give Corey Maggette, my teammate, I used to give him stuff, we wear the same size shoes," Richardson said. "… One time my phone rings, [it was an] unknown number, I pick it up, [Jordan] was like 'Yo.' I'm like, 'Hello?' 'Q, yo. [It's] MJ.' … (Jordan said) 'I know you're giving Corey the shoes, you can't do that no more.'"
Richardson then, of course, later told Maggette he could no longer wear the shoes during games.
Quentin Richardson revealed how he signed with Jordan Brand
So, since Jordan wanted his brand to be so exclusive, how did he go about selecting his Team Jordan members back when he was first launching it?
Quentin Richardson came into the league in 2000 when the Los Angeles Clippers selected him with the No. 18 overall pick in the NBA draft. The Clippers also drafted high school phenom Darius Miles that year with the No. 3 overall pick.
Richardson and Miles then ended up going to a camp Jordan ran for kids that summer, and at the time, it looked like they were going to sign with AND1.
"We go up to camp, we got all AND 1 stuff on," Richardson said on Real Ones. "So, one day after we get to hoopin' in the night game, MJ looking at us like, 'Why y'all got all this AND1 crap on? I thought y'all was Nike guys?'"
Richardson and Miles then explained that their agent was trying to finish a deal with AND1. However, Jordan didn't want to hear any of that.
"MJ like, 'Y'all don't worry about it, y'all gonna come with me," Richardson said.
That next morning, Richardson's agent let them know that it looked like they were getting a deal with Jordan Brand done.
Jordan clearly saw the potential for growth his brand had, which is probably why he wanted only the best of the best, or guys with sky-high potential, to represent it. While Raja Bell and Corey Maggette were talented players, they just didn't quite meet the criteria for Team Jordan.
To put it simply, MJ gets what he wants and who he wants, and, at the time, he wanted Richardson and Miles to represent Team Jordan.
Like Sportscasting on Facebook. Follow us on Twitter @sportscasting19.