Michael Strahan Once Underwent a Significant Lifestyle Change Thanks to Some VHS Tapes and Actress Jane Fonda
Michael Strahan is one of the biggest celebrities in America, as he not only dominated on the New York Giants' defense for over a decade, but he has since become an anchor on Good Morning America as well. However, despite the fact that Strahan is now a massive celebrity, he was actually picked on a lot as a kid. Him getting picked on, though, ultimately led to Strahan undergoing a significant lifestyle change that involved some VHS tapes and Jane Fonda.
Michael Strahan was picked on during his younger years
RELATED: Michael Strahan Once Admitted That He 'Could've Killed' His Giants Teammate During an Intense Fight in His Career
Michael Strahan appeared on an episode of In Depth with Graham Bensinger in 2018, and he said that he often dealt with his brothers picking on him as a kid. Strahan would even tell them that he was going to be famous one day just so that they would leave him alone and "hopefully be nice."
"I look back now, and I think, 'What else could I have expected?'" Strahan, the youngest of six siblings, said. "…Nickname was B.O.B., B.O.B. meant booty on back. Yeah, great nickname. It meant I was a chunky kid."
Strahan said that after playing football when he was seven and eight years old, the family moved to Germany, and he didn't play sports for a little while after that.
"I just ate until I was B.O.B.," Strahan said.
However, had Strahan never learned what his nickname stood for, he may have never taken on a significant lifestyle change.
"I look back, and I think that it was also a moment that changed my life because had I not been told by one of my brother's friend's what B.O.B. meant — because I thought it was cool at first; I thought 'I got a nickname from my brothers and their older friends,'" Strahan said. "If I didn't know what B.O.B. meant, I don't think it would have made me start pushing myself and working out."
His lifestyle change included some VHS tapes and Jane Fonda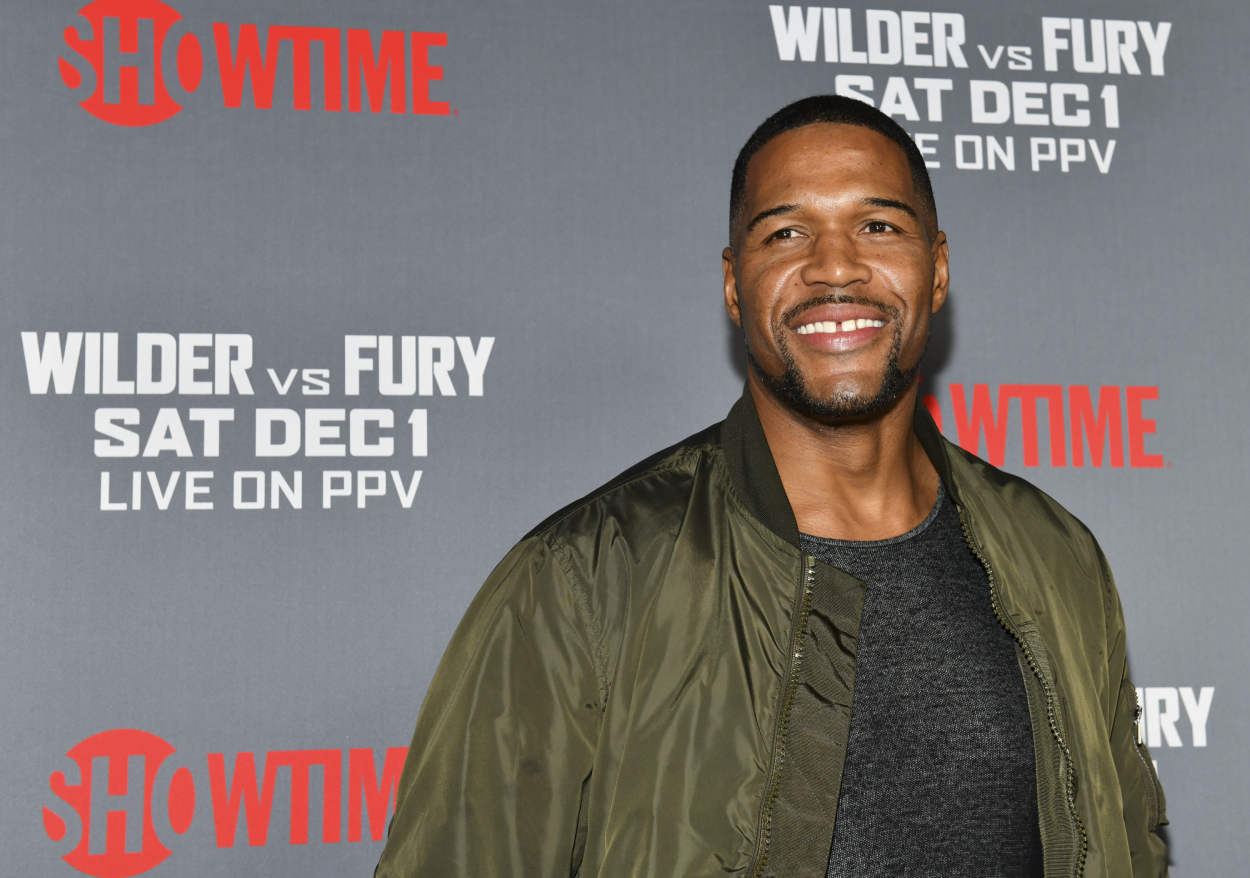 RELATED: Lawrence Taylor Reveals How Pissed He Was When Bill Belichick Became His Defensive Coordinator, Says He 'Cursed' Bill Parcells Out
Michael Strahan then began a lifestyle change that included more working out. This was despite the fact that he didn't have any equipment.
"I bought the Jane Fonda tapes; started doing Jane Fonda tapes," Strahan said. "… Thank goodness we had a Beta VHS [player]; pop that sucker in, and I would knock that stuff out."
Michael Strahan also looked to former Heisman Trophy winner Herschel Walker for motivation.
"He wrote a book, and I started doing the Herschel Walker workout book," Strahan said. "…I was like 'That's what he did, and look at him. He did pushups and situps — I can do that. I don't have to go to the gym; I don't need equipment.'"
Strahan's devotion to working out then eventually led to his father working out with him.
"My father, after about six, seven, eight months of that, watching me do stuff in front of the television, he said, 'I want to work out with you; We're going to workout together,'" Strahan said.
So, Michael Strahan ultimately used those instances where his brothers picked on him for motivation to change his lifestyle completely. He then went from that kid who his brothers teased to becoming one of America's biggest celebrities.
Michael Strahan became a massive celebrity with the Giants and on 'Good Morning America'
RELATED: CBS Broadcaster Phil Simms Once Allegedly Threatened To Punch Desmond Howard for Simply Doing His Job on ESPN
Michael Strahan, a defensive end, eventually played college football at Texas Southern before going to the New York Giants in the second round of the 1993 NFL draft.
Strahan then became an NFL legend with the Giants. He led the league in sacks twice in his career, including the 2001 season where he recorded an NFL-record 22.5 sacks in a season. He also ultimately earned seven Pro Bowl selections, won the 2001 Defensive Player of the Year award, and won a Super Bowl in his final NFL season in 2007.
After retirement, Strahan has since become a star in the television world. He previously co-hosted Live! with Kelly and Michael alongside former co-host Kelly Ripa, but Strahan is now a co-anchor on Good Morning America. He also has his own clothing line at JCPenny.
Michael Strahan is about as big of a celebrity as you can become in America. This comes after significantly getting picked on as a kid, which proves that he is the ultimate underdog story.
Stats courtesy of Pro Football Reference