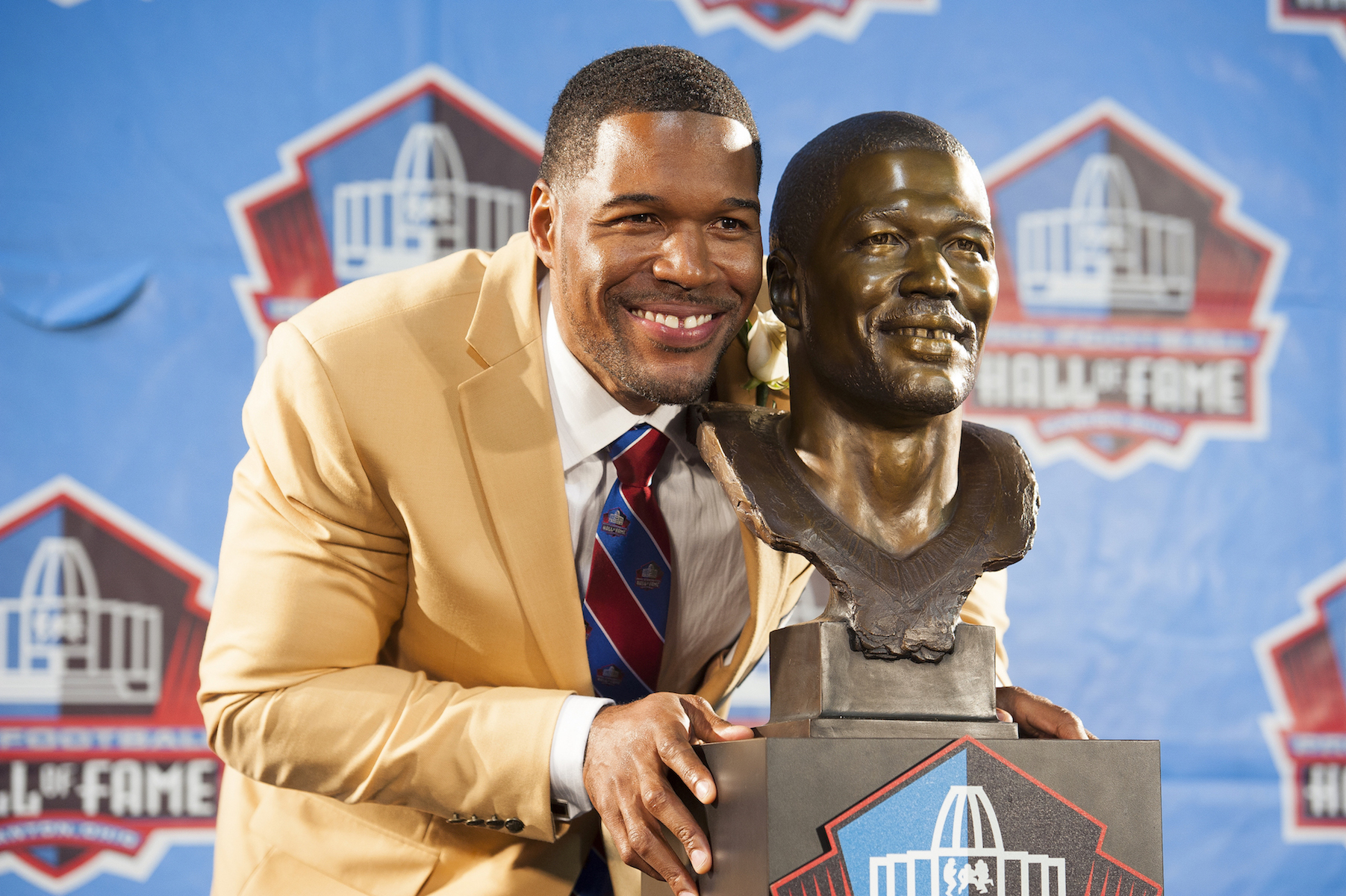 Michael Strahan Has the Best Explanation for Why He Never Fixed the Gap in His Teeth
While Michael Strahan is an NFL legend and a TV star, he refuses to fix the iconic gap in his teeth for the best reason.
While Michael Strahan has plenty of name recognition, everyone will know him in different contexts. Most fans know him from his impressive spell with the New York Giants; others have seen him on Good Morning America or various other TV shows. No matter where you've watched Strahan, however, it's almost impossible to miss the signature gap in his teeth.
With the former defensive end's celebrity status, he could have easily fixed his teeth. Strahan, however, has refused to get any dental work done, citing the best possible reason.
Michael Strahan's legendary career with the New York Giants
These days, Michael Strahan is a fully-fledged celebrity who's quite comfortable in front of the camera. That media career, however, started with an impressive showing on the football field.
While Strahan actually spent some of his formative years in Mannheim, West Germany, he returned to the United States for his senior year of high school. He was able to show enough skill on the gridiron in that single season to make the team at Texas Southern University.
During his time with the Tigers, Strahan made a name for himself as a fierce pass rusher, capable of terrorizing any offensive line. He eventually entered the 1993 NFL draft, joining the New York Giants as a second-round pick.
Although it took the defensive end a few years to hit his stride, Strahan eventually grew into a prolific pass rusher. He set the single-season sack record in 2001, taking down the opposing quarterback 22.5 times; while the final tackle on Brett Favre may have raised some eyebrows, the Giants' lineman still earned a place in the record books.
During his 15 seasons in the NFL, Strahan piled up 854 total tackles and 141.5 sacks. Strahan also made seven Pro Bowls, won a Super Bowl title, and claimed 2001 Defensive Player of the Year honors.
Refusing to fix a famous the famous gap in his teeth
Even without his New York Giants uniform, Michael Strahan is still a pretty recognizable character. That's at least partially because of the gap in his teeth.
At one point in his career, however, Strahan considered getting that gap repaired. "I was really close to closing it up," the former Giant told Mickey Rapkin of Elle. "I was at the dentist having him do mock-ups. I thought about it, man."
As we all can see, though, Strahan didn't go through with that procedure. At the end of the day, he decided to embrace his genuine self, flaws and all.
"I was in my twenties. I was playing with the Giants," he continued. "There's so much pressure to be perfect. You can fix everything now. For me, I made the conscious effort to say, 'this is who I am.' I'm not perfect. I don't want to try to be perfect."
Michael Strahan is incredibly successful, even with a gap in his teeth
During his interview, Michael Strahan mentioned feeling pressured to be perfect. While that's a great sentiment, the former New York Giant has still had a pretty impeccable career.
According to Spotrac, Strahan made more than $76 million in salary during his time on the gridiron. He also played his way into the NFL 2000s All-Decade Team, the New York Giants Ring of Honor, and the Pro Football Hall of Fame.
In retirement, though, Strahan's star continued to rise. Beyond his commercial appearances, the former defensive end joined the NFL media; he also cohosted Live!, Good Morning America, and what was initially known as GMA Day.
According to CelebrityNetWorth, Michael Strahan has built up a fortune of $65 million. That's a pretty nice career, with or without a gap in your teeth.
Stats courtesy of Pro-Football-Reference