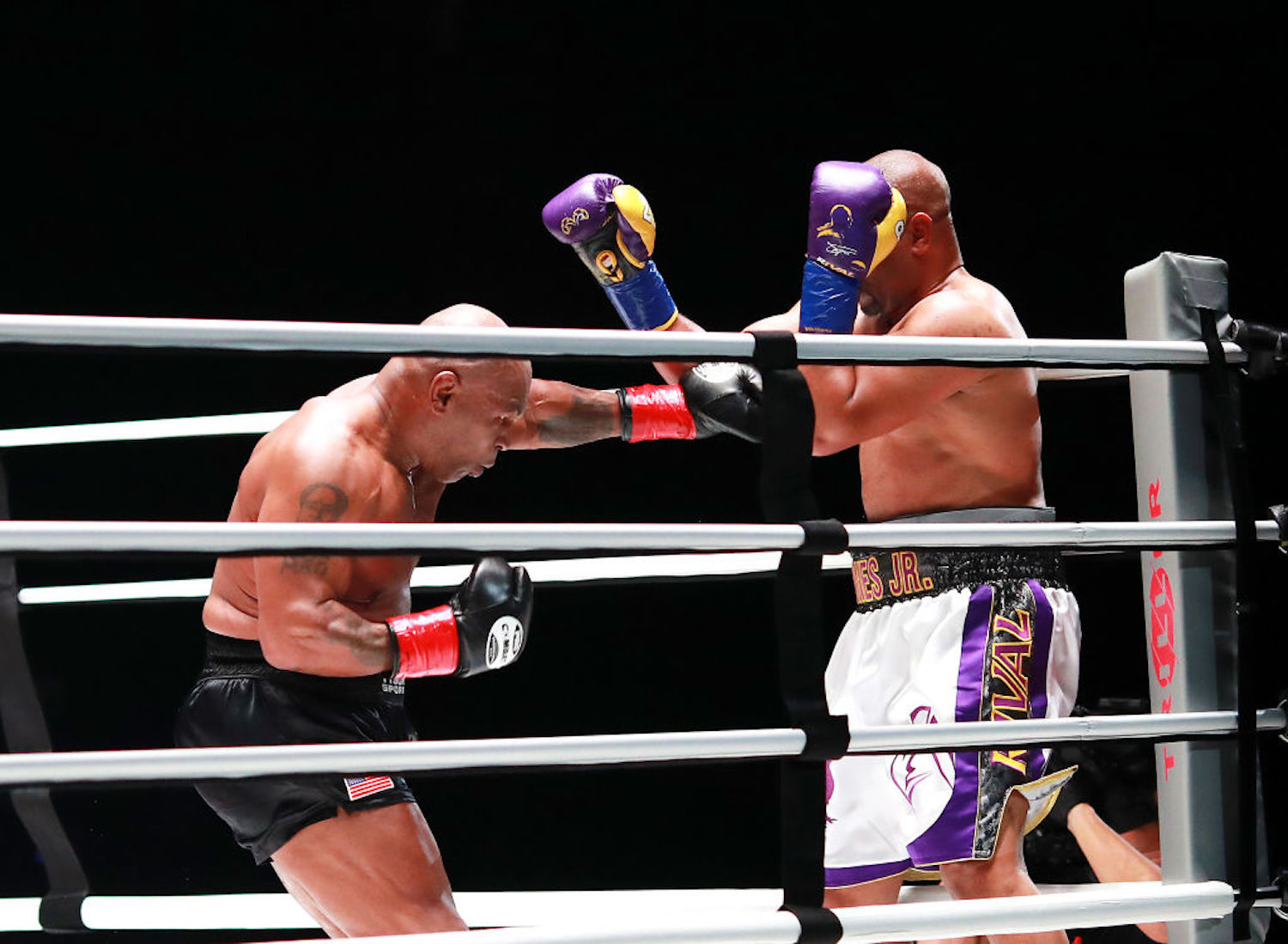 Mike Tyson Admits He Was High During His Comeback Fight Against Roy Jones Jr.
Mike Tyson looked dominant in his comeback fight at 54 years old, but he was actually high on marijuana during the bout.
Mike Tyson looked as dominant as ever during his comeback fight against Roy Jones Jr. on Saturday night. The boxing legend didn't leave the ring with an official victory, but he proved he still has it at 54 years old.
Tyson looked surprisingly quick, powerful, and focused during his historic comeback fight, but that might've been because he had a secret weapon at his disposal. After the bout, Tyson admitted he smoked marijuana before entering the ring, and he was high throughout the entire event.
Mike Tyson and Roy Jones Jr. fought to a draw on Saturday night
In one of the most highly-anticipated boxing events in recent memory, Mike Tyson met Roy Jones Jr. in the ring for a pay-per-view slugfest. The former boxing champions — both now in their 50s — actually showed some impressive speed and skill throughout the bout, but neither was able to emerge victoriously.
Tyson and Jones Jr. fought with modified rules, as the match was only eight rounds long at two minutes per round. The two fighters also wore bigger, heavier gloves to mitigate their powerful punches.
Both legends came out firing after the first bell. Tyson landed some brutal body blows early on and Jones Jr. countered with some lightning-quick left jabs to the face. As the fight wore on, both Tyson and Jones Jr. understandably started to slow down and tire out. After all, they are in their 50s.
Tyson seemed to control the fight throughout and land more crushing blows than Jones Jr. could, but the fight was officially ruled a draw. Boxing fans weren't thrilled with the anticlimactic ending, but it was still a thrill to watch the two legends duke it out.
Tyson smoked marijuana every day leading up to the fight
Mike Tyson is a legendary fighter, but he's also a notorious pot smoker in retirement. The former heavyweight champ started his own cannabis company called Tyson Ranch, and he smokes marijuana all day, every day.
"Listen, I can't stop smoking," Tyson said after the fight. "I smoked during fights. I just have to smoke, I'm sorry. I'm a smoker. … I smoke every day. I never stopped smoking."
Tyson made sure the Voluntary Anti-Doping Association didn't include marijuana in the list of drugs he and Jones Jr. couldn't use leading up to the comeback fight on Saturday night. So, he smoked every day while he trained for the bout.
Tyson admits he was high during his comeback fight
Not only did Tyson smoke every day leading up to his comeback fight against Jones Jr., but he also smoked right before entering the ring so that he could be high during the bout. Tyson didn't even try to hide it either. When he was asked whether or not he smoked marijuana before facing Jones Jr., Tyson answered bluntly.
"Absolutely, yes," Tyson said after the fight. "It's just who I am. It has no effect on me from a negative standpoint. It's just what I do and how I am and how I'm going to die. There's no explanation. There's no beginning, there's no end."
Although weed helps Tyson feel more comfortable, the former champ said it didn't give him an advantage against Jones Jr.
"No, it just numbs me," he said. "It doesn't numb the pain."
High or not, Tyson left the Staples Center Saturday night without a title belt. Will we see a rematch in the future to determine a true winner?