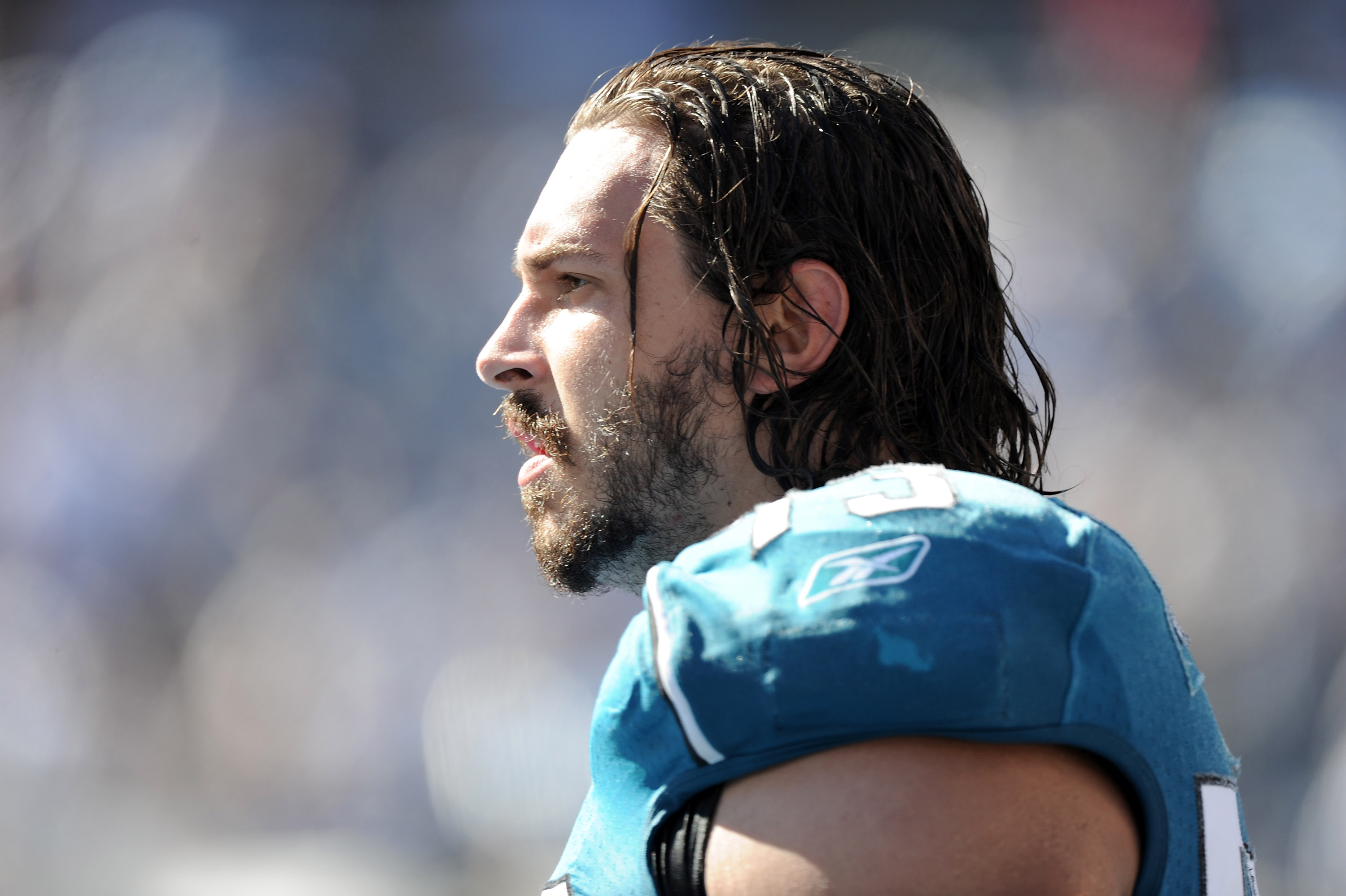 Who Is Eben Britton, Mike Tyson's Podcast Co-Host?
Who is Eben Britton, Mike Tyson's podcast host?
Mike Tyson has been in the news recently. He's been working out like a mad man as he is ready to step back into the boxing ring at the age of 54. His highly anticipated comeback fight against Roy Jones Jr. takes place Saturday night. Tyson also has been co-hosting his very popular podcast, Hotboxin' With Mike Tyson. While Tyson is the bigger name of the co-hosts, Eben Britton has a pretty good athletic resume of his own.
Eben Britton was a football star
At 6-foot-6, 280 pounds, Eben Britton was ranked as the 16th best lineman in the country when he was in high school, according to rivals.com. Britton attended Burroughs High School in Burbank, California, and was heavily recruited as an offensive lineman. He eventually played collegiately at Arizona.
After redshirting his freshman season, Britton earned Freshman All-American honors. In 2007, Britton was named Second-Team All-Pac-10 and then was First-Team All-Pac 10 the following season. Britton gave up his final year of college eligibility and elected to enter the 2009 NFL draft.
Britton was selected in the second round of the 2009 NFL draft. He was selected by the Jacksonville Jaguars with the 39th overall pick. Britton spent six years in the NFL, the first four with the Jaguars. He battled injuries and eventually lost his starting job. Britton signed with the Chicago Bears for the 2013 season and spent the final two seasons of his career with the Bears.
Britton battled through injuries
Throughout his NFL career, Eben Britton battled through numerous injuries. He suffered through a torn labrum in his rookie year that was followed by chronic back pain. Britton did whatever it took to remain on the field. Whatever it took. In a first-person article in The Cauldron in 2015, Britton said his career ended when he was suspended for the illegal use of Ritalin, but said he's lucky the NFL hadn't known what he'd done before.
Britton had a therapeutic use exemption to use Adderall, a drug used to treat his ADD/ADHD. Prior to one game, he couldn't find his bottle and went to a teammate for help. His teammate had Ritalin and Britton took the pills, knowing he ran the risk of being tested by the league. "Later that day (as luck would have it), I was summoned to submit to a random urine test for PEDs by league officials," Britton wrote. "About three months later, I was notified by mail that I had tested positive for methylphenidate (the active ingredient in Ritalin)."
That was the end of his career. He never played again. "End of life as I knew it," Britton wrote. "Maybe it was for the best. After all, if the league knew what else I had done to prolong my playing career, I would have been run out of there years ago." Britton needed medication in order to survive in the NFL. It didn't matter what he took. He needed to stay on the field. "I felt liberation through medication," he said.
Life after football for Eben Britton
Eben Britton was suspended by the NFL after testing positive for methylphenidate (the active ingredient in Ritalin) in 2014. He never served the suspension because he never played football again. Britton graduated from Arizona with a degree in creative writing and has become involved in the media after his playing days.
Even while he was playing for the Jacksonville Jaguars in 2012, Britton hosted a radio show in Jacksonville. In 2019, Britton teamed up with Mike Tyson, the former heavyweight boxing champion of the world, to co-host a podcast. The podcast, Hotboxin' With Mike Tyson, has become an instant success.
The first podcast kicked off in January of 2019. Hotboxin' With Mike Tyson has had its share of impressive guests. Dennis Rodman, Evander Holyfield, Sugar Ray Leonard, and Eminem, among others, have appeared in studio.