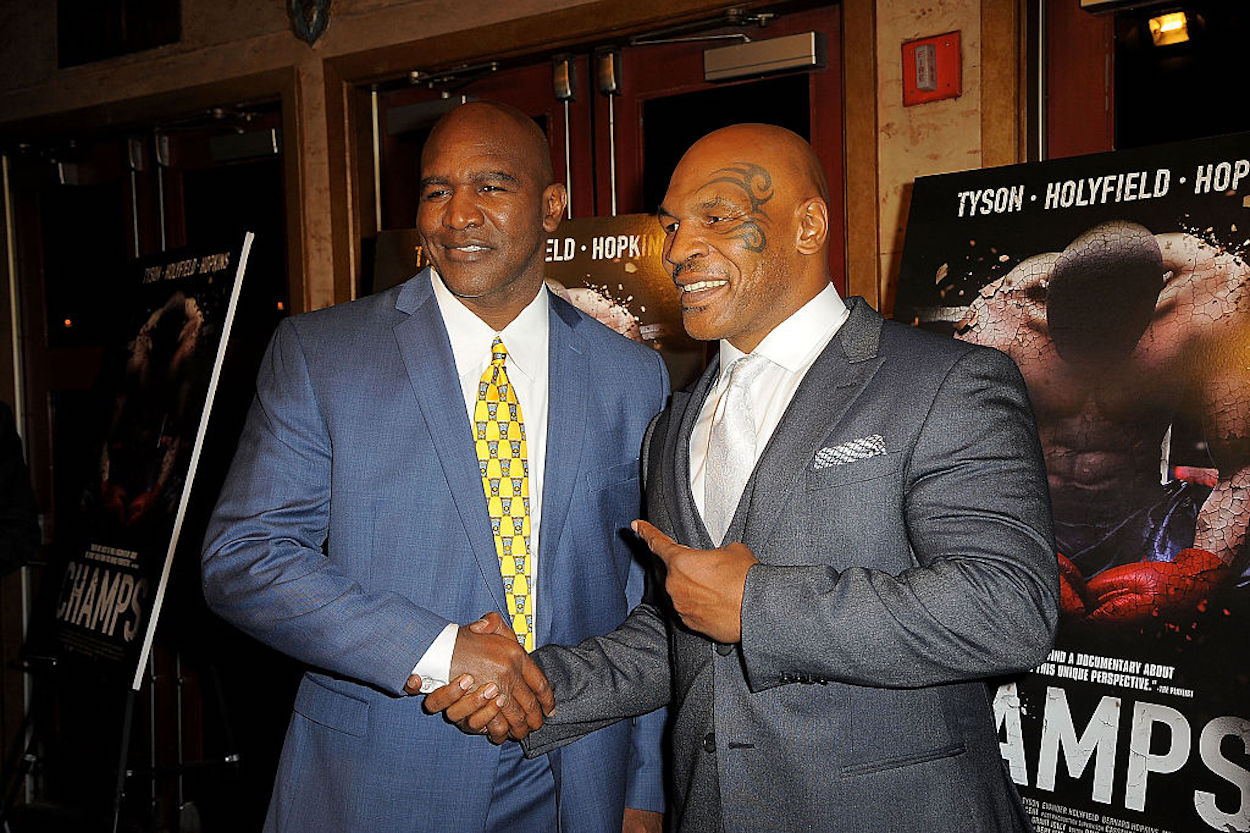 Mike Tyson and Evander Holyfield Are Making Boxing Fans' Dreams Come True With a $200 Million Trilogy Fight
Mike Tyson and Evander Holyfield might finally have a plan to complete their long-awaited trilogy, and it will carry a historic payout.
After 23 years of rumors and false hope, it seemed as if a trilogy fight between Mike Tyson and Evander Holyfield just wasn't meant to be. The former heavyweight champions are now 54 and 58 years old, respectively, and it would take a historic sum of cash to get Tyson and Holyfield back in the ring together at this point.
Well, that historic sum seems to finally be on the table, and the long-awaited trilogy fight might be on its way at last.
Mike Tyson and Evander Holyfield fought twice in their primes
During the mid-1990s, Mike Tyson and Evander Holyfield were battling to be named the greatest heavyweight boxer in the world. Tyson secured the heavyweight championship belt in September of 1996 by defeating Bruce Seldon, and Holyfield came knocking a few months later. On Nov. 9, 1996, Tyson and Holyfield met in the ring for the first time. The winner would be named the heavyweight champion of the world.
Tyson looked stronger early in the bout, but Holyfield eventually settled in and outboxed his opponent for the rest of the match. Holyfield went on to win the fight by TKO in the 11th round for one of the biggest upsets in boxing history at the time.
The two champions met again less than a year later. On June 28, 1997, Tyson and Holyfield engaged in one of the most memorable boxing bouts in history. In the third round, the two fighters got tangled up and Tyson bit off a piece of Holyfield's ear in frustration. The match was stopped while the referee sorted out the bizarre incident, and Tyson was eventually disqualified, giving Holyfield the win to retain the heavyweight belt.
It's now been 24 years since that infamous meeting, and most boxing fans have given up hope of a trilogy fight.
Rumors of a trilogy fight
Mike Tyson returned to the ring last year in a highly anticipated comeback fight against Roy Jones Jr. The fight hardly lived up to the lofty expectations, though, as both fighters tired out easily and the bout mysteriously ended in a draw despite Tyson dominating from the opening bell.
After the fight, Holyfield dropped down from the heavens to challenge Tyson to a rematch. He claimed the two sides were already in talks of a fight before Tyson opted to take on Jones Jr. instead.
"My side tried to make a fight happen and we got nothing but excuses," Holyfield said in a press release in December. "Now I can see why he wanted a tune-up fight before thinking about fighting me… The world is waiting and it's on you now. I'm ready."
Nothing materialized for two months after Holyfield called out Tyson's team, but the long-awaited trilogy fight might finally be happening.
Tyson and Holyfield reportedly in talks for a $200 million trilogy fight
Just when it seemed as if all hope was lost regarding a second rematch between Tyson and Holyfield, boxing fans might finally be getting their wish.
According to Wally Downes Jr. of The Sun, Mike Tyson vs. Evander Holyfield III will take place later this year in Dubai. The price tag for the trilogy? $200 million.
Buckle your seatbelts, boxing fans.