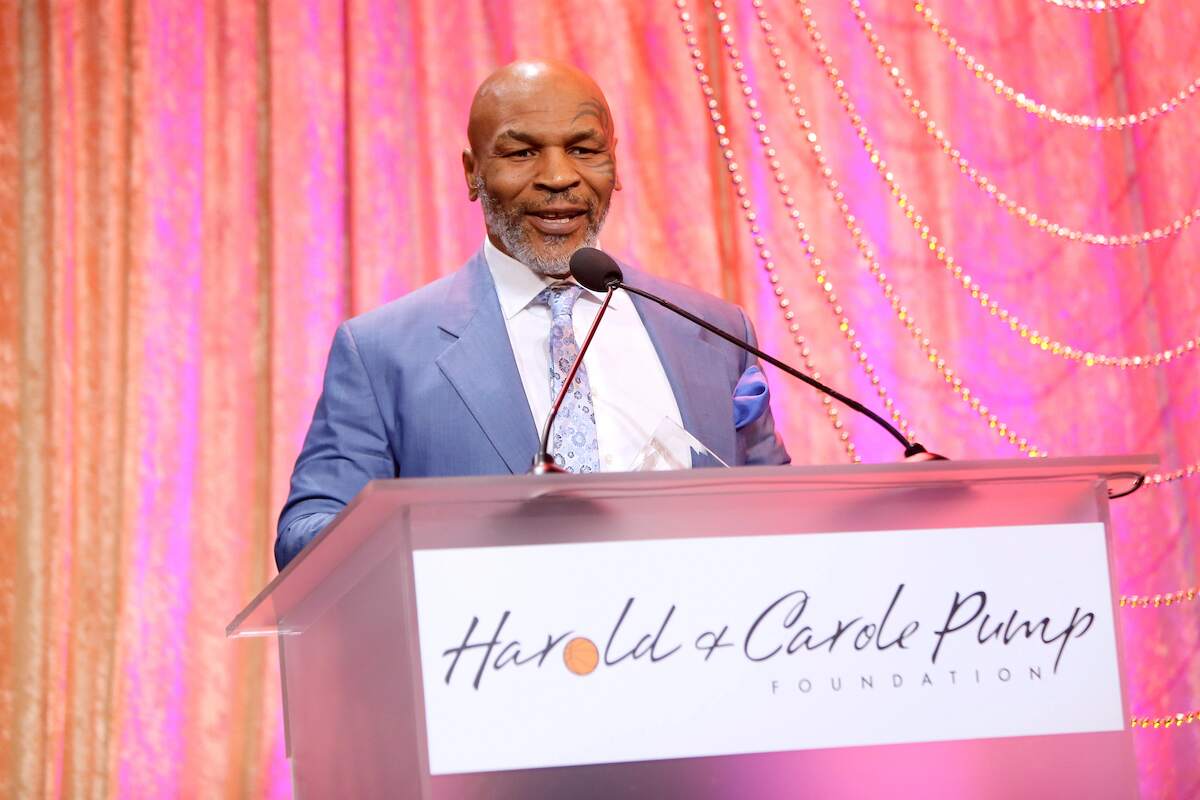 Mike Tyson Once Set the Bizarre Scene If He and Jesus Were to Meet
Former heavyweight boxing champion Mike Tyson once drew up a scene where he and Jesus met up for a drink together.
To put it lightly, Mike Tyson has had some bizarre moments in his life. He was arrested more than 30 times before he was a teen. He's owned tigers for pets. The former heavyweight champion of the world also had a time in his life when he mapped out what would happen if he met Jesus.
Mike Tyson has been at the top and bottom of life
Maybe it was Mike Tyson's tough childhood that turned him into the dominant boxer he was. Tyson spent many of his early years in a juvenile detention center where he was arrested numerous times before he became a teenager. It was there, however, when he met a man named Bobby Stewart, who taught him how to box.
Stewart was a counselor at the Tryon School for Boys. He wound up setting up a young Tyson with legendary boxing trainer Cus D'Amato. D'Amato took a liking to Tyson and saw he was loaded with potential. When Tyson's mother died when he was 16, D'Amato became Tyson's legal guardian.
Tyson became the youngest heavyweight champion in the world when he was 20. He won his first 37 professional fights. He was on top of the world. Tyson's boxing career was then halted when he was sent to prison on a rape charge. He served three years and returned to boxing but was never the same dominant fighter he was.
Mike Tyson's prison life
Mike Tyson spent three years behind bars. His legendary boxing career was interrupted, but Tyson was facing a new challenge in his life. The life he had of being on top of the world was over. He was a criminal, a rapist, and was doing his time.
On an episode of his podcast Hotboxin' With Mike Tyson, however, Tyson said he "had a ball" while imprisoned. "Am I a f—ing idiot to believe that (prison) was that kind of harsh punishment?" Tyson asked. "I thought that this was the worst thing that could happen to a human being. Did three f—ing years of my life, and I had a ball in prison. I had a girlfriend, and I got a girl pregnant in prison. I was living a life in prison."
Tyson said prison guards looked up to him. They catered to him. Tyson even said he felt guilty for it because of the man he was back then. "I was Mike Tyson, and everybody gave me what I wanted," he said. "And I felt like a d–k, everyone talking like I was some tough guy or some cool guy. I was just a pig."
Tyson detailed what it would be like if he met Jesus
Some things that come out of Mike Tyson's mouth can be eye-opening. Many times, Tyson rambles and talks about everything from religion to eating babies. There was the one time the former heavyweight champ laid out a scene where he had Jesus had a drink together.
"I feel like sometimes that I was born, that I'm not meant for this society because everyone here is a f—ing hypocrite," Tyson said, according to Bleacher Report. "Everybody says they believe in God, but they don't do God's work. Everybody counteracts what God is really about. If Jesus was here, do you think Jesus would show me any love? Do you think Jesus would love me? I'm a Muslim, but do you think Jesus would love me?
"I think Jesus would have a drink with me and discuss … why you acting like that? Now, he would be cool. He would talk to me. No Christian ever did that and said in the name of Jesus even … They'd throw me in jail and write bad articles about me and then go to church on Sunday and say Jesus is a wonderful man, and he's coming back to save us. But they don't understand that when he comes back, that these crazy, greedy capitalistic men are gonna kill him again."