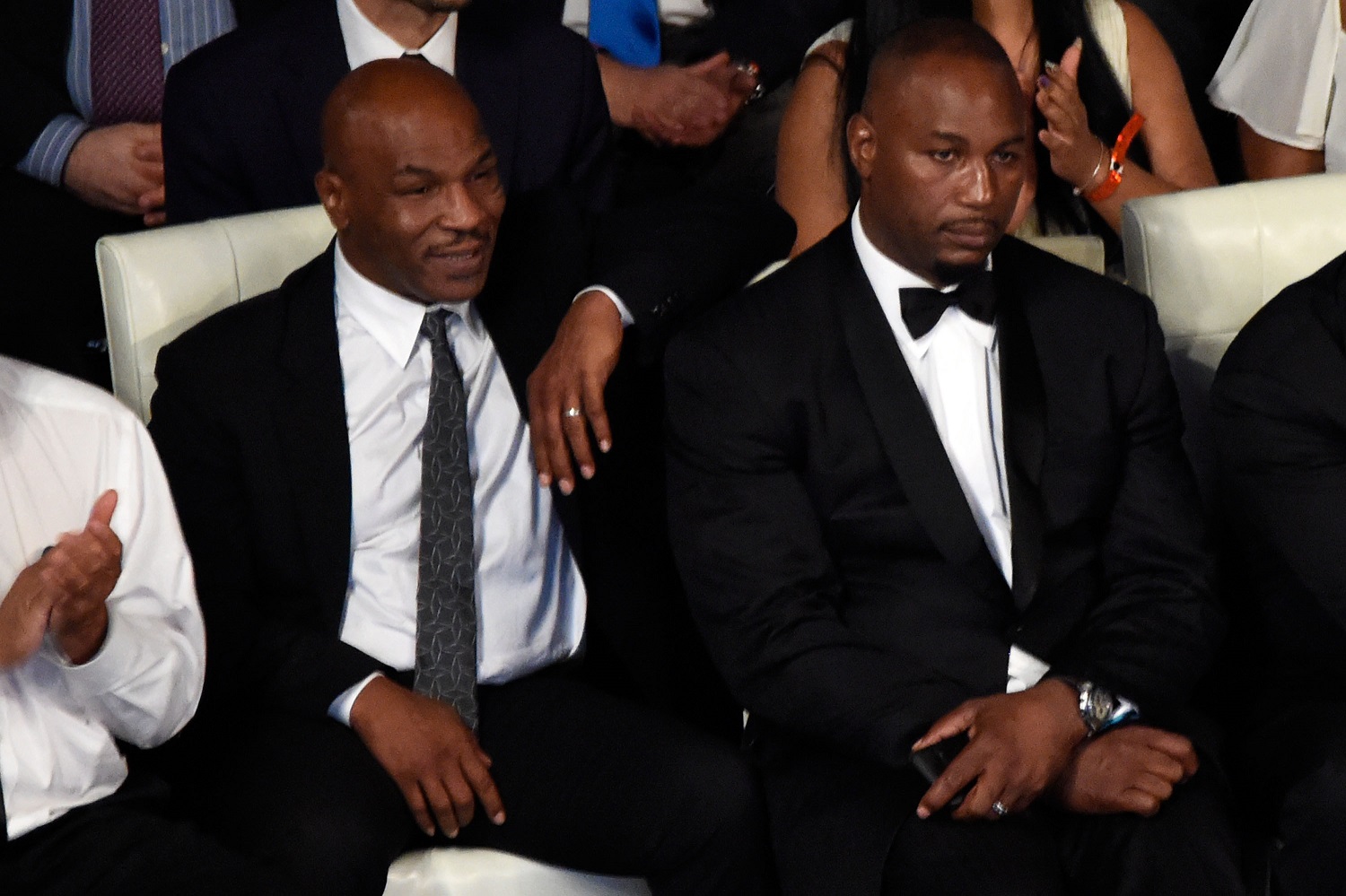 Mike Tyson and Lennox Lewis Snubbed One Another When Naming Their Toughest Opponent of All Time
Former heavyweight champions Mike Tyson and Lennox Lewis both snubbed one another when naming the toughest opponent of their careers.
Lennox Lewis and Mike Tyson are easily two of the best heavyweight boxers in history. Each held the heavyweight title on multiple occasions and each is a member of the International Boxing Hall of Fame. The two famously squared off in 2002, years after the fight should have happened, with Lewis dominating Tyson and claiming victory via eighth-round knockout.
But when naming his toughest opponent in the ring, Lennox Lewis didn't name Mike Tyson just as Mike Tyson didn't name Lennox Lewis. The two actually named the same person and it shouldn't surprise anyone.
Lennox Lewis destroyed Mike Tyson in their only fight against one another
It took many years to get Mike Tyson and Lennox Lewis in the ring together but it finally happened on June 8, 2002, at The Pyramid in Memphis. Lewis had just regained the WBC, IBO, and IBF heavyweight titles after avenging his loss to Hasim Rahman and entered the fight with a 39-2-1 record. Tyson came in with a 49-3 record and was fighting for a title for the first time in nearly five years.
With more than $1.97 million buys on pay-per-view, the Tyson-Lewis bout was one of the most-watched fights in history and those who tuned in watched Lewis destroy Iron Mike. Lewis used his height and reach to keep Tyson from landing his signature blows while landing jabs and uppercuts that swelled Tyson's face as the fight went on.
By the time the eighth round began, Mike Tyson was clearly winded and Lennox Lewis took full advantage. He scored an official knockdown about midway through the round, although Tyson never left his feet, and finished things off less than a minute later, this time truly flooring Iron Mike, who made no real effort to get up as he was counted out.
Never before had Tyson been dominated like that but when asked who the toughest opponent of his career was, Lennox Lewis was not the answer. In fact, as mentioned, both had the same response when asked: Evander Holyfield.
Mike Tyson says Evander Holyfield was his toughest opponent
While originally set to battle one another in 1990 before the Buster Douglas upset, Mike Tyson and Evander Holyfield didn't meet in the ring for the first time until 1996. Tyson had returned to the ring the year before after serving a three-year prison sentence and had won the WBC and WBA heavyweight crowns ahead of his fight with Holyfield, who was just one fight removed from his final bout with Riddick Bowe.
Like Lennox Lewis, Evander Holyfield showed no fear against Mike Tyson, which was once a major advantage for Iron Mike. Tyson staggered Holyfield with the first big punch he landed but really didn't hurt him the rest of the way. Holyfield dominated the fight and the referee stopped it in the 11th round as Tyson was clearly out on his feet. And we all know what happened in the rematch with Tyson being disqualified for biting Holyfield's ear off.
In an interview with The Ring Magazine, Mike Tyson explained just why Evander Holyfield was the toughest fighter he ever faced.
"He threw terrific shots with both hands and with bad intentions.

"Great champion: chin, heart, determination, work ethic, demeanor."

Mike Tyson on Evander Holyfield
Lennox Lewis is in full agreement.
Lennox Lewis picked Evander Holyfield as well
Earlier this year, Lennox Lewis took to Instagram (seen above) to explain why he thought Evander Holyfield was his toughest opponent. Lewis and Holyfield first met in March 1999 at Madison Square Garden and fought to a 12-round draw, which was a highly controversial decision as most felt that Lewis had clearly won the fight. Lewis did get the decision in their second fight exactly eight months later and became the first undisputed heavyweight champion in seven years.
In praising Holyfield, Lewis spoke on how both had great success in the amateur ranks, which he feels was vital to their success as professionals. He said that Ray Mercer was his toughest fight but that Holyfield was his toughest opponent.
"People seem to be genuinely surprised when I tell them [Holyfield] was my toughest opponent, not to be confused with my toughest fight, which was [Ray] Mercer, but when you really dive into why that is, it actually makes a lot of sense.

"I may tease him a bit on our two fights, he knows I won both fights even though he won't admit it, but in all seriousness, he's the only man that has gone 24 rounds with me."

Lennox Lewis on Evander Holyfield
Looks like Evander Holyfield truly is the real deal.