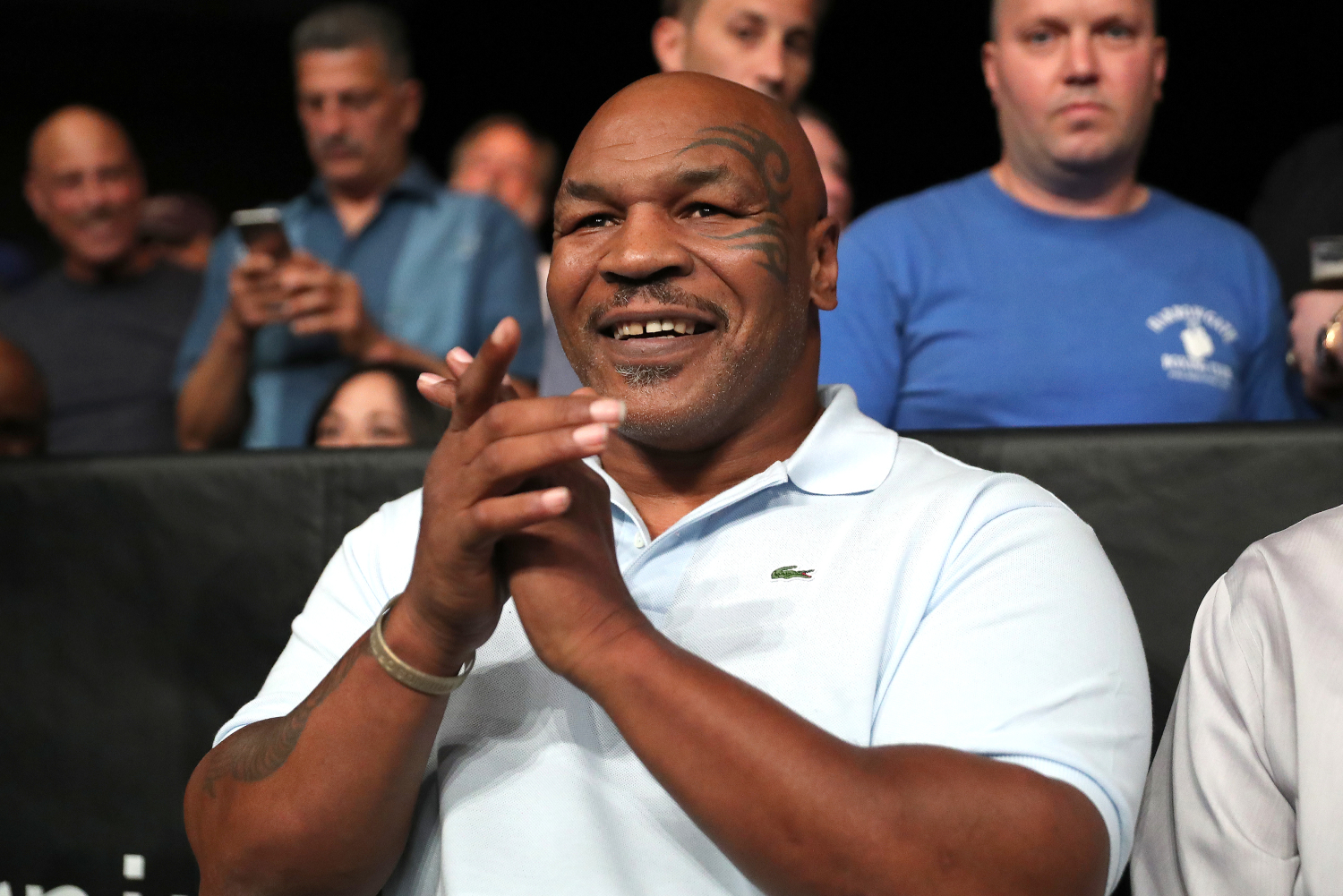 Mike Tyson Reveals One of His Biggest Post-Boxing Fears
Former heavyweight boxing champion Mike Tyson reveals one of his biggest post-boxing fears during his podcast.
The much-anticipated return of Mike Tyson is two months away. Tyson is ready to step back into the boxing ring for an eight-round exhibition with Roy Jones Jr. during Thanksgiving weekend. Tyson has been staying busy, training hard for the bout. He needs to stay active, as the former heavyweight champ once discussed what one of his biggest fears is when it comes to life after boxing.
Tyson ready to return to the ring
There have been a few bumps in the road, but Mike Tyson is scheduled to climb back into the boxing ring on Nov. 28 in an eight-round exhibition fight against Roy Jones. Jr. The bout was originally scheduled for Sept. 12 but was moved to Thanksgiving weekend. In a statement, Tyson said, "Changing the date to November 28th will give more people the opportunity to see the biggest comeback in boxing history."
In that same statement, Tyson acknowledged the date switch might be a slight inconvenience to some, but it will be well worth the wait. Although it's considered an exhibition, Tyson doesn't plan on holding back. "This temporary inconvenience will last longer than Roy Jones Jr," Tyson said. "He better be ready, I'm coming full force." 
Tyson, 54, has said the fight won't be a gimmick. He's prepared to show boxing fans there is still something left in the tank. "It's because I can do it and I believe other people believe they can do it," Tyson said. "We aren't washed up. Somebody says over-age is washed up but they have a bigger fan base than the guys who are training now."
Tyson and Jones Jr. were both heavyweight champs
Back in the 1980s, there wasn't a more dominant boxer than Mike Tyson. Tyson became the youngest heavyweight champion at age 20. He won his first 37 professional fights. He won the first 19 fights of his career by knockout, 12 of them coming in the first round. Tyson finished his career with a 50-6 record with 44 knockouts.
Jones Jr., 51, is certainly no slouch, either. He went 66-9 over his career with 47 knockouts. Pound for pound, Jones is considered one of the greatest boxers of all-time. He won world boxing titles in four different weight classes.
When Jones defeated John Ruiz on March 1, 2003, he captured the WBA heavyweight title. With that victory, he became the first boxer to start his career as a light middleweight and go on to win a heavyweight championship. The win over Ruiz was his lone heavyweight fight, and he returned to light heavyweight in November of 2003.
Mike Tyson reveals one of his biggest post-boxing fears
During an episode of the podcast "Hotboxin' With Mike Tyson," Tyson was interviewing boxer Tyson Fury and they were discussing their battles with substance abuse and depression. Tyson said he's clean now and feels great. He claims one of his biggest fears is "getting high again."
"I'm clean now," Tyson said. "I'm feeling perfect, I'm running, working out, eating good. Everything's good. Then I say, 'what's going to happen to make me relapse? What's going to happen to make me want to do some cocaine?' What could happen? I feel like I'm invincible right now, so what could happen to make me want to do that?
"Why am I even thinking about something that would make me want to do that? Because that's one of my biggest fears – getting high again. Going out and f—ing with people I don't even know, putting my life in some stranger's hands.
Statistics courtesy of BoxRec.