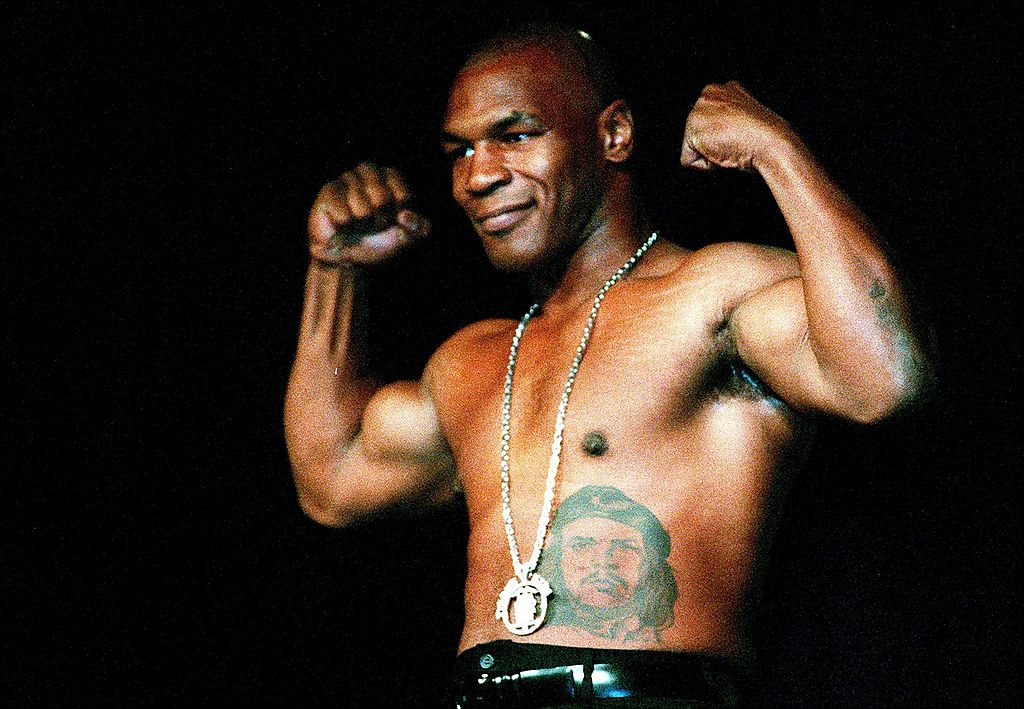 Mike Tyson's Former Trainer Unimpressed With Boxer's Comeback Workout
Teddy Atlas, the former boxing trainer for Mike Tyson, is not overly impressed with the boxer's comeback workout.
Mike Tyson wowed people with the workout video he posted when he was training for a possible boxing comeback at age 53. He showed quickness, speed, and the ability to still pack a powerful punch. That part was somewhat impressive to Tyson's former trainer Teddy Atlas. The rest, however, left Atlas quite unimpressed.
Teddy Atlas' relationship with Mike Tyson
Teddy Atlas began his young boxing career under the tutelage of the legendary Cus D'Amato. Atlas was forced to stop boxing because of an injury and then turned to training instead of fighting. D'Amato took in Atlas as an assistant and together they helped begin to shape the career of a very young Mike Tyson.
In 1982, when Tyson was 15, Atlas had an altercation with Tyson after Atlas said Tyson was inappropriate with an 11-year-old-female Atlas family member. Atlas admitted on ESPN's Highly Questionable in 2012 that he pulled a gun on Tyson and pulled the trigger, missing him on purpose, to send a message. "I took him on his word on the things he said he wanted to do the 11-year-old girl in a sexual way," Atlas said. "So I got a gun and went and confronted him.
"I put the gun in his ear and he didn't seem like he understood it at that moment. So I pulled it out of his ear and I pulled the trigger, missing him on purpose. He understood it after that." Atlas was then dismissed from D'Amato's training academy and was no longer welcome in the D'Amato home. A 2013 ESPN article stated Tyson and Atlas made amends, with Tyson saying Atlas was important to him back then. "I was wrong," Tyson admitted then. "I have a lot of pain, and I just want to heal it, and that was part of it, right there."
Tyson making a comeback at 53?
Earlier this month, Mike Tyson posted a video on Instagram of him working out. He ended the video with an "I'm back" message, hinting to followers of a possible comeback attempt at the age of 53. Tyson had been talking about getting back into the ring for some exhibition bouts to help raise money for charity.
Tyson retired in 2005 after losing to Kevin McBride. He hasn't been in the ring for 15 years and the thought of a comeback has boxing fans foaming at the mouth. Rumors have swirled that one possible opponent would be Evander Holyfield, another aging veteran. The two had squared off in the infamous bout where Tyson bit off part of Holyfield's ear.
In an article posted Monday in The Daily Mail, 48-year-old Shannon Briggs said he would be the one fighting Tyson in his first fight back. In an Instagram Live post, Briggs said, "I just talked to Mike Tyson, it's going down, me and Mike, we're going to make it happen, it's official, you're going to see it happen, Brownsville versus Brownsville," Briggs said. "Me and Tyson are going to lace up the gloves, we're going to rumble, rumble in the jungle. We're going to let our fist do the talking." Briggs hasn't fought since 2016.
Atlas not impressed with Tyson's workout
No matter the opponent, Mike Tyson declared he's back after one of his workouts. Teddy Atlas, Tyson's former trainer, isn't so sure. Atlas dissected Tyson's workout video and said he was impressed with his speed and power, but that's easy to do when nobody is hitting you back.
"He's losing weight, he's a little heavy in the caboose, but that's all right," Atlas said on the podcast The Fight With Teddy Atlas. "He digs into the body, moves his head. That was one of his signature things. He'd move his head and make you miss. Decent speed, speed is still there. He's throwing with bad intentions. Beautiful, beautiful, but do you see anyone throwing back at him?"
Atlas equated Tyson's workout at 53 to that of a 66-year-old Hank Aaron hitting home runs during batting practice or Michael Jordan hitting 15 3-pointers now with nobody guarding him. "Do you think people overreacted a little bit? It's like seeing the great Henry Aaron at, I think he's 86 years old. Let's go back and say Henry Aaron at 76, or even at 66, whatever. It's like him in a batting cage and someone took a video. I don't think anybody's going to say they want to go see him against (Justin) Verlander. I don't think anyone is going to say (Stephen) Strasburg, you better get outta town. You better not pitch that day."