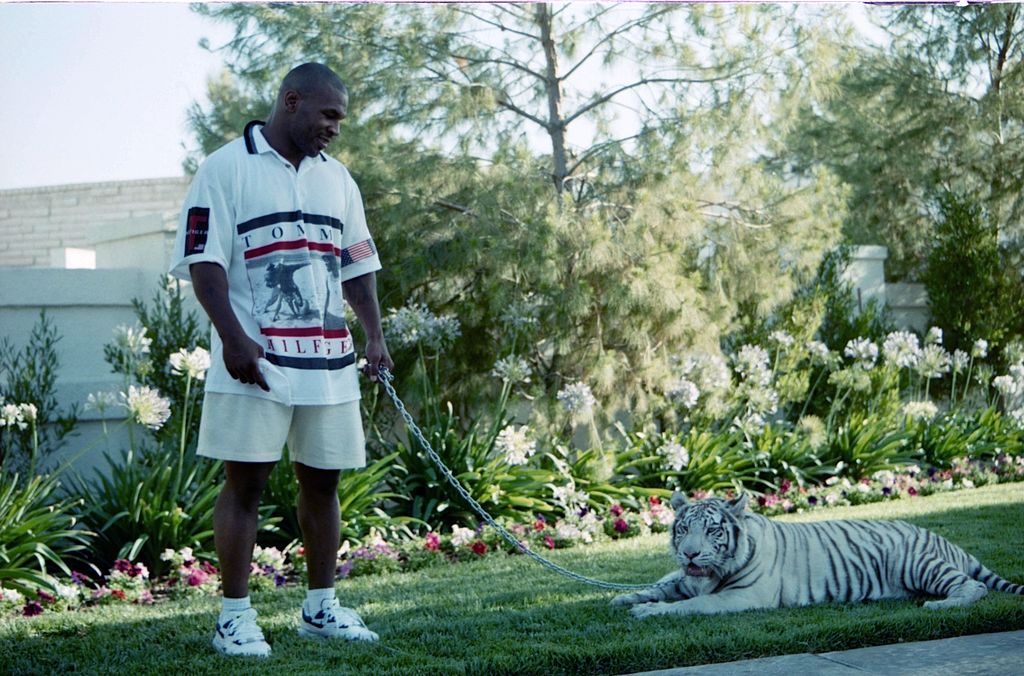 Mike Tyson's Former Trainer Was Terrified When the Boxer Locked Him in a Cage With His Tiger
Mike Tyson's friend and former trainer Jeff Fenech said he was terrified when Tyson once locked him in a cage with his tiger.
Mike Tyson is known for his dominance inside the boxing ring, but he's also made a lot of noise outside it. Tyson has been known to have owned fancy cars, expensive homes, a golden bathtub, and some tigers. During his boxing heyday, Tyson owned some Tigers and kept them in his Las Vegas home. He eventually gave them up, but not before his former trainer and friend Jeff Fenech told a wild story about having to deal with those cats.
Mike Tyson's boxing career
Mike Tyson made his professional boxing debut when he was 18 years old and quickly made his mark in the sport. Tyson, at the age of 20, became the youngest boxer to be crowned the heavyweight champion of the world. A hard-hitting boxer, known as Iron Mike, Tyson won his first 19 fights by knockout with 12 of them coming in the first round.
Tyson won the first 37 bouts of his career before he was shocked by a relatively unknown fighter named James 'Buster' Douglas on Feb. 11, 1990. Tyson bounced back from the loss to Douglas with four straight wins before legal troubles took over. He was arrested for rape in July of 1991 and sent to prison in 1992.
Tyson was released from prison in 1995 and resumed his boxing career, beginning with a convincing victory over Peter McNeely. Tyson suffered back-to-back losses to Evander Holyfield in 1996 and 1997. He finished his boxing career with 50 wins (44 by knockout) in 58 fights.
Tigers added to his list of exotic purchases
Mike Tyson said the decision to buy some tigers came while he was in prison. Speaking during a podcast with Joe Rogan, Tyson said he was speaking with a car dealer and the conversation somehow turned to tigers.
"So I'm in prison, I'm talking to my car dealer at the time. He has some cars that belong to a [mutual friend], and he's discussing, 'If he doesn't pay for these cars, I'm going to sell these cars to somebody and get some horses.' I said, 'What, you can get horses? And trade horses in for cars?' Because I had a lot of cars, I'd probably get some horses too. And he said, 'Yeah man, you can get cougars, lions, tigers.'"
Tyson then asked if the dealer could get him some tigers. "The guy said, 'Imagine how cool that would be?' Because I had a bunch of fancy cars, 'Imagine that man, you'd be in an Aston Martin or a Ferrari. You'd have a tiger right next to you, man. That's be so awesome.' And I'm a young guy. I'm saying to myself, 'Wow, that would be cool. Get me some cubs, man.'"
Tyson's former trainer said he was locked in a cage with a tiger
Mike Tyson has since said he regretted every getting the tigers. He admitted he was wrong trying to keep them cooped up in his Las Vegas mansion. "There's no way you can domesticate these cats 100 percent," Tyson said. "No way that's going to happen. They'll kill you by accident, especially when you're playing rough with them, you're punching them back. They get hyped up, hit you back and you're dead. I shouldn't have had them in my house, believing they were domesticated. I was wrong."
Jeff Fenech, Tyson's friend and former trainer, recalls the day when Tyson locked Fenech in a cage with one of the tigers. Fenech described Tyson as 'one of the most loyal and generous guys in the world' despite revealing the terrifying tale of being shut in with the tiger.  "The first time I went to the house and he had the tiger," Fenech told Fox Sports Australia. 
"Mike had me and threw me in the cage and kind of locked me in there. I'm not scared of too many things, but I certainly had to change the undies when I got out of the cage," Fenech said.