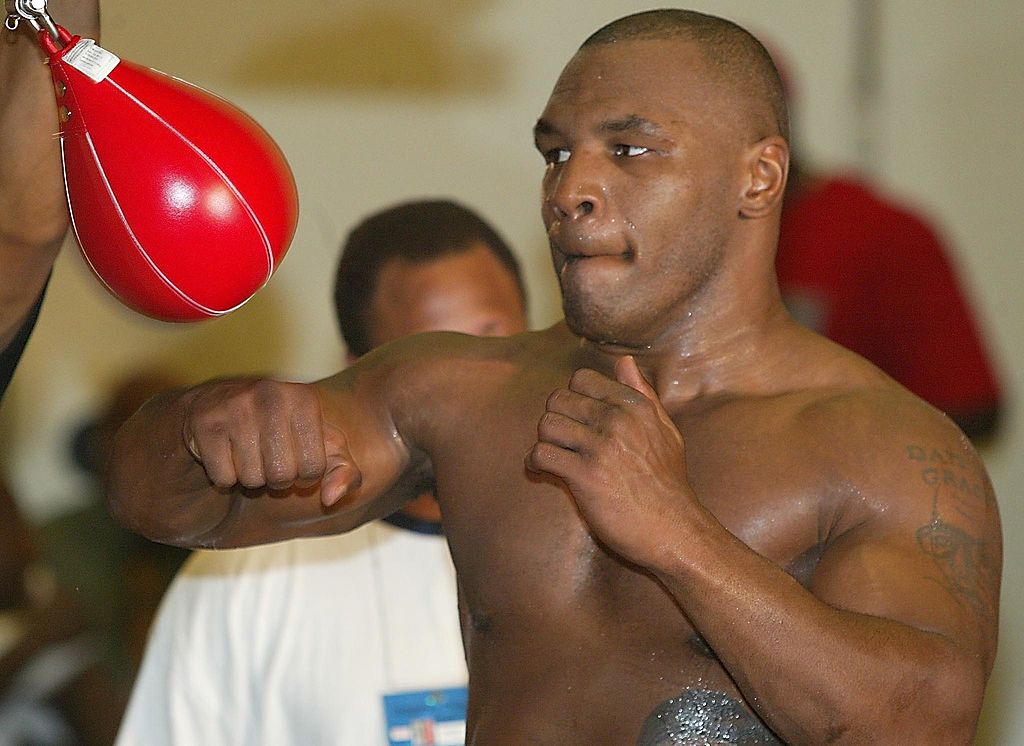 Mike Tyson's Training Is the Scariest Athleticism You'll Ever See
Mike Tyson is one of the quickest and hardest hitting boxers of all time, and a glimpse into his training routines show why.
Mike Tyson is indisputably one of the greatest boxers of all time, and for a good reason. He won 50 of his 56 career professional fights, 44 of them by knock out. Like all of the greats in any sport, Tyson didn't get to the top arbitrarily. He became a legend through his incredible work ethic and jaw-dropping training regimens. At 53, Tyson is still training with as much quickness and ferocity as he did when he was in his prime. His training videos through the years are a sight behold.
Mike Tyson looked like a heavyweight champ when he was 15
Mike Tyson didn't become a heavyweight champion of the world overnight. Ever since he was a teenager, he was destined for greatness in the sport of boxing. When he was just 15 years old, Tyson looked every bit like he did in his professional prime. His hand quickness and light feet were incredible for his age.
At first, he looked like an NFL player with James Harrison's shoulders and Saquon Barkley's quads. But when he started moving, he had Darren Sproles' quickness and Drew Brees' feet in the pocket.
Tyson knew he was a teenage prodigy, and he liked to instill that fear in his opponents from a young age. That mentality translated into a brilliant boxing career.
Mike Tyson had a unique training style in his boxing prime
Most boxers hammer out an hour of jump rope and spar in the ring during a day of training. Mike Tyson is no ordinary boxer, however.
Videos of Tyson training in his private gyms show the legend's insane and sometimes puzzling techniques. In one of the workouts, Tyson lays on his back with a towel under his head. He rolls backward and stretches his neck out, but the twisting motion makes it look like his head is going to pop straight off his body.
When he spars in the mirror, Tyson throws more punches in five seconds than a typical boxer could throw in 10. His training techniques aren't just impressive, they're scary to watch. The power he generates from all his training could even kill a human being.
Mike Tyson is still training as fiercely at 53 as he did when he was 15
With news of a possible comeback surfacing recently, Tyson released a shirtless video of himself training at age 53. Unsurprisingly, he looks just as lightning quick as he did 30 years ago. The only difference is his gray beard.
It was recently announced that Tyson will be fighting Shannon Briggs in a comeback fight soon. With how much Tyson still trains on a weekly basis, it's hard to bet against him.
From 15 to 53, Tyson has been one of the fiercest trainers in the professional sports world. Even though his methods seem crazy, it clearly worked for the heavyweight champion.