Milwaukee Bucks Legend Sidney Moncrief Talks Stephen Curry, Kareem Abdul-Jabbar, and Social Media
Five-time NBA All-Star and Hall of Famer Sidney Moncrief recently spoke with Sportscasting about a wide variety of basketball topics. He touched on how players of his era, specifically Kareem Abdul-Jabbar would fare in today's game. The former Milwaukee Bucks star also spoke about how Golden State Warriors sensation Stephen Curry would handle '80s basketball. Moncrief then spoke on how social media plays a role in today's game and if he would've had a Twitter account during his playing days.
Sidney Moncrief quietly worked his way to the Hall of Fame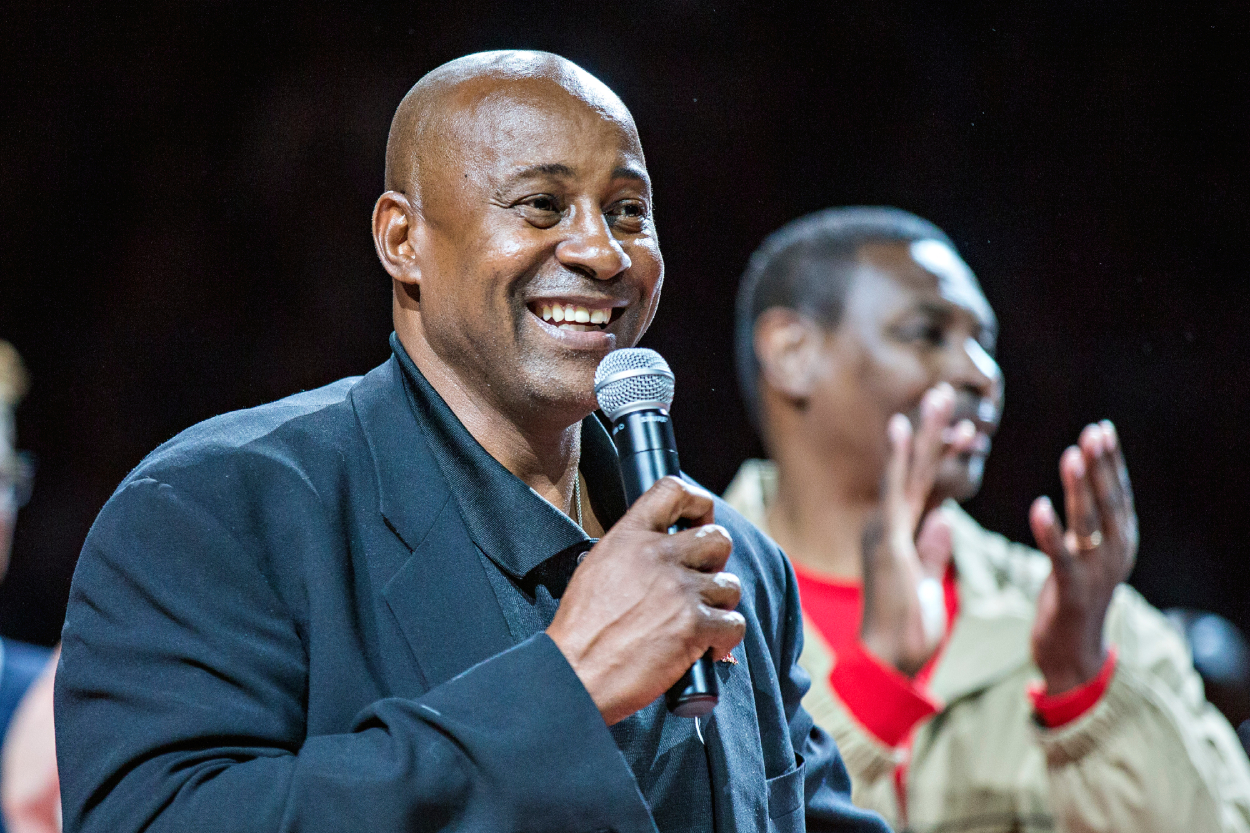 It's tough to be considered underrated when you're a member of the Naismith Memorial Basketball Hall of Fame and a five-time NBA All-Star. Moncrief is that and a whole lot more. The two-time Defensive Player of the Year quietly played 11 years in the NBA, 10 seasons with the Bucks after they made him the fifth overall pick in 1979.
Because he played in Milwaukee, Moncrief didn't get the national spotlight many stars in big markets get. That never bothered him.
"Some say, 'You should've played in a bigger market' but life is more than just gaining exposure," Moncrief recently told Sportscasting. "I loved playing in Milwaukee."
Although he never reached the NBA Finals, Moncrief and the Bucks often went deep into the playoffs against tough opponents like the Boston Celtics and Philadelphia 76ers. The 6-foot-3 guard was a patent two-way player who averaged 15.6 points in his career and was typically asked to guard the opposition's top player.
Moncrief was All-NBA for five straight seasons and was the league's top defender in 1983 and 1984. He was inducted into the Hall of Fame in 2018.
Sidney Moncrief talks Stephen Curry and Kareem Abdul-Jabbar
Moncrief touched on a variety of topics, including his views on today's game.
"The game as a whole, I don't really like it," he said. "I know you have to deal with analytics and all that. If you look at the good teams in the NBA, they play beautiful basketball. It's fun to watch. The problem is that the rest of the teams try to match the top teams and they don't have the skills. I'm a purist, and I have trouble watching players take bad shots."
Moncrief was asked if Curry would've been able to succeed during Moncrief's early days in the league when it was more physical and there was no 3-point shot.
"Absolutely," he said without hesitation. "Curry can make every shot. He's probably more old-school than anyone out there.
"I think the top 10 or so players today would be able to play in any era."
How about a guy like Abdul-Jabbar? Would he be able to play in today's game with no true centers around?
"Definitely," he said. "He's highly skilled and he'd probably be like Giannis (Antetokounmpo). He'd also make himself a 3-point shooter. He'd practice it more and would make himself a better shooter. He'd learn to adapt, as many of those players would."
Moncrief talked about the challenges of social media
Moncrief never was a player to soak in the spotlight. He didn't care about the glory or any press clippings. In fact, he avoided it.
"If I saw something about me (in the newspaper), I'd skip over it, whether it was good or bad," he said.
He admitted life was much easier on the players back in the early '80s.
"Back then, you didn't have the full impact of television," he said. "You didn't have to deal with social media."
Would he have had a Twitter account during his playing days?
"I wouldn't have had any social media," he said. "I have it today but I have someone run it."
Today, he uses it to promote his new book — his 10th one — "The GRIT Factor in Leadership." Moncrief is an author, entrepreneur, and motivational speaker.
Log in to sidneymoncrief.com, and you'll be greeted with "Coach Sidney Moncrief."
"I coach people," he said.
All stats courtesy of Basketball Reference.