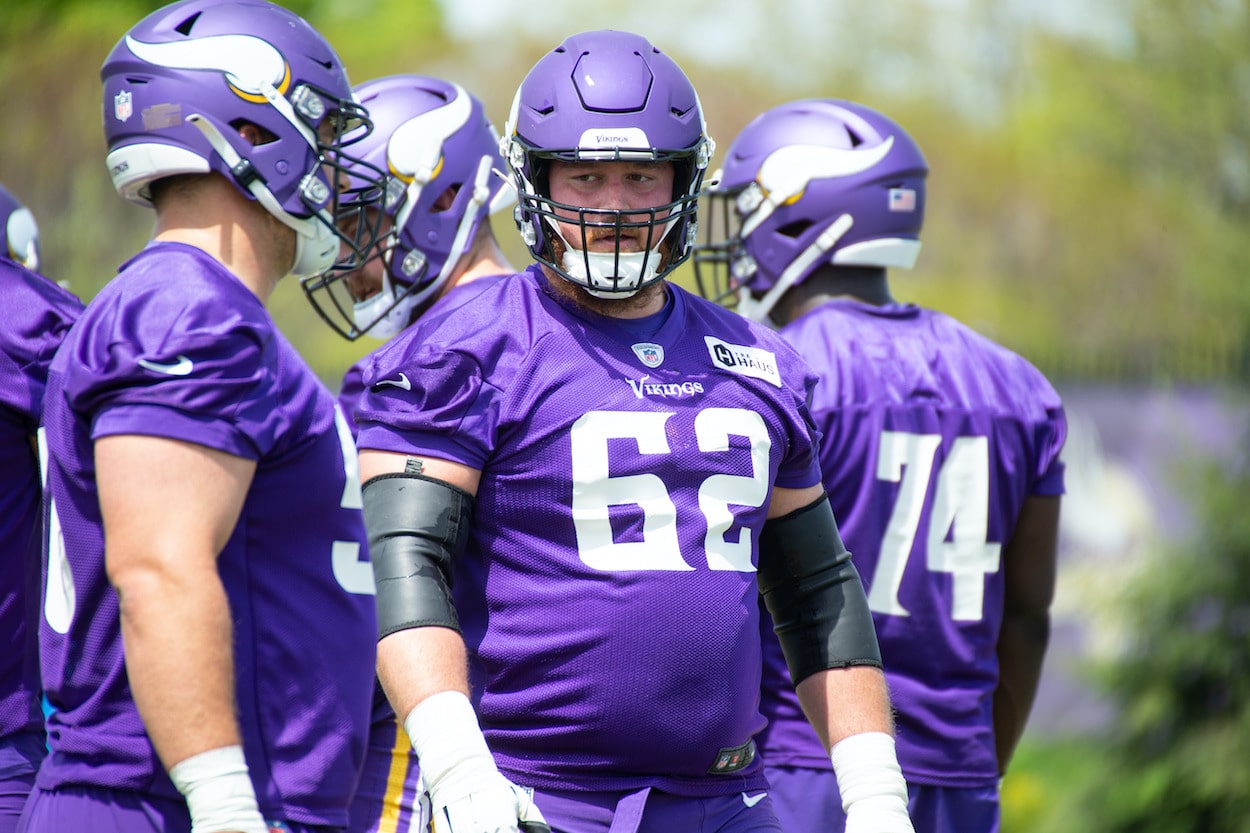 Minnesota Vikings Training Camp: 3 Position Battles to Watch in 2022
As the Minnesota Vikings training camp opens ahead of the 2022 NFL season, here are three camp battles to keep a close eye on.
After the conservative, underperforming Mike Zimmer era, the Minnesota Vikings are going in a new direction under first-time head coach Kevin O'Connell. The new head man knows who his stars are, but before Week 1, he needs to decide on some crucial players around the edges. These decisions could make the difference between making and not making the organization's first playoff appearance since 2019. As Minnesota Vikings training camp gets underway, here are three positional battles to watch closely.
Minnesota Vikings Training Camp Info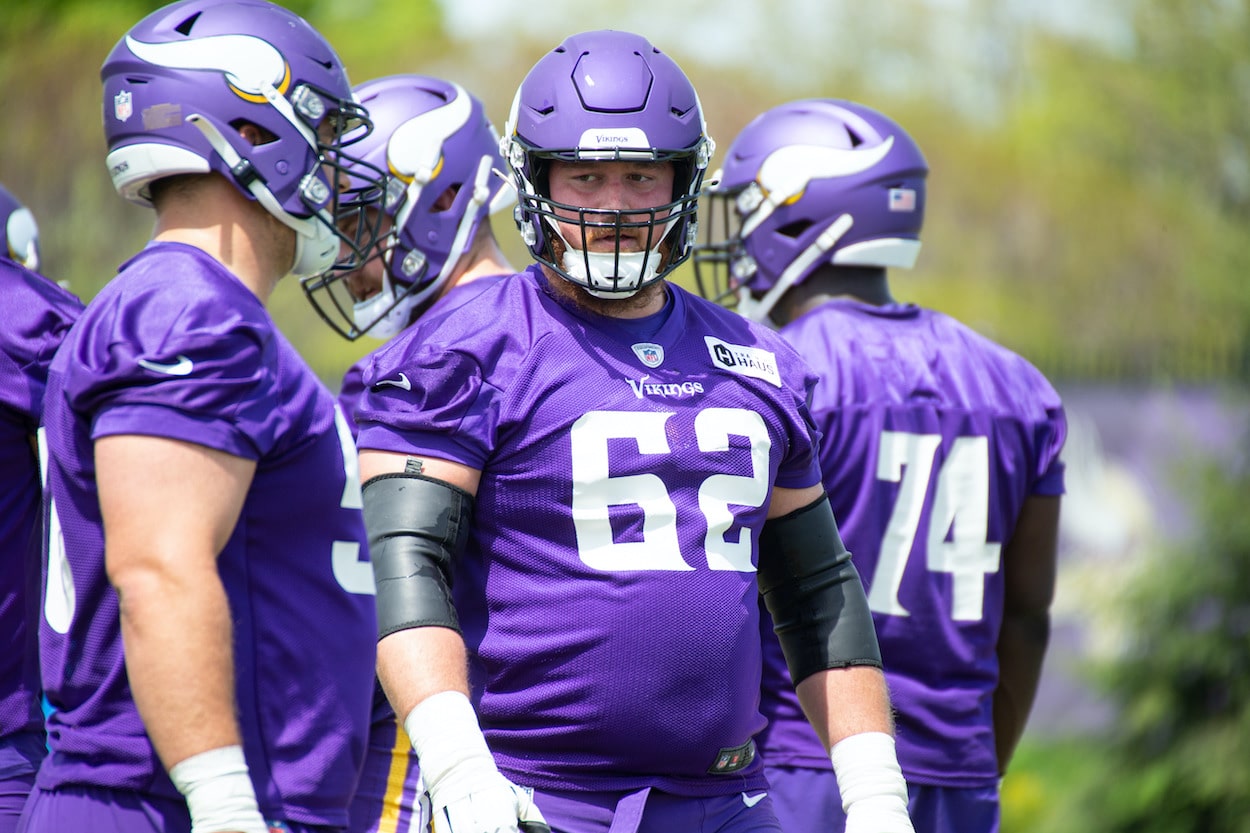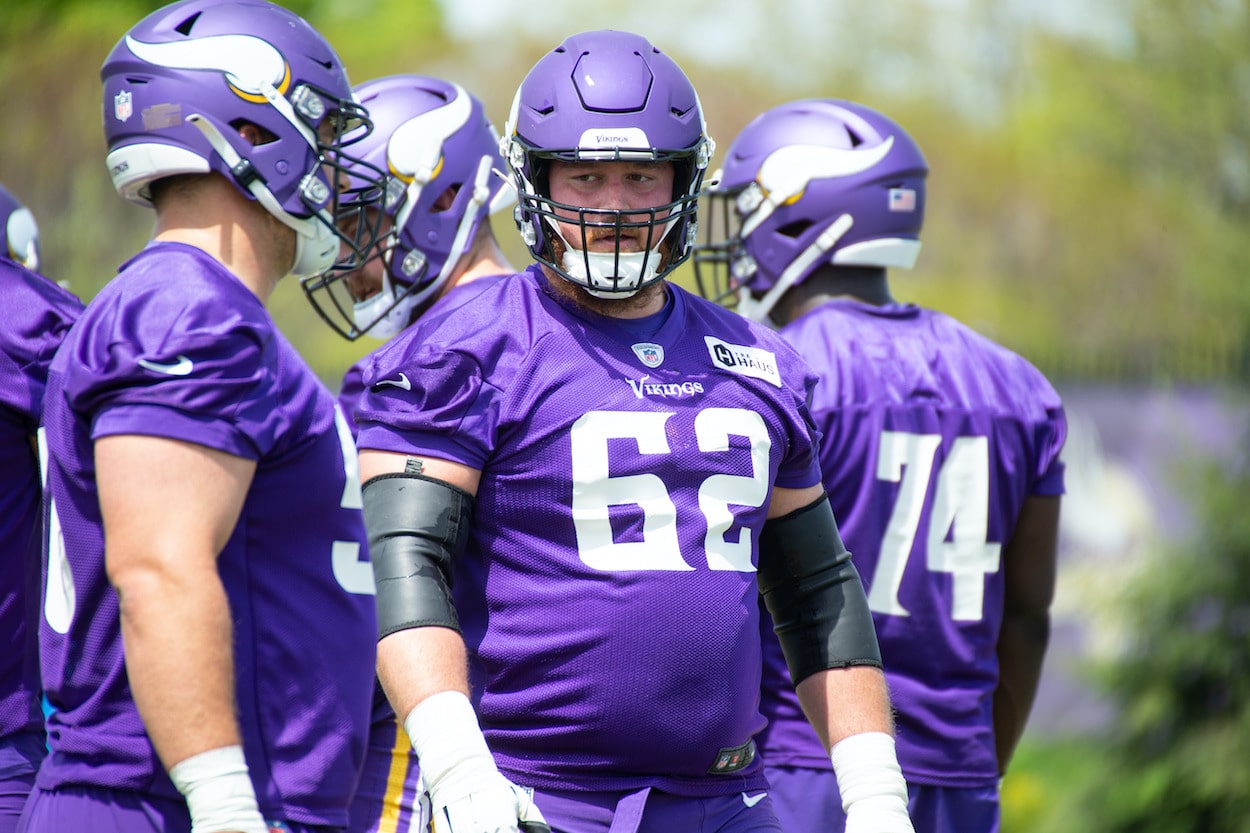 Location: TCO Performance Center, Eagan, Minnesota
Rookies report: Sunday, July 24, 2022
Veterans report: Tuesday, July 26, 2022
First game: vs. Green Bay Packers, Sunday, September 11, 4:25 p.m. EST
Battle No. 1: RG — Jesse Davis vs. Chris Reed vs. Wyatt Davis vs. Ed Ingram
The 2022 Vikes will only go as far as quarterback Kirk Cousins can take them. And Cousins will only be as good as his protection up front. Because of this, the right guard battle is the most important competition in Minnesota Vikings training camp this year. 
Oli Udoh, who finished the 2021 season at RG, was one of the lowest-rated offensive linemen in the NFL last season, per PFF. In 2022, the team signed Jesse Davis from the Miami Dolphins and Chris Reed from the Indianapolis Colts, drafted Ed Ingram from LSU, and will give 2021 third-round pick Wyatt Davis a shot, too. 
This competition is wide open right now. 
Jesse Davis and Reed have the most experience, although Jesse's mostly played tackle the last three seasons. Wyatt Davis and Ingram both have a good deal of potential, but neither has proven their NFL bona fides yet. 
Jesse Davis is the favorite heading into the camp by the slightest of margins. However, it's really a four-way coin flip (if that's a real thing). Keep an eye on the other Davis, though, as Wyatt could make a leap under the new, offensive-minded coaching staff. 
Battle No. 2: CB1-3 — Patrick Peterson vs. Cameron Dantzler vs. Andrew Booth Jr. vs. Chandon Sullivan
The Minnesota Vikings have had a nightmare at cornerback the last few seasons. Heading into camp this season, it looks like the franchise finally has three legit cover men to hold down the position. 
Now the question is, who starts where? 
Patrick Peterson is 32 but can still play. The eight-time Pro Bowler and three-time All-Pro can't hang with the fastest of the fast anymore, but he can still get it done when healthy. Cameron Dantzler, a 2020 third-round pick, has lots of potential and should win the CB1 job outright in 2022. 
Finally, there's Clemson rookie Andrew Booth Jr. (No. 42 overall). He was a steal where the Vikings got him and should fit nicely into the slot corner position. 
If any of these players falter during the Minnesota Vikings training camp battle, veteran free-agent signing Chandon Sullivan from Green Bay could easily step in and take one of those top three spots. 
Battle No. 3: QB2 ­— Kellen Mond vs. Sean Mannion
Kevin O'Connell is firmly committed to Kirk Cousins for at least the 2022 NFL season. In fact, the Vikings hired him — at least partly — because of his prior relationship with Cousins from their time together in Washington. 
Cousins is an Iron Man. He's missed just one game (Week 17 last year) since 2015. That said, all it takes in the NFL is one hit to change a season, so the backup QB is always a crucial position. 
Sean Mannion is basically Cousins' personal assistant, so he can do that from the No. 2 or the No. 3 spot. If 2021 third-round pick Kellen Mond is a true prospect, he should be able to beat Mannion out as the primary backup. 
Former head coach Mike Zimmer wasn't a fan of Mond. Look for him to get a fairer shake under O'Connell in this year's Minnesota Vikings training camp battle and become Cousin's backup. 
All stats courtesy of Pro Football Reference