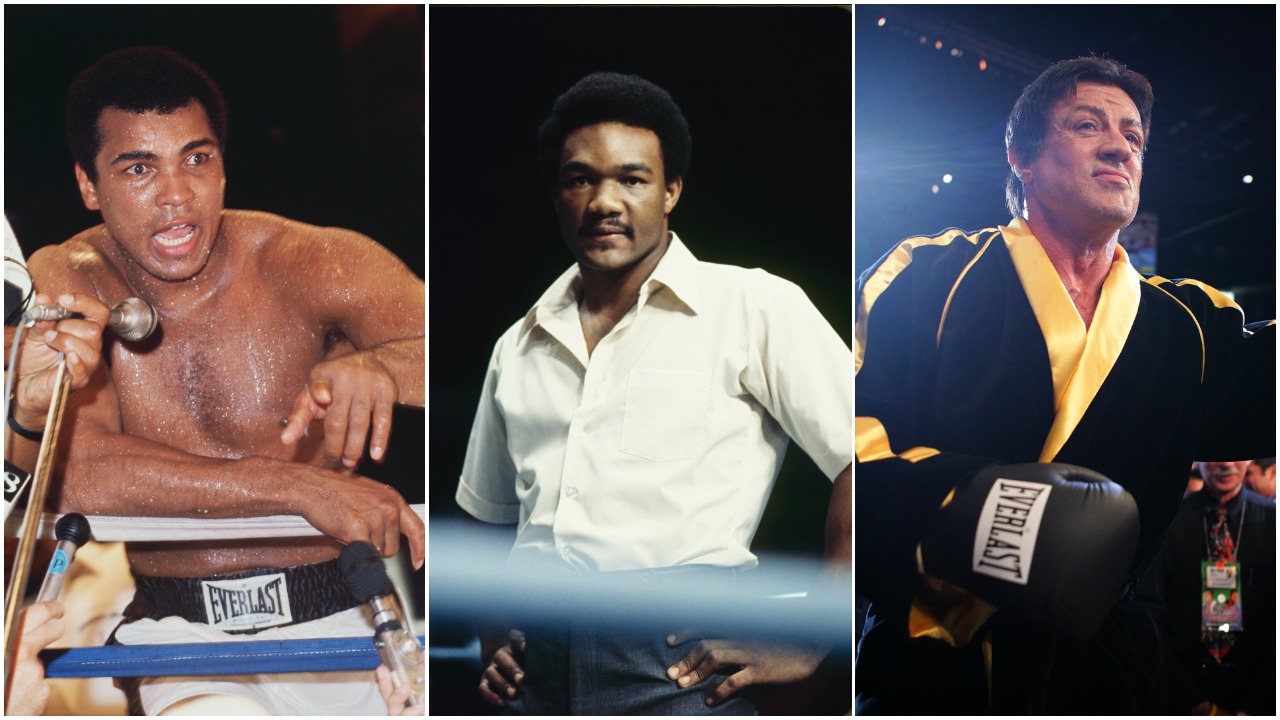 A Muhammad Ali-George Foreman Rematch After the 'Rumble in the Jungle' Means Rocky Balboa Never Exists
The "Rocky" film series likely doesn't exist had there been a rematch between Muhammad Ali and George Foreman following the famed "Rumble in the Jungle."
In October 1974, Muhammad Ali challenged George Foreman for the heavyweight championship of the world in the famed "Rumble in the Jungle," which was one of the most highly-anticipated bouts in boxing history and a fight many still call the greatest sporting event of the 20th century. Ali, of course, knocked out the younger, stronger champion to regain the title that had been stripped from him more than seven years earlier for refusing induction into the armed services.
Boxing fans clamored for a rematch, as did Foreman himself, but a second bout between the two legends obviously never took place. However, what the world did get out of Ali ducking Big George was the legendary series of Rocky films as Ali's first title defense after defeating Foreman came against Chuck Wepner, who gave "The Greatest" all he could handle in the fight that inspired Sylvester Stallone to write the original Rocky script.
Muhammad Ali stunned George Foreman in the 'Rumble in the Jungle'
Coming into the "Rumble in the Jungle," not many people were giving Ali much of a chance to win. While still just 32 and coming off a revenge win over Joe Frazier, he was facing a man many thought was unbeatable. Foreman was just 25 at the time and had decimated the heavyweight division on his way to a 40-0 record. When he won the title from Joe Frazier in January 1973, Foreman knocked down "Smokin' Joe" six times in less than two rounds. In his final fight before facing Ali, he pummeled Ken Norton in another second-round knockout victory.
As the fight began, Ali showed no fear as he surprisingly stood toe-to-toe with Foreman, hitting the champ with several right hands in the opening round. Foreman hit a few shots of his own, but Ali's master plan to wear out the champion began in the second. As Foreman continued to throw big shots, Ali simply covered up on the ropes and let the champion wear himself out, a tactic later named the "rope-a-dope."
As each round passed, it became more and more clear that Foreman had used a lot of energy, and Ali took full advantage. Using a combination of jabs and crosses, the challenger connected on a number of shots to the champ's face, causing it to swell. By the time the eighth round rolled around, Foreman was spent, and Ali ended things with a vicious five-punch combo that culminated with a left hook and a straight right that sent the champion to the canvas.
It was a truly brilliant performance from Ali, and while Foreman would later admit that he lost to a better fighter that night in Zaire, he initially didn't take the loss very well.
Foreman clamored for a rematch but 'The Greatest' instead chose to fight Chuck Wepner in his first title defense
Insisting that he'd only lost to Ali due to exhaustion, Foreman called out the new champion on many occasions with the hope of getting the chance to regain his heavyweight championship. But Ali seemed to be in no rush to step back in the ring with Big George and instead used his first title defense to take on 35-year-old Chuck Wepner, who some may not know was Foreman's fourth opponent as a professional. Their 1969 fight was stopped in the third round when Foreman opened up a cut over Wepner's left eye.
Coming into the March 1975 bout with Ali, Wepner held a record of 30-9-2 and was coming off eight straight wins, including a victory over former WBA heavyweight champion Ernie Terrell. But despite being the eighth-ranked heavyweight in the world, Wepner wasn't given much of a chance against Ali, who came in as a 10-1 favorite.
Ali controlled the action in the early rounds and was essentially toying with Wepner. But the challenger took everything Ali could dish out, and in the ninth round, he sent Ali to the canvas with a body shot, although the champion claimed it was because Wepner stepped on his foot.
Ali got much more serious after that and pummeled Wepner as the fight moved along. But Wepner continued to take everything "The Greatest" had to offer, and those in attendance at the Richfield Coliseum were certainly appreciative and cheered him on as round after round passed. Wepner nearly made it through all 15 rounds, but with less than 30 seconds to go, Ali hit the challenger with a hard right hand to the face, sending Wepner into the ropes and down to the canvas, at which point the referee stopped the fight.
The Ali-Wepner fight inspired Sylvester Stallone to write the script for 'Rocky'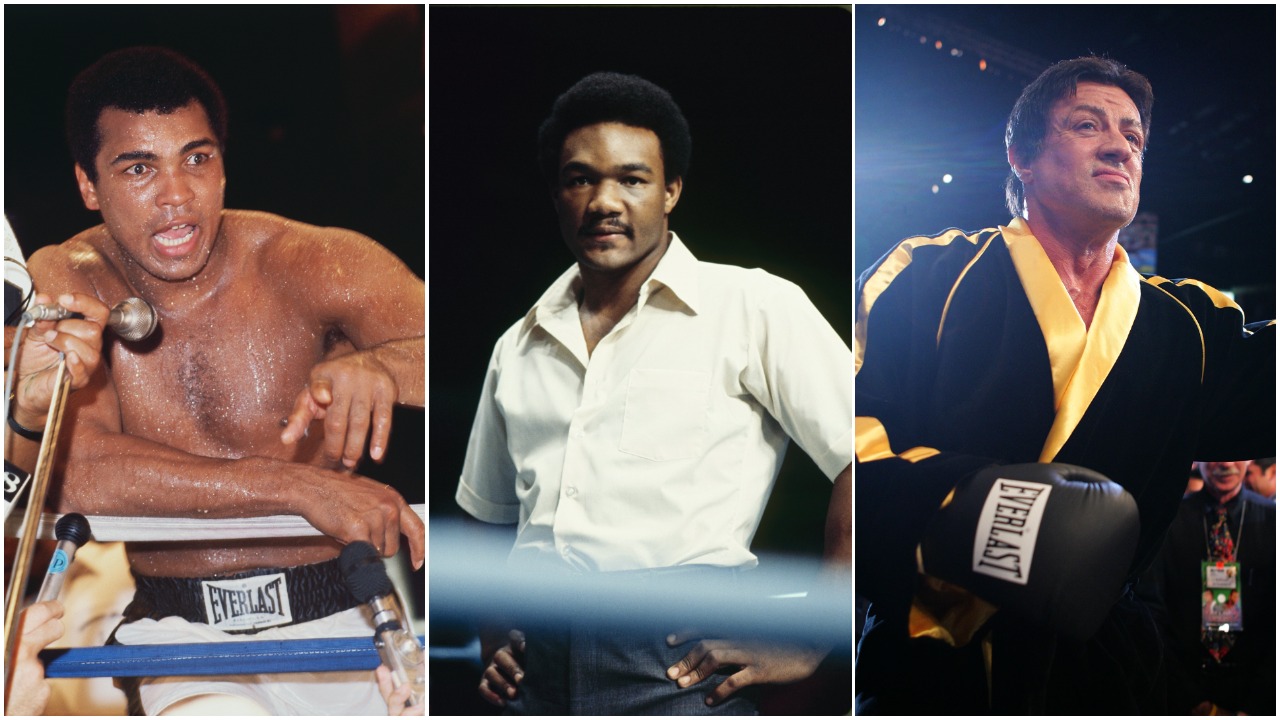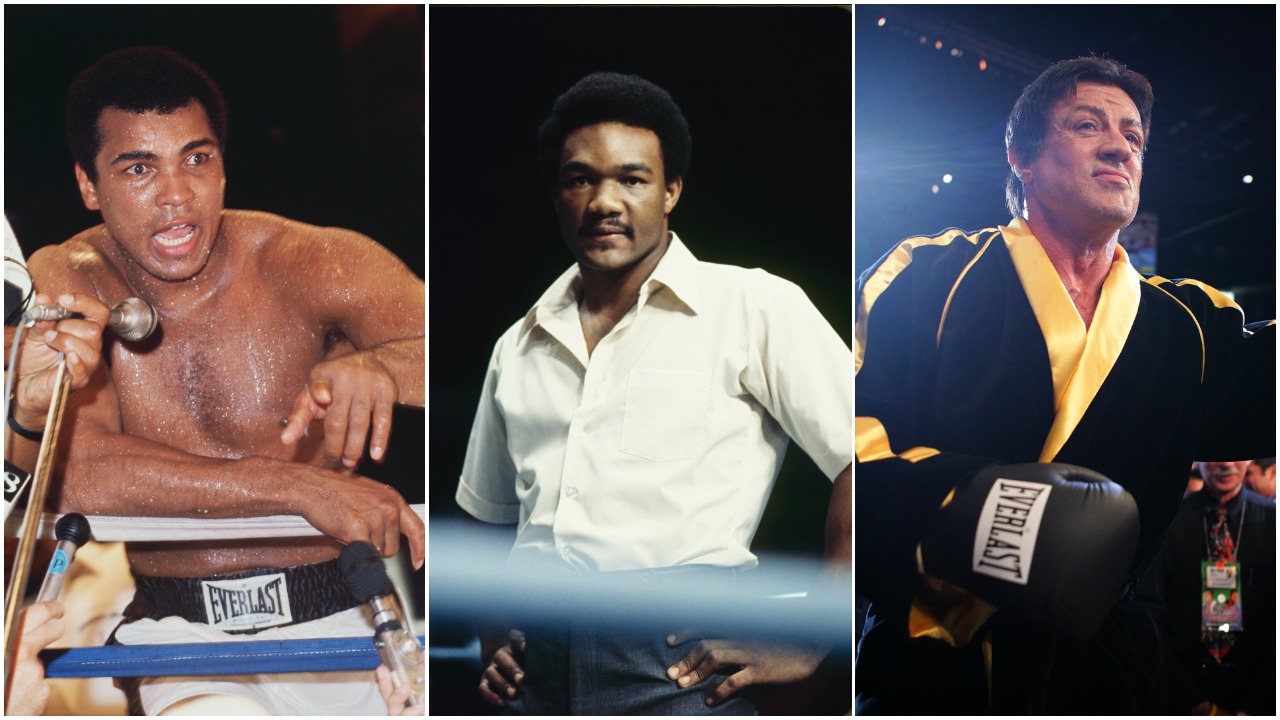 One of those to watch the Ali vs. Wepner fight in 1975 was a young (and struggling) actor by the name of Sylvester Stallone. Shortly after the fight took place, he had an acting audition for producers Robert Chartoff and Irwin Winkler and, on his way out the door, mentioned that he was also a writer. They asked him to bring in what he had, so he gave them a script called Hell's Kitchen, which later became Paradise Alley.
The duo decided to pass on that project, but believing he still had an open window, Stallone decided to write another script for them. But he had no idea what that script would be. He knew he wanted a redemption story but didn't know whose redemption story he wanted to tell. He toyed with the idea of a cowboy or a gangster or even an actor like himself, but it finally hit him as he thought of the Chuck Wepner vs. Muhammad Ali fight. He would tell the story of a boxer down on his luck who gets a shot at the world's heavyweight championship. And Rocky Balboa was born.
For three and a half days, Stallone locked himself in a room and cranked out the first draft of Rocky, which, of course, became a smash hit and launched his career. The Apollo Creed character, played beautifully by Carl Weathers, was clearly based on Ali, while Rocky was essentially based on Wepner with a little bit of Frazier thrown in there as well. The film won Best Picture at the 1977 Academy Awards, where Stallone and Ali playfully sparred, and has since spawned seven sequels if you included the two Creed films starring Michael B. Jordan as Apollo's son.
So just think about it. If Ali would have granted Foreman a rematch, he likely never would have fought Wepner. And without Ali-Wepner, there's likely no Rocky Balboa.