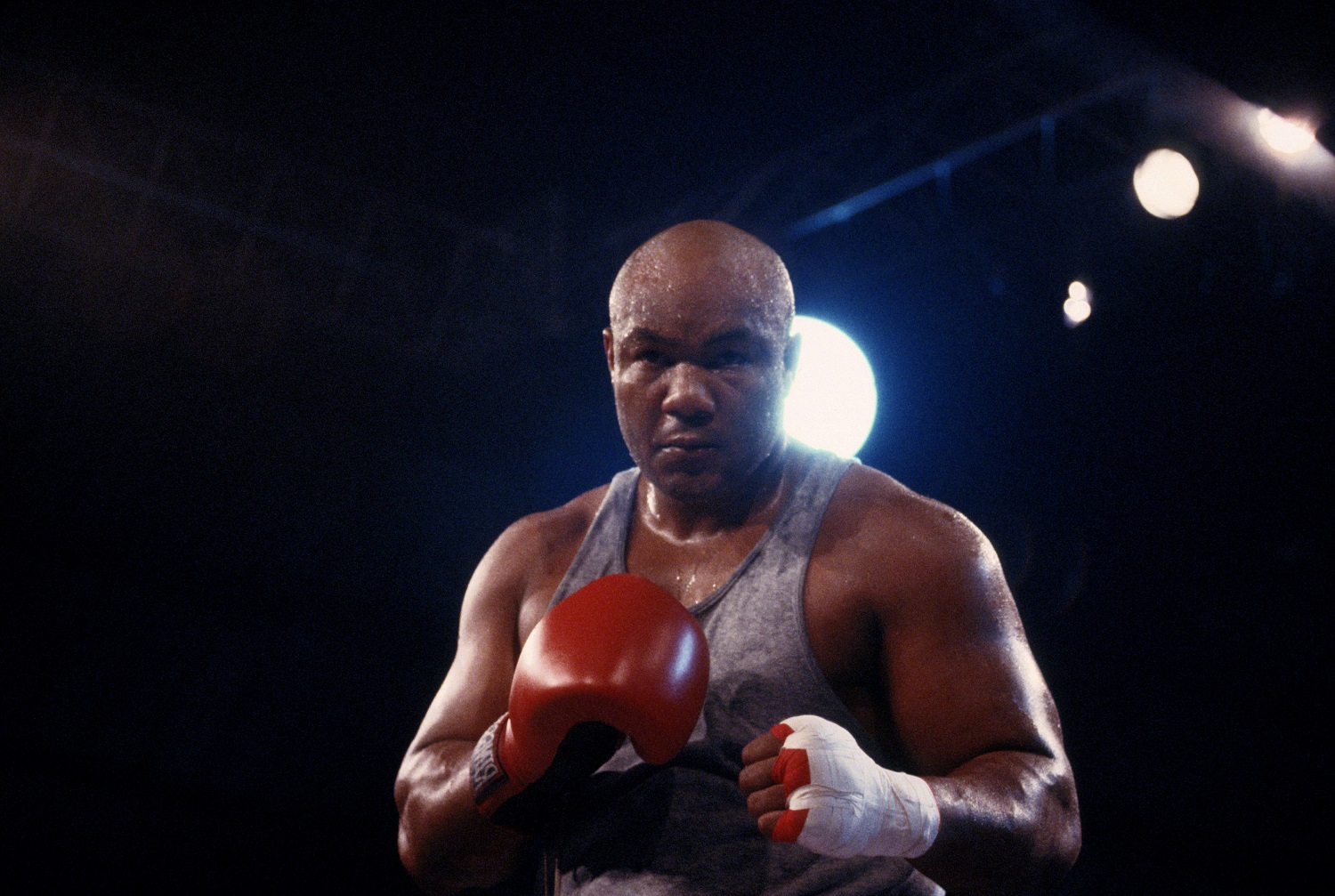 How Old Was George Foreman When He Made His Famous Comeback to Become Heavyweight Champ?
A look at the comeback of two-time world heavyweight champion George Foreman, who returned to the ring in 1987 after a 10-year absence.
George Foreman is easily one of the greatest boxers of all time. He was an Olympic gold medalist, a two-time heavyweight champion, and took part in some of the biggest fights the sport of boxing has ever seen. His "Rumble in the Jungle" bout with Muhammad Ali in 1974 is considered by many to be the greatest sporting event of the 20th century, although it was one of the five losses Foreman suffered in his Hall of Fame career.
But not only is George Foreman responsible for some of the greatest fights of all time, he's also responsible for one of the greatest comeback stories in boxing history, a comeback that resulted in him winning the heavyweight title nearly 20 years after losing it to Ali that night in Zaire.
With former undisputed heavyweight champion Mike Tyson set to make somewhat of a comeback of his own against Roy Jones Jr. this Saturday, we thought we'd take a few minutes to look back on Foreman's incredible comeback after spending 10 years away from the ring.
George Foreman won his first heavyweight title at the age of 24
After winning a gold medal in the heavyweight division at the 1968 Olympics in Mexico City, George Foreman had his first professional fight in June 1969 and scored a third-round knockout over Don Waldhelm at Madison Square Garden. Foreman fought 12 more bouts that year, earning knockout wins in all but two of them, and then earned a dozen more victories in 1970.
He slowed his pace a bit in 1971, fighting just seven times, all wins via knockout, and then had five more knockout victories in 1972, which moved his record to 37-0 (34 KO), which earned him a shot at fellow gold medalist, Joe Frazier, who was the undefeated WBA, WBC, and The Ring heavyweight champion of the world.
Then-24-year-old George Foreman went into the fight in Jamaica as a 3-1 underdog but shocked the world by making quick work of "Smokin' Joe," knocking the champion down six times within two rounds, prompting the referee to stop the fight. Foreman made two title defenses, including an impressive second-round TKO of Ken Norton, before the dream fight with Ali in October 1974, which resulted in the first loss of Foreman's career.
After taking some time off, Foreman returned to the ring in January 1976 and reeled off five straight wins over the next year, including another victory over Frazer, before being upset by Jimmy Young in March 1977 in Puerto Rico. George Foreman wouldn't fight again for close to a decade.
He returned to the ring in 1987 at the age of 38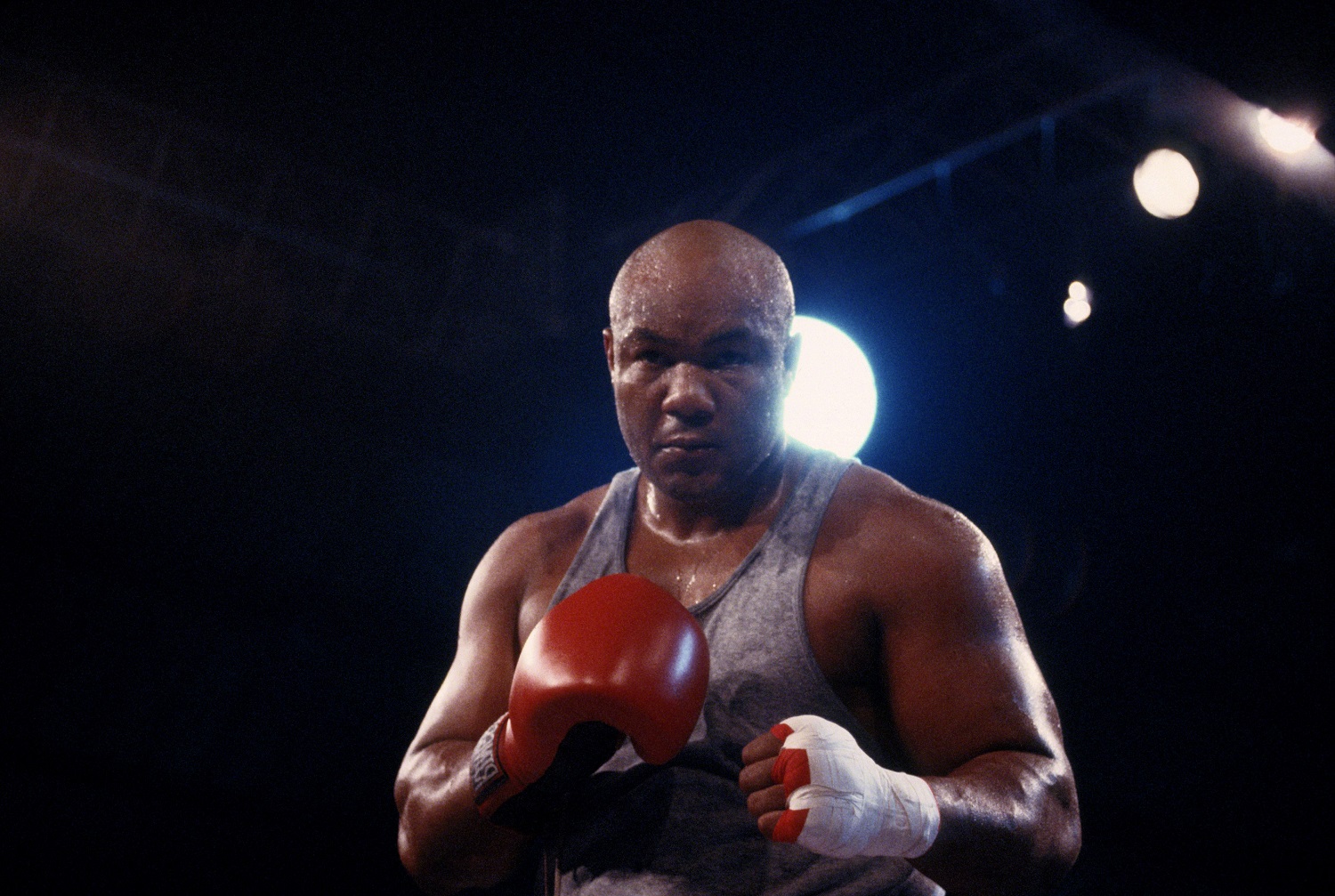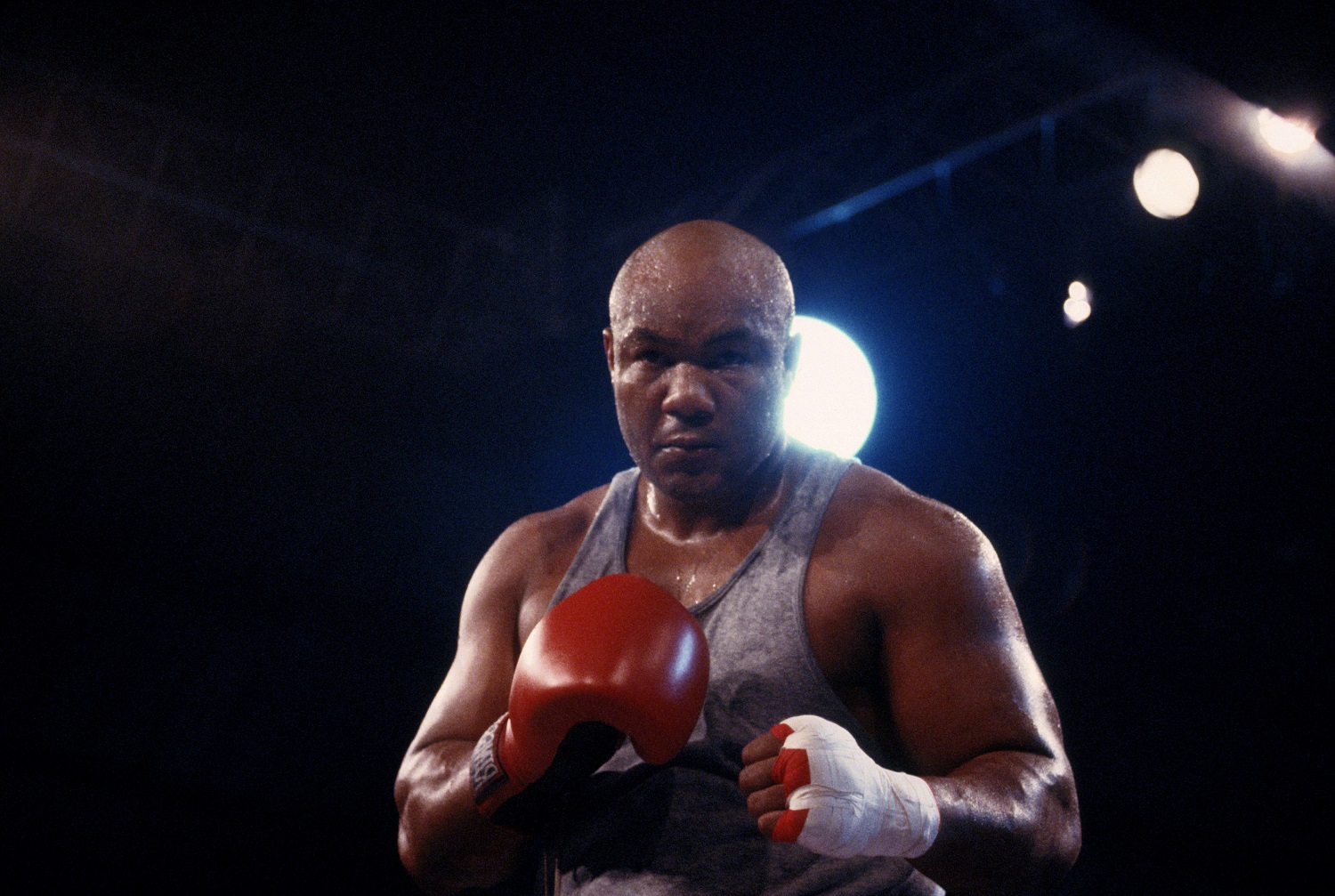 While he never officially retired from boxing, George Foreman stayed out of the ring for 10 years and became a reverend at a church in Houston, the same city in which he opened a youth center. In 1987, at the age of 38, Foreman announced his return to boxing in an order to raise money for his youth center. He also had a desire to fight Mike Tyson, who had taken the heavyweight division by storm and had become the youngest heavyweight champion in history at the age of 20 a year earlier.
However, no sanctioning body was really interested in giving him a title shot so Foreman went back to what he'd done in the early years of his career. He took low-level bouts and fought a lot. After scoring a knockout victory over journeyman Steve Zouski in his comeback fight in March 1987, Foreman fought 24 times over the next three and a half years and won all 24, 23 of those wins coming via knockout, which earned him a shot at WBA, WBC, and IBF heavyweight champion Evander Holyfield.
At 42, George Foreman gave Holyfield all he could handle that night in Atlantic City in April 1991 but it wasn't quite enough as Holyfield left the ring with a unanimous decision victory. Just over two years later, after picking up three more victories, Foremen got a shot at the vacant WBO heavyweight crown against Tommy Morrison. But Morrison fought the fight of his life that night and walked out as champion. However, Foreman would get one last chance to become a two-time heavyweight champion and he made the most of it.
George Foreman regained the heavyweight title at the age of 45
After taking some time away from the ring to film a television show, George Foreman returned to the ring in November 1994 to take on WBA and IBF heavyweight champion Michael Moorer, who had stunned Holyfield seven months earlier to become the first-ever southpaw heavyweight champion. Foreman was unranked coming into the fight but was still a big draw and the fight was assumed to be low-risk for Moorer, who was defending his titles for the first time. But you know what happens when you assume, right?
Throughout his comeback, George Foreman obviously wasn't as quick as he was in his prime years in the 1970s. But he still knew how to throw haymakers and Michael Moorer, who is 19 years younger than Foreman, learned that the hard way. Wearing the same trunks he'd worn in the "Rumble in the Jungle" fight with Muhammad Ali, Foreman seemed to be on track for the same result as that bout with "The Greatest" as Moorer dominated him for nine rounds.
But in the 10th, Foreman hit the champion with a number of big shots and one final right hand to the chin did Moorer in. He collapsed to the canvas as the crowd at the MGM Grand in Las Vegas erupted and, 10 seconds later, George Foreman became the oldest heavyweight champion in history at 45 years and 299 days old.
Foreman was later stripped of both of his title after refusing to take certain fights and finally retired for good in 1997 at the age of 48 after losing to Shannon Briggs. There was talk of yet another comeback at 55 but it never materialized.
George Foreman ended his career with a 76-5 record. 68 of his wins came via knockout and the only time he was knocked out himself was that famed night in Zaire against Muhammad Ali.