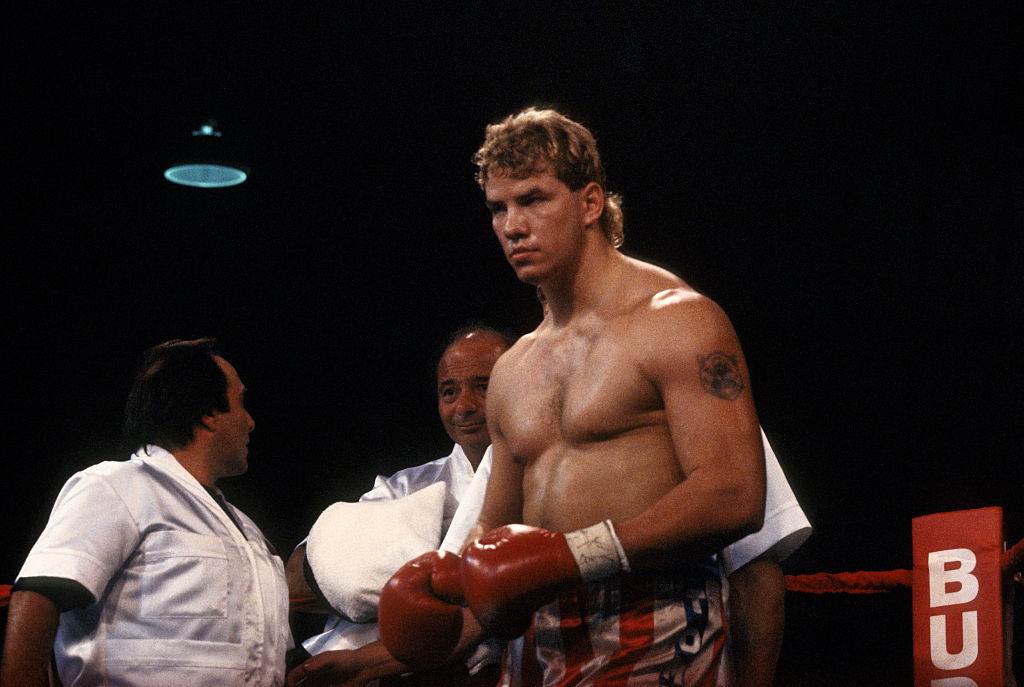 Tommy Morrison Once Missed Out on an $8 Million Payday for Drinking Beer at a Concert
The story of how former heavyweight champion Tommy Morrison once missed out on a huge payday by drinking beer at a concert.
Tommy Morrison was one of the hardest-hitting heavyweight fighters of his generation. That's really saying something as his generation included the likes of Mike Tyson, Evander Holyfield, Riddick Bowe, Lennox Lewis, and George Foreman. The 1990s was one of the best eras in boxing as a whole and Morrison was just one of many great fighters that helped the sport reach new heights.
After starring alongside Sylvester Stallone in Rocky V, Tommy Morrison became a star and rose up the ranks of the heavyweight division, taking part in some of the biggest fights of the 1990s, including a title fight with George Foreman. Unfortunately, his lifestyle hindered his career, a lifestyle that once cost him the biggest payday of his life.
The rise of Tommy Morrison
Tommy Morrison began fighting at a very young age, entering Toughman contests as a teenager. But he did very well, winning 14 of 15 such contests with big punching power. Following a successful amateur career, Morrison had his first professional fight in 1988 at the age of 19, a first-round knockout of William Muhammad in New York City.
In 1989, Morrison fought an astounding 19 times, winning all of them, 15 coming via knockout. He caught the attention of Sylvester Stallone, who was having trouble casting his pupil-turned-enemy for Rocky V. But he saw something in Morrison. He was a good-looking kid that was articulate and could actually fight. Sly brought him in and cast him quickly. Morrison took six months off from the ring to do the film and when it was released in 1990, his career exploded.
Upon his return to boxing, Tommy Morrison won his next seven fights, moving his record to 28-0, setting up his first heavyweight title fight with Ray Mercer in October 1991.
Tommy and the title
Tommy Morrison got his first title shot in October 1991 against 1988 Olympic gold medalist Ray Mercer. Mercer was the WBO heavyweight champ and he simply outsmarted Morrison that night in Atlantic City. Morrison punched himself out of the fight very early and was out of gas by the fifth round. Mercer caught him and that was that. It was the first loss of Tommy Morrison's career.
But Morrison came back. He won his next eight fights, all by knockout, and was given another title shot in 1993, this time against George Foreman. Known as a puncher, Tommy Morrison became a boxer for one night only in Las Vegas. He was absolutely brilliant. Even he knew that it would be tough to get into a slugfest with a guy like Foreman and simply outboxed the Hall of Famer. He earned a unanimous decision to become the WBO heavyweight champion of the world, obviously the biggest win of his life.
He retained the title a few months later against Tim Tomashek, setting up what was going to be the biggest payday of his career. However, a confusing pit stop along the way changed everything.
Tommy Morrison missed out on $8 million by drinking beer at a concert the night before a title fight
After the Tomashek fight, Tommy Morrison was set up for the biggest payday of his career, an $8 million fight with WBC heavyweight champion Lennox Lewis. It was a dream match at the time featuring two of the sport's hardest hitters. However, in a confusing move, he scheduled a tuneup fight with Michael Bentt, who only had 11 pro fights to his credit. It was looked at as an easy fight for Morrison but he took things a little too lightly and it cost him.
It was no secret to those around him that Tommy Morrison enjoyed his fame. He was constantly with different women and enjoyed the celebrity lifestyle. During the build to the fight with Bentt in October 1993, he didn't take his training all too seriously and, as told in the "ESPN 30 for 30" film, Tommy, he went to a concert the night before the fight, which is obviously something that fighters just don't and shouldn't do, and was drinking beer.
Tommy Morrison's night caught up with him the next day. Nobody was giving Michael Bentt much of a chance but Morrison simply wasn't ready. He looked decent the first 45 seconds of the fight, landing some hard shots on the challenger but it was over after that. Morrison got caught with a vicious right hand and hit the canvas for the first time about a minute in. He took the standing eight count but went down again just seven seconds later. He took another standing eight and Bentt pounced on the dazed champion. Another barrage came and that was it. Tommy Morrison had lost his title and HBO Boxing commentator Jim Lampley was very quick to point out that his $8 million payday with Lennox Lewis was gone as well.
Morrison went from an $8 million payday in a heavyweight title fight with Lennox Lewis to a $60,000 fight at a casino in Biloxi, Mississippi. Tommy Morrison finally would get a fight with Lewis close to two years after his loss to Bentt. But he wouldn't get the same payday as he wasn't as big of a draw as he once was. Lewis knocked Morrison out in the sixth round.
UPDATE: In a recent interview (which will be posted soon) that Sportscasting did with Tommy Morrison's widow, Trisha, she says that Tommy told her that he was at that concert but that he never drank beer before the Bentt fight.