NASCAR's Bargaining Power Is Slipping Away at the Worst Possible Time
The next television contract will be more lucrative than the last one, but that doesn't mean NASCAR will be so flush with money that teams will be able to pay Ross Chastain and Kyle Larson the kind of coin that Formula 1 stars Max Verstappen and Lewis Hamilton pull down.
Viewership has been down year over year for each of the three Cup Series races as NASCAR heads to Phoenix. The fact that the numbers aren't catastrophic when compared to other sports doesn't mean they aren't problematic. NASCAR is losing leverage with Fox and NBC at absolutely the wrong time.
NASCAR, IndyCar, and Formula 1 were all in action last Sunday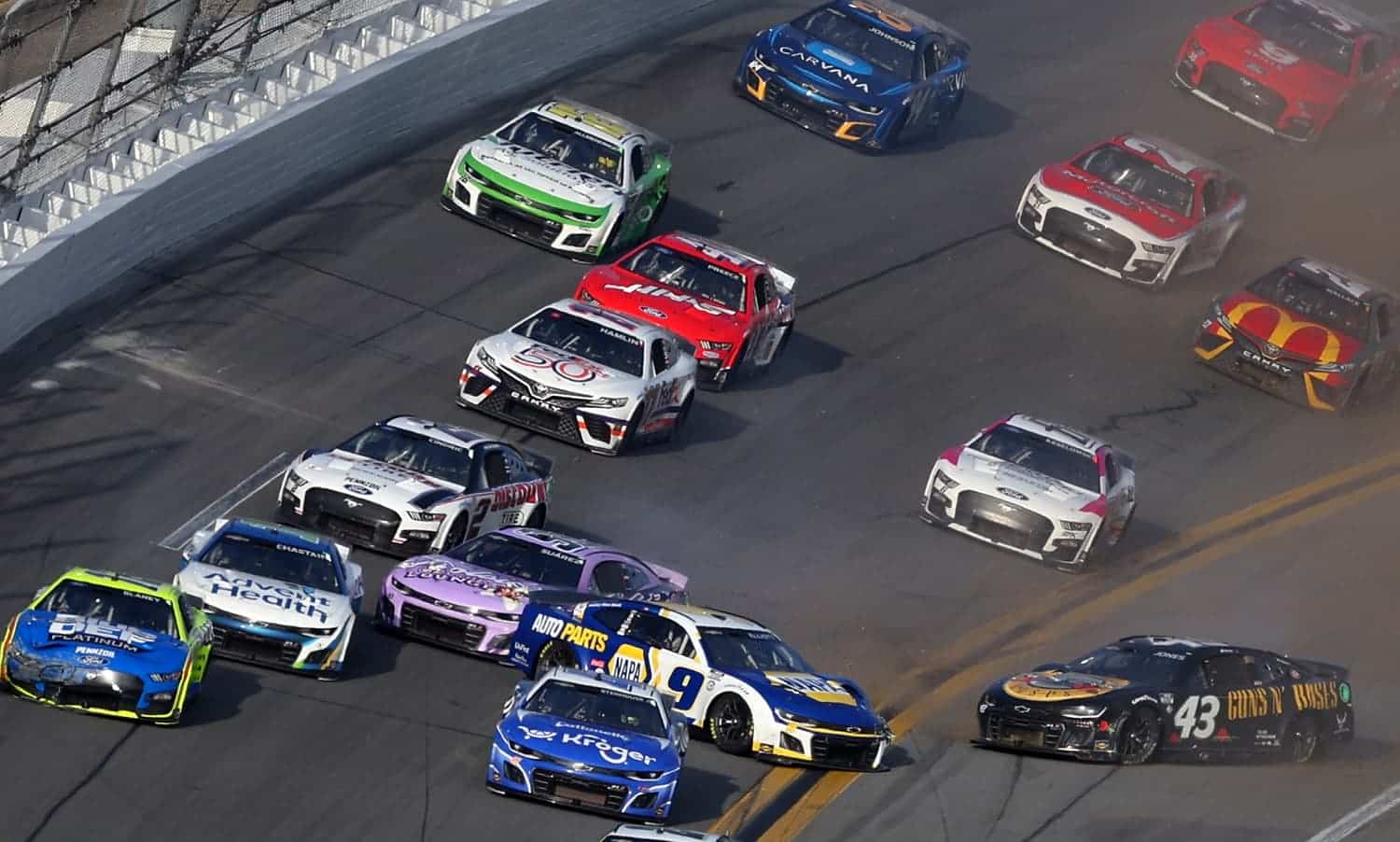 Motorsports fans experienced their first 2023 tripleheader on Sunday. Formula 1 opened its season in Bahrain on ESPN; IndyCar launched its schedule in St. Petersburg, Florida, on NBC; and NASCAR continued its calendar in Las Vegas on Fox. Here's how the numbers shook out, via ShowBuzzDaily.com:
The F1 race attracted 1.318 million viewers, down slightly from 1.353 million a year ago. Still, it was fifth all-time for Formula 1 on cable TV and better than the 2022 season average of 1.21 million.
The IndyCar race started shortly after the F1 telecast wrapped up, and it attracted 1.189 million viewers, down a sizeable chunk from 1.405 million a year ago. NBC noted that streaming boosted the actual number to 1.22 million.
The NASCAR Cup Series coverage kicked off in mid-afternoon. It logged 3.991 million, down significantly from 4.544 million a year ago in Las Vegas.
Networks and their advertisers obsess over the 18-49 age demographic, and that continues to be a NASCAR weak spot. It totaled 813,000 in the demo to 633,000 for F1 and 216,000 for IndyCar.
Good news and bad news for NASCAR
Despite the third straight week of year-over-year dropoffs, NASCAR Cup Series viewership still beat all the weekend's sports competition on TV and cable. That matters because media partners pay a premium for live content, much of which consists of sports programming. It's "appointment viewing" that audiences watch now (important to advertisers) rather than on DVR hours or days later.
In addition, the numbers for the Xfinity Series and Craftsman Truck Series last weekend rose 7.4 and 14.7%, respectively, over a year ago. While those races are small pieces of the TV contract, it's still live content. More people watching over the long term equates to more people becoming familiar with the next generation of Cup Series competitors.
Still, NASCAR executives must feel on edge. Daytona 500 viewership was down 7.8% from a year ago, some of which can be attributed to going up against a PGA Tour event featuring Tiger Woods. The drops the past two weeks were 5.6% for Auto Club Speedway and 12.2% for Las Vegas.
Streaming services, original programming by cable networks, and first-run movies via pay-per-view have cannibalized ratings for all types of entertainment, including sports. NASCAR's worry is that it's on the clock for negotiating its next TV deals, and drops in viewership eat into the sport's bargaining power.
Contracts with Fox and NBC end after the 2024 season
NASCAR is currently in talks with Fox Sports and NBC about the next set of television contracts that will kick in after next season. The two long-time partners have exclusive negotiating rights through April, after which NASCAR can talk to other potential suitors.
The current long-term contracts have been earning NASCAR a combined average of $820 million a year. NASCAR expects to move the needle to at least $1 billion a year, and some estimates see $1.1 billion as attainable.
It's unlikely NASCAR will strike any deals before first listening to ESPN and streaming services owned by Apple and Amazon. Large-scale streaming is unlikely because network TV telecasts deliver more of the eyeballs teams need to preserve sponsorship money, so the number of races on Fox and NBC will probably remain unchanged.
However, some of the 15 annual points races on cable via FS1 and USA could migrate to streaming services that pay enough to offset the potential drop in sponsorship money. Meanwhile, teams could score perhaps $6 million apiece per car from the total TV package, lessening the reliance on sponsors like FedEx, Ally, and Anheuser-Busch.
Still, it would help NASCAR's cause if year-over-year viewership would level off instead of slipping so noticeably each week.
Got a question or observation about racing? Sportscasting's John Moriello does a mailbag column each Friday. Write to him at [email protected]