NASCAR Booted Kyle Busch From Fontana 5 Minutes Before Qualifying as a Teen With No Ifs, Ands, or Butts
It's possible – likely, in fact – no one will ever catch Kyle Busch and his record of 224 victories across the three national NASCAR series. Richard Petty is next at 200, and no active driver is close.
What's forgotten, however, is that Busch's victory total almost certainly would be higher if not for a last-minute decision at the site of this weekend's Cup Series action. It ended up costing him an early chunk of his career.
Kyle Busch started in the Craftsman Truck Series at 16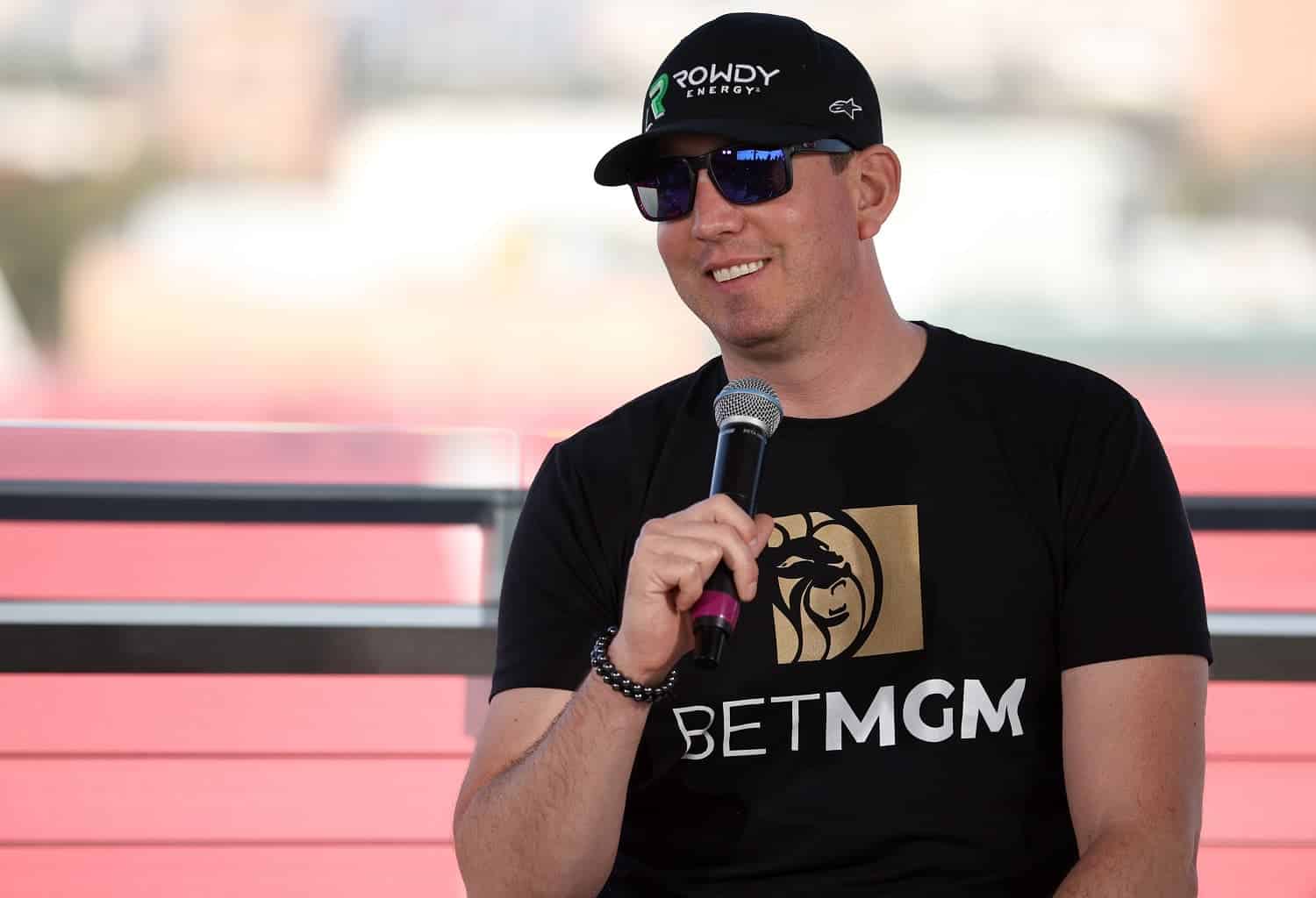 Jack Roush had the right idea when he moved 16-year-old Kyle Busch into the No. 99 Ford late in the 2001 Craftsman Truck Series. Though he scored only two top-10 finishes in his first six starts, Busch had the look of a prospect when he showed up at Auto Club Speedway in Fontana, California, on the first weekend of November to close out the season.
Busch logged the fastest practice speed and was five minutes from returning to the track for qualifying when NASCAR officials told him he needed to leave the garage, according to the Las Vegas Sun. His detractors would be saddened to know it wasn't the result of anything Busch said or did.
Instead, it was NASCAR protecting itself, and it resulted in Busch missing a season and a half of valuable experience that quite likely would have also resulted in victories in the truck series.
NASCAR reacted to tobacco regulations by changing its minimum age
The 1972 season is considered the beginning of the modern era for the Cup Series. One year earlier, NASCAR struck a deal with R.J. Reynolds, giving birth to the Winston Cup Series. The sport benefitted from the tobacco company's marketing expertise, and the collaboration led to NASCAR breaking out of its image as a regional sport. However, the relationship started winding down by the turn of the century, and R.J. Reynolds ended its association in 2003 as the government clamped down on cigarette advertising in sports and media.
That's where things went wrong for Kyle Busch in 2001 at Fontana. Though the truck series was affiliated with Craftsman Tools rather than R.J. Reynolds, NASCAR shared the track that weekend with the CART open-wheel series, whose race was sponsored by Marlboro.
Part of the tobacco companies' settlement with the federal government was a provision barring people under the age of 18 from competing in events sponsored by tobacco companies. NASCAR reacted by sending Busch home, then implemented a total ban (since rescinded) of drivers under 18 to be safe.
Busch dropped down to the American Speed Association in 2002, ran a few Xfinity Series races after turning 18 the following year, and landed his first Cup Series rides with Hendrick Motorsports in 2004.
Kyle Busch returns to Fontana with 224 wins under his belt
The hitch that sidelined Kyle Busch early in his career didn't deter him from compiling a Hall of Fame resume. Heading to Fontana this weekend, he owns 60 victories in the NASCAR Cup Series, 102 in Xfinity Series cars, and 62 in the Craftsman Truck Series.
It would not be surprising if Busch, now in his first season with Richard Childress Racing, recorded win No. 225 at Auto Club Speedway. If he doesn't own the two-mile track, Busch at least boasts of a timeshare on Victory Lane.
In fact, Busch is generally solid across most oversized tracks that don't qualify as superspeedways: four wins apiece at Fontana and Pocono, and two on the Indianapolis Motor Speedway oval.
Busch leads all active full-time drivers in Fontana wins (however, Jimmie Johnson has six) and owns the best average finish (9.8) and highest percentage of top-10 finishes (69.6%).
Barring a wreck or mechanical issues, Sunday will be one of the early indications of what sort of difference it made when Busch left Joe Gibbs Racing for RCR.
Got a question or observation about racing? Sportscasting's John Moriello does a mailbag column each Friday. Write to him at [email protected]