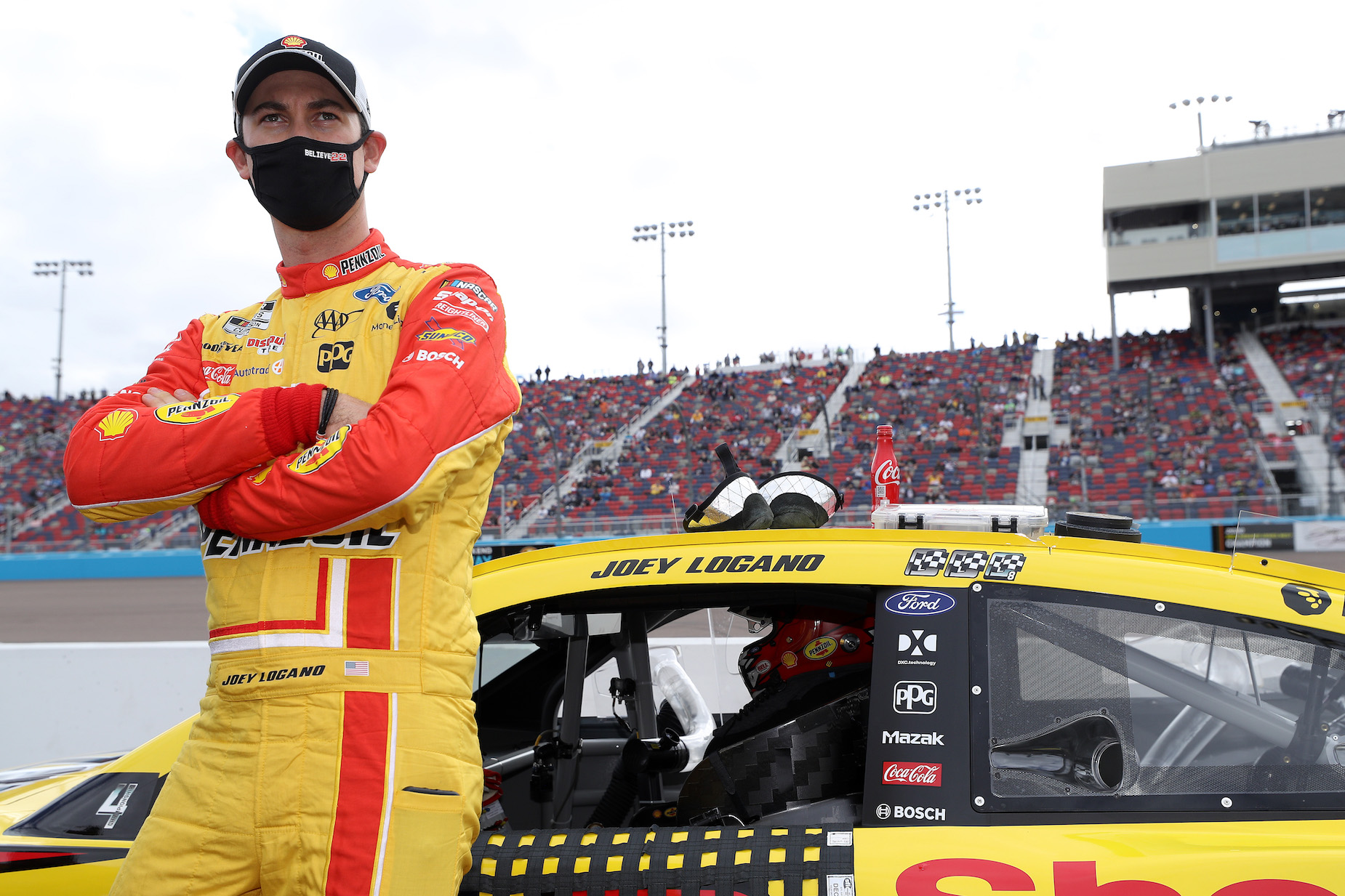 NASCAR Driver Joey Logano Used His First Big Paycheck in the Smartest Way Possible
These days, Joey Logano has made millions on the NASCAR circuit. When he received his first racing paycheck, though, things were a bit different.
Whether you like it or not, big money is simply part of the professional sports landscape. From broadcast deals and commercial sponsorships to individual salaries, there's a financial element to almost everything that goes on behind the scenes. That's especially true in the world of NASCAR, as Joey Logano can confirm.
While the motorsports world isn't exactly dishing out Patrick Mahomes-style mega-contracts, there's still plenty of money to be made behind the wheel. Joey Logano, however, wasn't going to let that first big paycheck go to his head; in fact, he set it aside for a pretty intelligent purpose.
Joey Logano is still young, but he already has quite the racing resume
In the grand scheme of things, 30-year-old Joey Logano is still a young buck on the NASCAR scene. That relative youth, however, shouldn't be mistaken for inexperience.
While the Logano family is full of athletes, Joey decided to take a different path. He fell in love with racing as a boy; what started out with a go-kart eventually turned into a dream job.
Logano made a name for himself as a teenager, earning the nickname 'sliced bread' and piling up checkered flags in lower-tier competition. In 2008, the 18-year-old driver made his NASCAR debut and, within a few Xfinity Series races, notched his first win; a year later, he secured his first Cup Series victory, becoming the youngest driver ever to do so.
Since then, Logano's star has only continued to rise. He switched from Joe Gibbs Racing to Team Penske, taken the top spot in the Daytona 500, and claimed the 2018 Cup Series title.
That success has helped the driver build up a nice fortune
During his time as a NASCAR Cup Series driver, Joey Logano has climbed behind the wheel for 435 races, winning 26 of them and finishing in the top 10 an impressive 221 times. As you might expect, that success has made the driver a nice chunk of change.
In June 2019, Forbes listed that Logano was the fifth-highest-paid driver on the NASCAR circuit. He reportedly took home $11 million in total earnings with  $9.6 million coming in salary and winnings; the remaining $1.4 million stemmed from endorsement deals.
That success isn't just a one-off either. According to CelebrityNetWorth, Logano's fortune sits at an estimated $24 million. Given that he's signed with Penske through the 2023 campaign and has already reached NASCAR's highest heights, it's safe to assume that number will only keep increasing.
Joey Logano used his first paycheck to start a nest egg
These days, Joey Logano has plenty of money in the bank. When he started driving professionally, though, things were a bit different.
While it's always tempting to splurge when you receive your first big paycheck, Logano did the opposite. Rather than buying a new truck or enjoying a night on the town, he decided to set some money aside for a rainy day.
"Knowing me, I'd put [my first big paycheck] straight in the bank," Logano told CNBC. "To me, I think you've got to build some kind of nest egg to feel comfortable. … For a race car driver, you don't know when this is going to end. I can run into a wall and break my legs, or maybe something worse, and that's it, you know?"
While that might not be the most fun way to use money, Joey Logano believes that it was the right move to make.
"Being appreciative of what you have and making sure you do the right things with your money, especially early in your career, I think really pays the dividend later on," he explained.