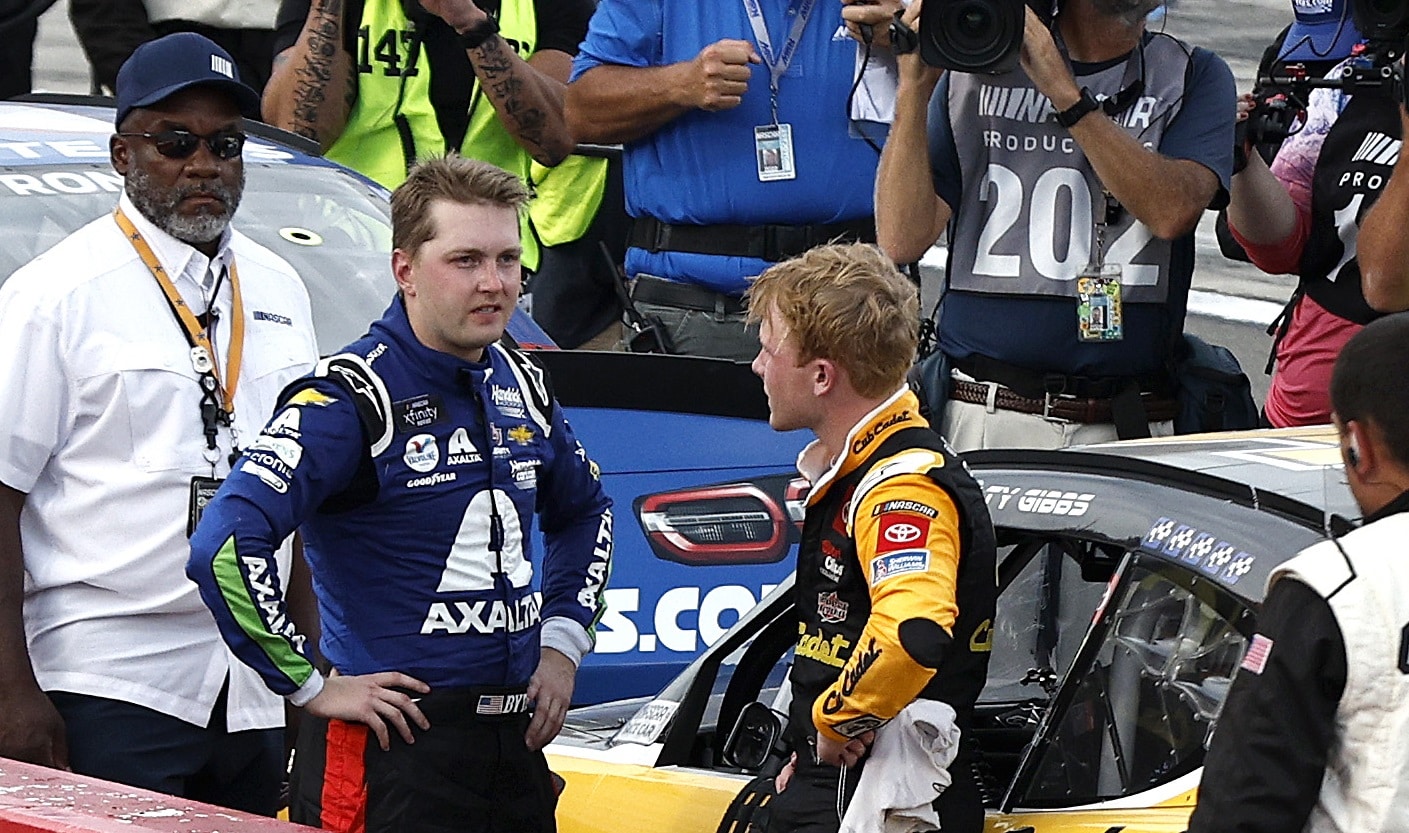 NASCAR Mailbag: Well, This Is a Fine Mess Created by Ty Gibbs and William Byron
The difference in penalties for Ty Gibbs and William Byron after a wild weekend at Texas Motor Speedway raised interesting questions.
My philosophy while managing a staff a few careers ago was that I didn't need to treat people equally, just fairly. That sometimes meant justifying my actions to the Human Resources czar, who had a better grip on the company handbook than she did on reality. It dove-tailed with another key philosophy: It's easier to get forgiveness than permission.
I mention this because of questions about how NASCAR dished out punishment recently in cases involving Ty Gibbs and William Byron. It's possible the penalties were neither equal nor fair.
Can someone explain why Ty Gibbs only got a $75,000 fine for his actions on pit road that could have potentially killed or severely injured pit crew members when a crew chief will get a hefty fine and four-race suspension for a wheel falling off a car leaving pit lane?
It seems to me that NASCAR is more interested in increasing the balance in their bank account than in protecting their officials, drivers, and crew members. (From D.W. via Gmail.com)
There's a lot to work through here, and the question requires roping Byron and Noah Gragson into the equation. Also, the email arrived before Byron's appeal was heard, which affects things slightly.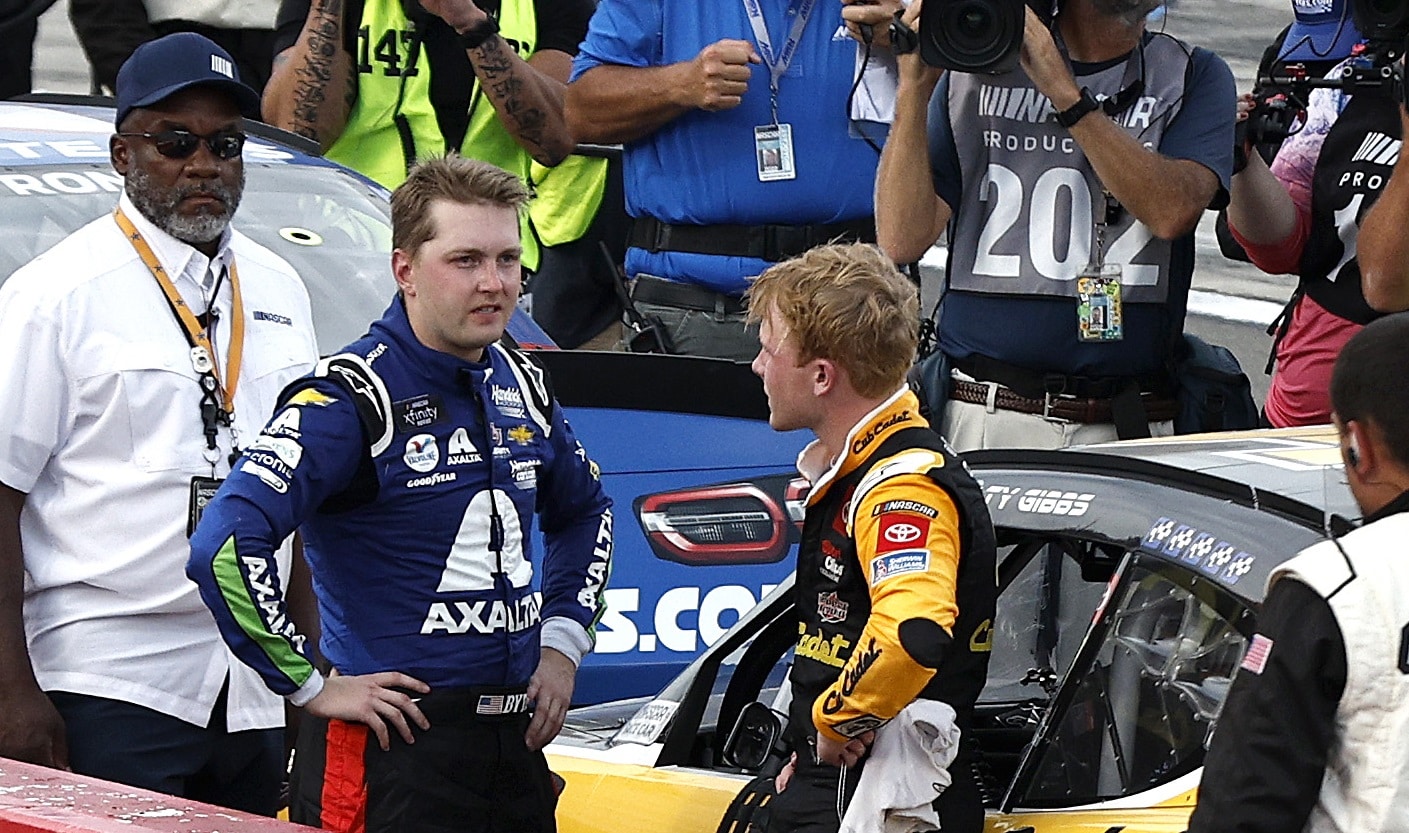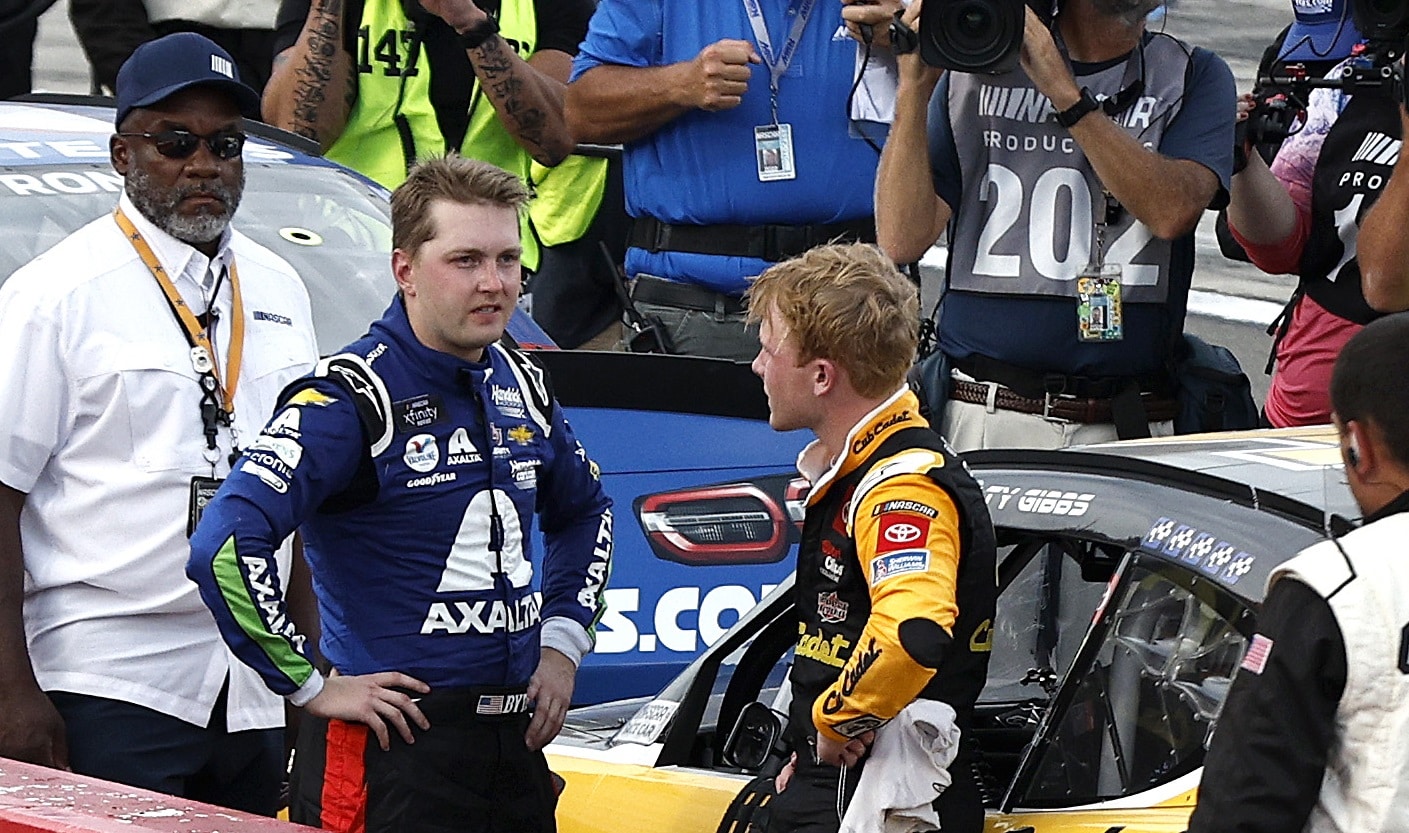 First, NASCAR doesn't fatten its bank account through fines. Major sports leagues have charitable foundations that they use to fund worthy causes. NASCAR operates that way, and that's where the fine money lands.
Now, let's revisit the penalties stemming from the playoff race at Texas Motor Speedway two weekends ago:
NASCAR fined Gibbs $75,000 and docked his team 25 owner points for "retaliatory vehicle contact on pit road with crew members/officials in close proximity; second offense."
The racing body fined Byron $50,000 and levied 25-point penalties to the driver and the owner for "vehicle contact during a caution period."
The standard penalty for a wheel coming off a Cup Series car, something we've seen many times this year, is a four-week suspension for the crew chief, tire changer, and jackman. Unlike lug nut violations in the Xfinity and truck series, there haven't been fines.
In every case in recent memory, the penalties for wheel issues have been handed down merely for the potential safety ramifications of having loose tires launched into pit stalls or spectator areas. In the case of Gibbs and Byron, their acts didn't potentially put people at risk. Rather, they did put people at risk.
However, parking a driver for even one race has huge implications when it comes to qualifying for the playoffs or advancing on the road to the Championship 4. That's why drivers face more fines and fewer suspensions.
And then there's Gragson, who (in)famously went hunting for Sage Karam in the Xfinity Series race at Road America three months ago. In the process of knocking Karam off the road, Gragson precipitated the worst multi-car wreck in any series this year. His penalty was a $35,000 fine and 30-point deductions for the driver and the owner.
Compared to Byron, Gragson got away cheap at first. However, the appeals panel subsequently doubled Byron's fine but restored his points, so the comparison becomes more difficult to judge. Also, Gragson's infraction came in the Xfinity Series, and $35,000 there hurts a lot more than $50,000 in the Cup Series.
So, how does Gibbs' penalty fit in? Well, he probably got a bargain.
NASCAR couldn't dock Gibbs driver points because he's pinch-hitting for Kurt Busch and doesn't count in the Cup Series standings. That should have boosted his fine beyond the initial $50,000 Byron forked over, and it was.
But NASCAR acknowledged that the Texas Motor Speedway incident was Gibbs' second infraction, which should also have cost him more. The extra $25,000 Gibbs must pay seems to cover both the second offense and the inability to deduct points. In that sense, Gibbs probably should have been writing a $100,000 check.
That would have come closer to treating him fairly, even if his most recent offense was roughly equal to what Byron did.
I've been a fan of NASCAR for a long time, so I get why they added stages. My question is why they throw a caution flag at the end of each stage?
With all the scoring technology of today, why can't they wave the checkered flag, lock in results using the scoring loops, and award points accordingly without throwing the caution? (From E.Z. at Yahoo.com)
NASCAR wanted to create races within the races to keep eyeballs glued to the television set throughout the race rather than just the final 90 minutes or so. In that respect, creating stage racing in 2017 has undoubtedly been helpful. If more people are watching the moving billboards for more minutes per week, then sponsors are happy.
Speaking of advertising, throwing the caution at the end of the first two stages (three for the Coca-Cola 600) creates a natural break allowing the networks to sell more ads. Ideally, the extra commercials should mean breaking away from live race coverage less frequently, but that doesn't seem to be the case. Maybe I'm old (possibly) and crotchety (definitely), but there seem to be more green-flag commercials than there were pre-2017.
There is another reason to wave the caution flag at the end of stages, and this one makes sense. In their pursuit of points, drivers make high-risk, high-reward moves when the white flag comes out. As such, they're conceivably out of control compared to the normal state of racing at up to 190 mph.
All things considered, two cool-down laps before going back to green might not be a bad idea. Unfortunately, NASCAR doesn't hold the pause to just two laps.
Like Sportscasting on Facebook. Follow us on Twitter @sportscasting19 and subscribe to our YouTube channel.
Got a question or observation about racing? Sportscasting's John Moriello does a mailbag column each Friday. Write to him at [email protected].