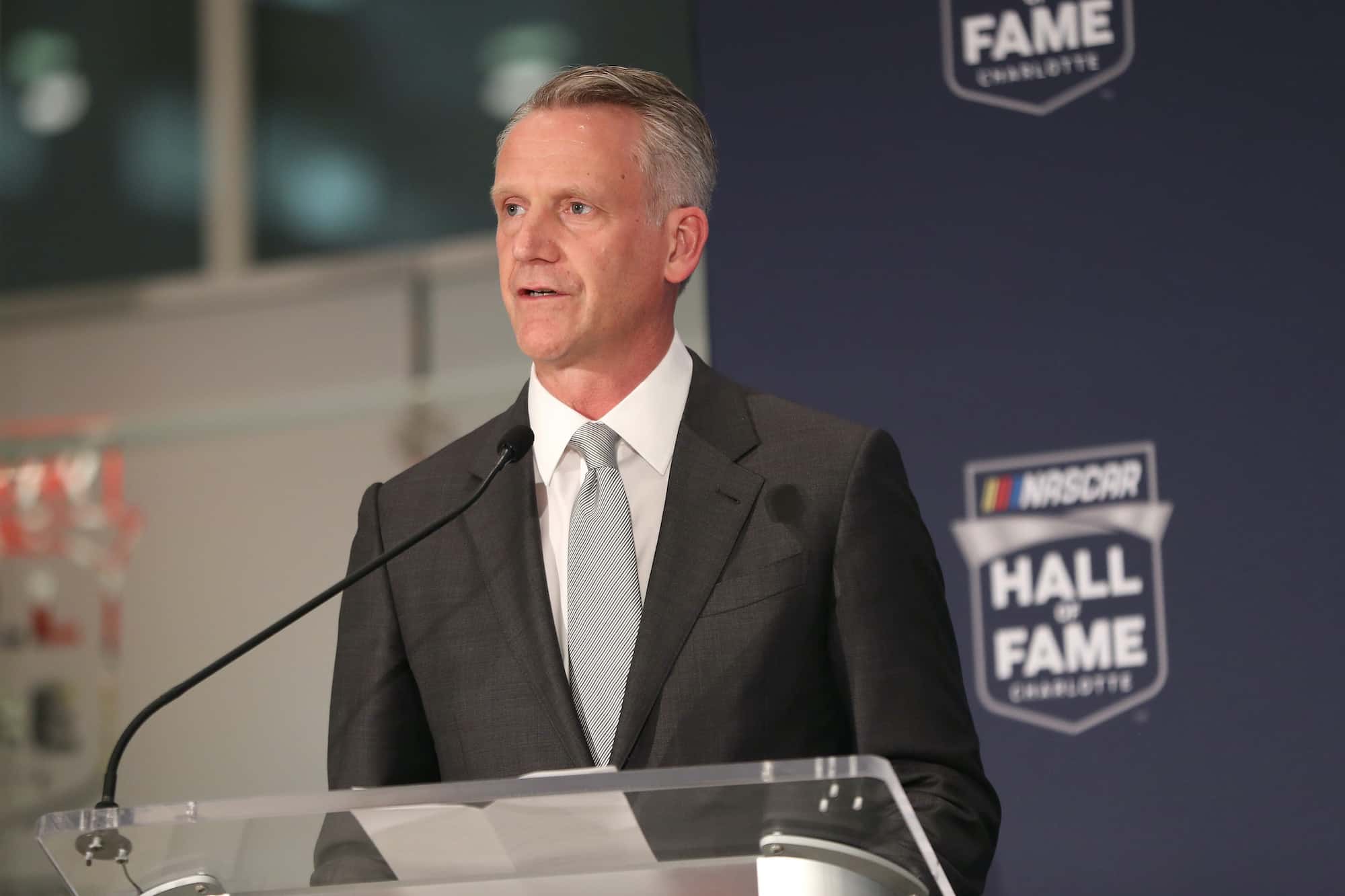 NASCAR Promotes 75th Anniversary With Drivers and Officials Ringing Stock Exchange Bell, but One Team and Manufacturer Noticeably Missing From the Ceremonies
NASCAR went to Wall Street to promote the sport's 75th anniversary on the New York Stock Exchange but one team and manufacturer was noticeably absent from the festivities.
NASCAR is celebrating its 75th anniversary this year. As part of the diamond anniversary celebration, which will include various special moments throughout the year, the organization has been promoting the milestone before the start of the 2023 season. 
This week, NASCAR President Steve Phelps visited the New York Stock Exchange and was joined by Jeff Gordon and several drivers to ring the closing bell. While everyone appeared to be having a good time, it was hard not to notice the one team and manufacturer not represented in the festivities.  
NASCAR celebrates 75th anniversary
With NASCAR beginning its 75th season, it's a good time for everyone to reflect back on the sport's storied past and see how far it has come. 
It's a pretty remarkable story to think that it started on the beaches of Daytona and has blossomed into the major sport and multi-million dollar business that it is today. 
To honor that rich history, the sanctioning body will celebrate the momentous occasion with fans throughout the year. Fans already got a taste of it at the turn of the new year when NASCAR participated in the Rose Bowl parade with a float that featured Richard Petty, the legendary icon from the past, and rookie Truck Series driver Rajah Caruth, representing the sport's future.  
NASCAR president and others ring closing bell
This week as part of its anniversary festivities, NASCAR had multiple representatives in New York at the Stock Exchange, including president Steve Phelps, Hendrick Motorsports vice chairman and Hall of Famer Jeff Gordon, as well as drivers Chase Elliott, Ryan Blaney, and Daniel Suarez.
The highlight moment of the visit came when all of the NASCAR dignitaries stood above the exchange floor, cheered, and Phelps rang the closing bell. In addition, Phelps, Gordon, and Elliott sat down for an interview on NYSE Floor Talk, which visits with guests of the Exchange and talks about their business.
Feeds conspiracy theory of playing favorites with Hendrick Motorsports
No one will blame NASCAR officials for trying to promote the brand and the 75th anniversary is the perfect opportunity to do that through various avenues, or in this case, streets, like Wall Street and the New York Stock Exchange. But you would also think — much like NASCAR did in selecting Petty and Caruth for the Rose Bowl parade — there would be careful consideration given to the optics.
In New York, Chevrolet and Hendrick Motorsports were well represented with Elliott and Gordon joined by another bowtie driver in Suarez from Trackhouse Racing. Ryan Blaney was the lone representative for Ford and Team Penske. Noticeably absent was any driver from Toyota and Joe Gibbs Racing.
Maybe all of the drivers at JGR and 23XI Racing had previous obligations. But no matter how you slice it, it wasn't a good look, especially after you consider that Denny Hamlin called out NASCAR in the last year for giving what he considered preferential treatment to HMS by partnering exclusively with the organization for its Garage 56 Project car, which is NASCAR's special entry for the 24 Hours of LeMans in 2023.  
Conspiracy theorists unite.
There was likely no ill intent by NASCAR, including a pair of representatives from HMS and none from Toyota/JGR in the Big Apple. But, as they say, perception is reality. And in this case, the reality is that NASCAR appears to be once again playing favorites with Hendrick.
Or, in the grand scheme of things, just another interesting plot twist added to the ever-evolving NASCAR story that is 75 years strong and counting.