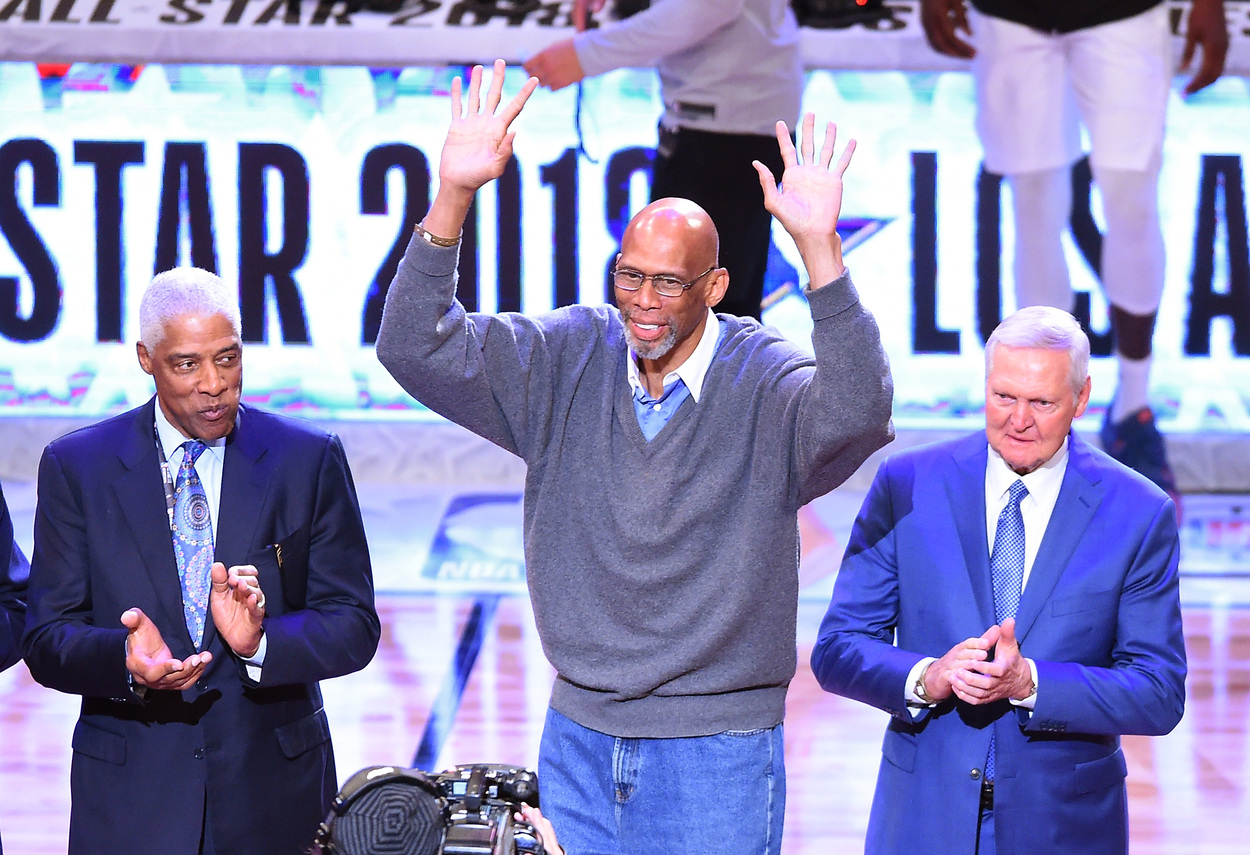 NBA All-Star Game: Has Any Player Been Selected in Every 1 of Their Seasons?
Believe it or not, there are multiple players who earned an All-Star nomination in every year of their NBA career.
Over the years, the NBA All-Star Game has served as a showcase for basketball's greatest players. While there are new faces sprinkled in every year, most years feature the same superstars we know and love.
The 1960s had Wilt Chamberlain and Bill Russell. The '80s had Magic Johnson and Larry Bird. The '00s had Kobe Bryant and Tim Duncan. Even today's era has regulars like LeBron James, Stephen Curry, and Giannis Antetokounmpo.
However, every single one of those players mentioned above has gone at least one season without an All-Star appearance. Whether it was due to injury, age, or poor performance, the vast majority of NBA legends have missed out on an All-Star nod at least once in their incredible careers.
That being said, there have been a few exceptions. Yes, plural. As in multiple players who earned an All-Star Game appearance in every one of their professional seasons.
Jerry West, Julius Erving, and Bob Pettit made the All-Star team in every one of their NBA seasons
You want to talk about a great career from start to finish? Look no further than the Logo, Dr. J, and Big Blue.
West, the Los Angeles Lakers legend, went a perfect 14-of-14 from 1961 through 1974. While he didn't play in two of those games, including his final season, Mr. Clutch was still selected in each of his 14 NBA seasons. He would also win MVP honors in the '72 exhibition at The Forum in Inglewood, CA.
As for Erving, the high-flying Hall of Famer was 11-of-11 during his time in the NBA with the Philadelphia 76ers. But he also made five out of five ABA All-Star Games with the Virginia Squires and New York Nets before joining the Sixers in 1976.
Dr. J also earned two All-Star MVP awards, one of 14 multi-time winners in league history. The first came in 1977 when Erving joined Pettit as the only MVP to come from the losing team. Six years later, the Doc led the East to victory and took home the award one last time.
Speaking of Pettit, the big man lived for the All-Star Game. Not only did the St. Louis Hawks star win a record four All-Star MVPs, but he also earned a spot on the team in each of his 11 NBA seasons. And, like Erving, Pettit never missed a game after receiving his selection.
A few others have come dangerously close to having a perfect All-Star track record
There are a number of Hall of Famers who nearly joined the trio above in having perfect All-Star attendance. Like Isiah Thomas, who was an All-Star in each of his first 12 seasons but missed the cut in his 13th and final campaign.
Although, there are a few players you could count. You'd just need to bend the rules a little bit.
Take Michael Jordan, for instance. MJ was an All-Star for each of his first nine seasons with the Chicago Bulls before retiring in 1993. After missing the entire next season, he returned in the spring of '95 and played 17 games after the All-Star break.
So technically, Jordan played during a season in which he wasn't selected for that year's exhibition. However, His Airness was an All-Star for all 14 of his full seasons, including his final two with the Washington Wizards.
A very similar situation happened with Bob Cousy. The longtime Boston Celtics point guard was chosen for every All-Star Game during his career … just about. Beginning in 1951, Cooz made 13 All-Star trips before retiring in 1963.
But while coaching the Cincinnati Royals in 1970, Cousy laced them up for seven games, thereby ruining the perfect alignment he had with NBA seasons and All-Star appearances.
One more example — one who's more recent, too — is Yao Ming. The first-overall pick of the Houston Rockets in 2002 lasted only nine seasons before retiring in 2011. One of which, his 2009-10 campaign, was lost entirely due to a foot injury.
However, every season Yao stepped onto the court, he was an All-Star. Even in his final season, when the towering center played just five games early on before leaving basketball for good.
There's currently no one from this era who's eligible to join the club
In order to play in an All-Star Game every year, you have to be an All-Star in your rookie season. Yet none of today's phenoms — Luka Doncic, Trae Young, Ja Morant — managed to make the cut as freshmen. Even LeBron failed to earn All-Star recognition as a rookie in 2003-04, earning a spot every year afterward.
The last rookie to make the All-Star team was Blake Griffin back in 2011. Though the former LA Clippers star missed what would've been his real rookie season due to a knee injury. Aside from Griffin, Yao was the only other rookie All-Star in the last 20 years.
It will take a generational talent to burst onto the scene and earn immediate All-Star consideration. But as we learned, staying at an All-Star level year after year is even harder.
All statistics courtesy of Basketball Reference.