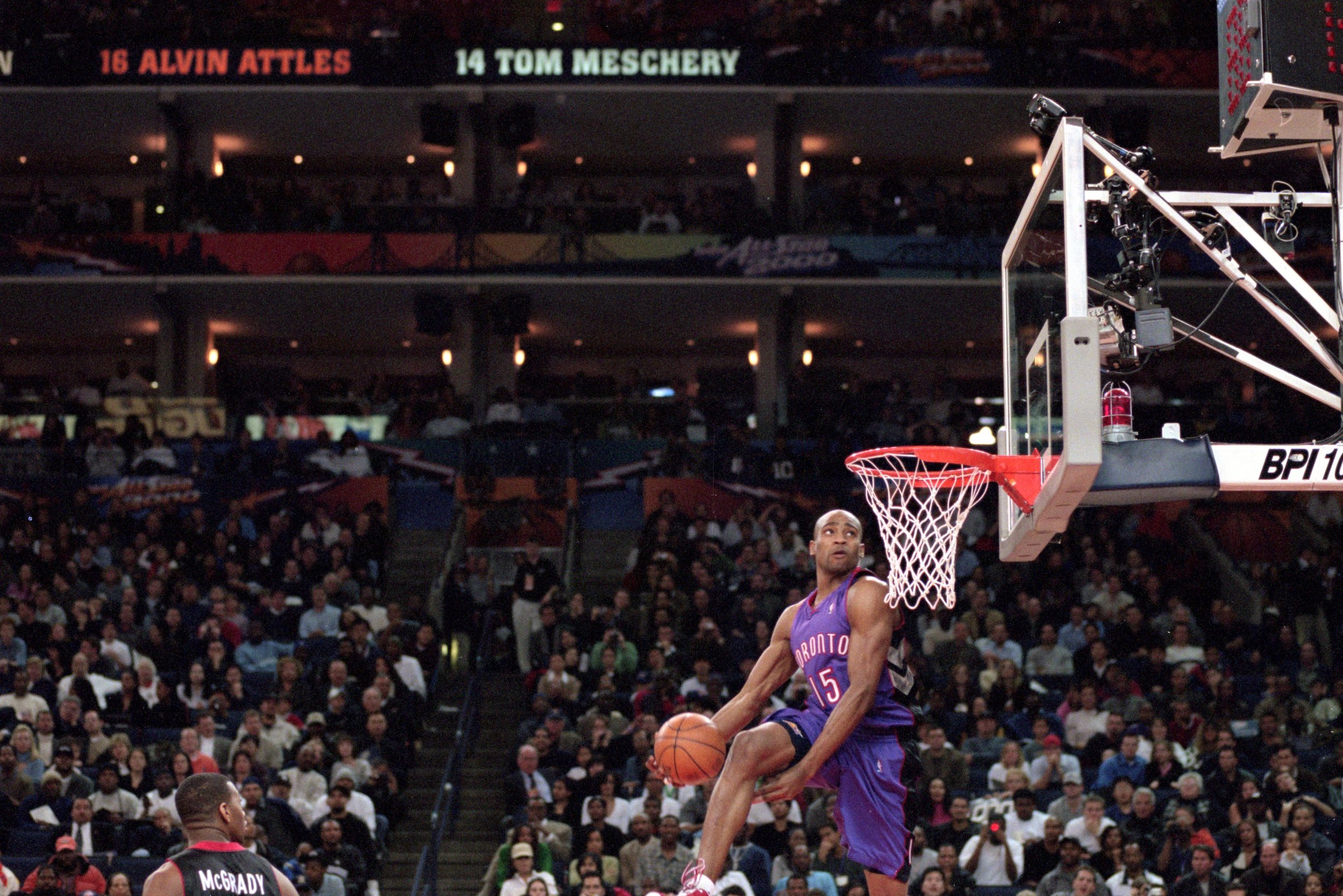 NBA Fans Never Saw Vince Carter's Best Slam Dunk
While NBA fans saw plenty of fantastic Vince Carter dunks over the years, only a select few ever saw the best Vinsanity had to offer.
When you think of Vince Carter, one thing comes to mind: slam dunks. Whether Vinsanity was playing for the Toronto Raptors, the New Jersey Nets, or any other team during his 22 NBA seasons, fans knew they were in for a show. Those fans, however, never got to see his greatest feats.
Whether you prefer Carter's famous 'honey dip' or the infamous Olympic 'dunk of death,' those moves pale in comparison to what happened behind closed doors. According to one of the guard's teammates, Vince Carter put on quite the show in practice.
Vince Carter's legendary NBA career
During his time on the hardwood, Vince Carter's slam dunks made him a living legend. At the same time, though, he was more than a human highlight reel; he was a legitimate star player.
After a highly decorated high school career, Carter enrolled at the University of North Carolina and suited up for the Tar Heels. He spent three seasons in Chapel Hill, reaching two Final Fours, before entering into the 1999 NBA draft. The Golden State Warriors selected Carter fifth overall, but traded him to Toronto, in exchange for his college teammate Antawn Jamison.
While the NBA lockout prevented Carter from hitting the court immediately, he had no problem making up for lost time. In his first 50 games with the Raptors, he averaged 18.3 points, 5.7 rebounds, and 3 assists per outing, en route to the Rookie of the Year title. At the following year's Slam Dunk Contest, though, Carter truly became a star.
Vinsanity was more than a sideshow attraction, though; despite injury issues, he played 403 games over seven seasons in Toronto, averaging 23.4 points per night. While a trade to the New Jersey Nets may have briefly tarnished Carter's reputation north of the border, he just kept playing—and scoring—wherever he went.
Although his recent role as a bench player has lowered his per-game averages, Carter's NBA resume is still something to behold. During his 22 seasons in the pros, he suited up for 1,541 games, averaged 16.7 points per contest—that number was above 23 ppg during his prime—and threw down countless dunks.
NBA fans never saw Vince Carter's best dunks
During his 22 seasons in the pros, Vince Carter threw down plenty of impressive dunks. While every NBA fan has their favorite, VC's greatest hits apparently happened behind closed doors.
"It was really refreshing to get a chance to play with a guy who could walk into practice five minutes before it started and do a reverse 360 just after he finished eating a sandwich," Jalen Rose explained in a collection of Carter-based anecdotes compiled by TSN. He wasn't the only one to be impressed, though.
"I think people haven't even seen some of his best dunks. I think a lot of his best dunks were in practice. Unfortunately, [one of his best dunks in practice] involved me, basically," Donyell Marshall explained. "Somehow, it becomes him and I one-on-one on the fast break. So I kinda slow down and stop near the free-throw line, like, you can go around me and dunk. I'm not going to [try to block the shot]. He ends up seeing that. So he throws the ball off the backboard, goes around me and basically windmill dunks in the air."
Teammates remember more than his dunks, though
Beyond those dunks, though, Vince Carter impressed his teammates with something a bit more intangible. By all accounts, the NBA veteran was a stand-up guy and a quality teammate.
Throughout the TSN piece, several players praised Carter's behavior. Ryan Anderson, for example, remembered Carter serving as a big brother to him with the Nets. Robin Lopez said it was great playing alongside the veteran; J.J. Redick called him "a great guy" and "an unbelievable teammate."
Every NBA fan has their own favorite memories of Vince Carter. Based on what his teammates have said, though, his best work—both in terms of slam dunks and off-court behavior—happened behind closed doors.
Stats courtesy of Sports-Reference and Basketball-Reference