NBA Legends Describe the Difficulties of Facing Muggsy Bogues: 'He Made Me Change My Position'
Muggsy Bogues was an anomaly. At 5-foot-3, Bogues is the shortest NBA player in history. If that were his only reason for being remembered, it would be remarkable. But Bogues was so much more than a sideshow. He was a starting point guard for several playoff-caliber Charlotte Hornets teams and spent 14 seasons in the NBA. More than 20 years since he last played for the Hornets, Bogues remains the team's all-time leader in assists and steals.
Opponents knew he wasn't just a gimmick. They dreaded seeing him on the opposite side of the court. Teammates knew Bogues as a leader, a playmaker, and a stabilizing force on the floor and in the locker room. In an era when size was everything, how did Bogues find a way not just to survive but thrive in the league?
Muggsy Bogues was part of one of the greatest high school teams of all time
Long before Muggsy Bogues was the 12th overall pick in the 1987 NBA Draft, he achieved fame on the basketball court. Bogues was the starting point guard for a team still considered the greatest high school team in U.S. history.
In 1982–83, Bogues was the senior point guard at Dunbar High School in Baltimore. The Poets finished 31–0 and gained the No. 1 ranking in the nation. That came after losing future NBA players Gary Graham and David Wingate to graduation. Dunbar had Bogues, Reggie Williams, and Reggie Lewis, with a team so deep that Lewis — a future All-Star with the Boston Celtics — couldn't break into the starting unit.
Bogues went to Wake Forest, where he was a three-year starter and an All-ACC performer, beating out Duke's Tommy Amaker for a spot on the First Team. The Washington Bullets selected Bogues in the first round, getting some publicity in teaming the NBA's shortest player ever with its tallest at the time, 7-foot-7 Manute Bol.
But they exposed Bogues to the expansion draft, and the Charlotte Hornets swept in and selected the diminutive point guard. He was never a star, but he was a player opponents feared and teammates respected.
NBA greats talk about the difficulty of facing Muggsy Bogues
Muggsy Bogues was featured in a recent episode of the Basketball Time Machine on YouTube. Several teammates and opponents spoke about his career. Former Atlanta Hawks star Steve Smith admitted that it was Bogues that prompted him to give up his dreams of being an NBA point guard:
"I'm a big Magic [Johnson] fan, going to Michigan State, so I'm going to be a point guard in the NBA. Muggsy Bogues made me change my position. Picking me up 94 feet, I mean, he turned me around and around. He said, 'You're not going to play point guard for long.' And after about a year and a half, Muggsy kept looking at me smiling every time we would play; he changed me from a point guard to a shooting guard."
Doc Rivers, another former Hawks star, said handling the ball against Bogues was nearly impossible.
"By the time you put it down [on the dribble], you'd reach for it, but Muggsy had it and was gone," Rivers said.
Glen Rice became an All-NBA player with the Charlotte Hornets and said he owed much of that to Bogues.
"I owe a lot to Muggsy because Muggsy gave me an opportunity to go out there and get extra shots because if it wasn't for his pinpoint passes, it probably would have been a little more of a struggle."
Perhaps no one on the Hornets benefited more from Bogues than Dell Curry, the franchise's scoring leader for nearly 20 years before Kemba Walker passed him on the team's all-time list.
"All of us did whatever Muggsy said on the floor," Curry said. "He was our general. We trusted him with the ball."
Other guys got the points and the accolades. But Bogues put everything in motion with his quickness, ball-handling, and accuracy with the pass.
Bogues averaged nearly as many assists as points in his career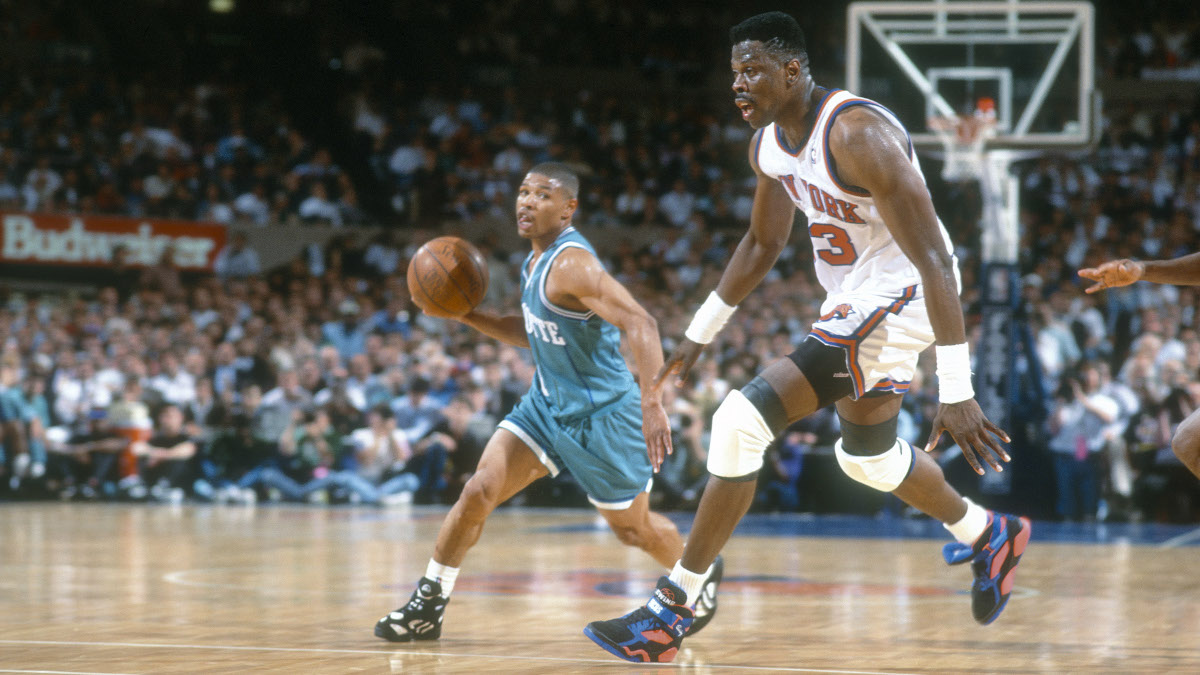 Muggsy Bogues played 10 seasons with the Charlotte Hornets. His 5,557 assists are more than 2,000 more than second-place Walker on the franchise's career list. He is the only player in Charlotte history with more than 1,000 steals (1,067), 240 more than the next man on the list, former Bobcats star Gerald Wallace.
In 889 career games, Bogues averaged 7.7 points and 7.6 assists per game. He played 14 seasons in the NBA. His last four seasons were as a reserve with the Golden State Warriors and Toronto Raptors.
In 1993–94, his best season came when he averaged 10.8 points and 10.1 assists for the Hornets. He also shot 47.1% from the floor.
As former teammate Alonzo Mourning recalled, Bogues never shied away from going inside.
"He would penetrate, you know, and it's hard to believe he would — I mean as small as he was — he would get into those trees," Mourning said. "Then the plays he would make were phenomenal. For a guy his size to have the court vision that he had, you know, so it was very fun playing with Muggsy.
While there is some support to get Bogues into the Hall of Fame (and the induction of one-dimensional Ben Wallace helps his case), the odds are not in his favor. But for a decade-plus, the little guy took on all comers. For more than a sideshow act, Muggsy Bogues was an NBA player. Period. His peers will attest to that fact.
Statistics courtesy of Basketball Reference.