Do NBA Players Wear New Shoes Every Game?
Eye-catching kicks have been a key part of a player's persona since Michael Jordan became a marketing icon in partnership with Nike. Sneaker culture is so prominent that role players like P.J. Tucker now have marketable brands because of their Instagram-ready fits. NBA players have a different relationship to shoes than most people. Their footwear must be both functional and aesthetically pleasing. So how do players choose their shoes for each game? How many pairs do they go through in a season?
The NBA shoe game has evolved greatly over the years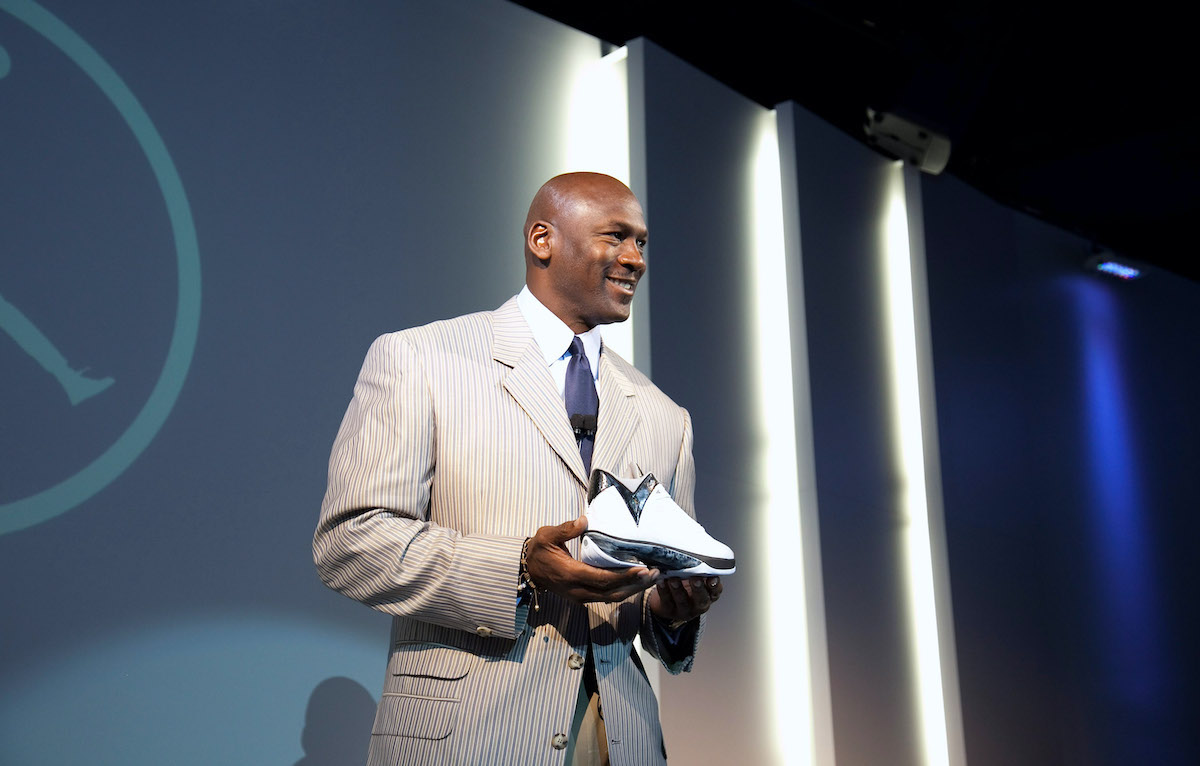 The evolution of the NBA is obvious when looking at the increasing athleticism and skill of the players who make it so entertaining. But the growth of sneaker culture is also incredible when you take history into account. It's funny to think that the Converse Chuck Taylor was the basketball shoe du jour for the 1950s and '60s. Legends like Bill Russell and Jerry West hooped in the flattest joints possible and still became the sport's original icons. A lot has changed since then. 
The path to basketball sneakers as we know them began in the '70s when Nike, Adidas, and Puma first got in on the action. But everything changed after the Air Jordan 1 was released in 1985. From then on, sneakers are an intersection of sports and fashion as a billion-dollar industry. Celebrities looking for a dose of clout will add some rare or trendy kicks to their repertoire.
High-profile polyglots like Kanye West, Pharrell, and Virgil Abloh now make footwear that sells out as soon as it's available. Internet-savvy sneakerheads go through the trouble of creating bots to buy up all the latest drops so they can resell them at higher prices. OK, that last part is less cool, but the point still stands: The shoe game is serious business. 
Each NBA player has their own shoe cycle
Ask a random group of NBA players how often they lace up a new pair of shoes, and you'll get several answers. According to Basketball Noise, players will wear a pair of shoes for anywhere between four and 20 games. A kit manager for the Denver Nuggets said that each player goes through about 50 pairs during the regular season. 
The reason for changing so rapidly varies from person to person. For some, it's strictly an issue of comfort. They want to feel like they have the optimal equipment going into each game so that they can perform at their best without worrying about their shoes causing a mishap, Zion Williamson-style. 
Many players get their shoes fitted specifically for them at a sports science lab. After this is done once, every pair they put on will fit their feet perfectly. Wearing 50 pairs of shoes seems wild to the common fan, but if you could get custom kicks at the drop of a hat, wouldn't you?
Sometimes, the choice of shoe coincides with a national holiday (all of the new shoes that are released for the Christmas day games) a societal issue (Nike releasing a Black History Month collection) or they just want to show off a new, flashy colorway. Of course, a lot of this is being done in the name of making more money, but it is another indicator of how important shoes are to the experience of participating in the NBA.
Jordan remains the king of the shoe game
He retired nearly two decades ago, but Jordan is still the leader in sneaker sales. In 2019, Forbes reported the top 14 current or former players with the most lucrative shoe deals. The size of these deals is mostly predicated on potential sales, individual awards, and team accomplishments. Jordan is still the top dog, making $130 million a year — four times as much as LeBron James in second place. The combined deals of the other 13 players on the list is only $76 million more than His Airness. 
 Jordan Brand maintains its power through new colorways, retro launches, and a lucrative understanding of the supply and demand equation. It all ties back into the power of nostalgia. Mad Men's Don Draper may explain it better than anyone ever could, as explained in the Youtube video above.
It's the same reason why The Last Dance united sports fans during the early days of the pandemic. (Well, that and the memes.) Jordan 1s aren't iconic because they adorned a once-in-a-generation basketball player. They're iconic because they represent a romanticized past where athletes weren't constantly posting on Instagram.
These NBA players could still be marketed like untouchable supermen. They're the shoes you always wanted as a kid and couldn't get until now. It's a powerful thing. Shoes can mean a lot of things to a lot of people, regardless of how often they get replaced.